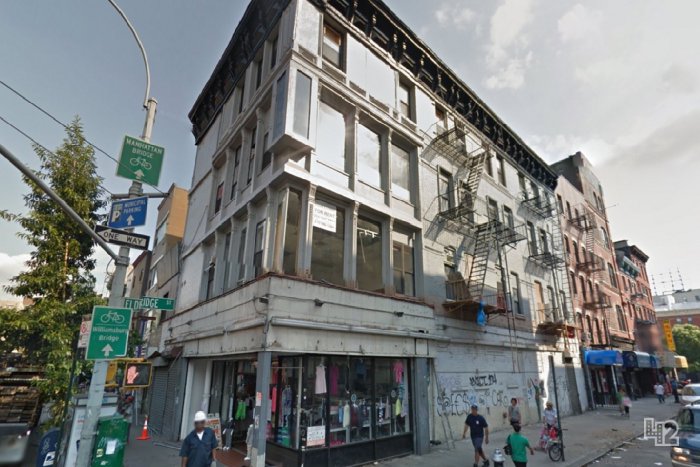 A few steps away from the smelliest block in New York, nestled among dumpling-slinging holes in the wall and dusty shops with burners and jerseys for sale, is the new outpost of Gavin Brown's enterprise. The new address is 291 Grand Street. It's bold for the dealer, who's jump-started dozens of careers from galleries firmly planted in tiny environs way west of the Bowery, to this Lower East Side/Chinatown backwater as his first-ever second location. He's moved before—from West Soho to the Meatpacking District to the current space in the West Village—but he's never had an auxiliary place to complement the flagship. And now, the grown up enfant terrible will operate right next to the galleries run by les jeune.
And who better to inaugurate the space, which occupies the top two floors of a building on the corner of Grand and Eldridge, than Steven Pippin, the longtime ally who also had the first show at Mr. Brown's first permanent space, at 558 Broome Street (he did famously hold the first Elizabeth Peyton solo show in a room at the Chelsea Hotel, but one could hardly call that a legitimate abode).
That the dealer managed to prepare a new space and new show while also installing and opening a new slew of Urs Fischer paintings at his regular space—it just opened last Saturday, and there was a rousing dinner to accompany it—must have put some strain on the crew of the enterprise. But everything looked mighty spiffy when we walked in: the stairs as spic and span as a Chinatown stairwell can be, the walls painted in a stately black, a couple of puppies running around. And then there was the work by Mr. Pippin, which turned out to be just a complicated-looking contraption on a table, a series of levers and wires and whirligigs and gizmos all working in concert to keep a single vertical pencil from falling down. Kinda sounds like opening a gallery.
Then, as is the fashion, there was a dinner that morphed quickly into a dance party, and here at GBE LES the typically fresh-faced Gavin groupies seemed even younger, all of them freely smoking cigarettes and refilling plastic glasses with more Pinot and snacking on manchego cheese and split pea soup.
Near the door, I saw Mr. Brown petting his dog, Dotti.
"So, Gavin, why'd you choose this space?" I asked. "You could have had anywhere in the city, anywhere in the world."
"I could have had anywhere in the world?" he said.
"Sure!"
"Well, sure, if money is no object, but I don't believe that's true."
"So the price was right."
"The space was right, the price was right…—yes, everything about it seemed to be just right. Not too hot, not to cold."
"You Goldilocks'd it."
"Yes. I am Goldilocks."
"How do you plan to program things here differently from the main space?"
"It's much easier to program things here, it's much less hassle, its much less fun."
"I find things pretty fun over there," I said.
"Oh, not to talk that dear sweet space down," he said. "Now that I'm going to be without her in a few months, I wouldn't want her to feel hurt. but it's like a new love affair. It contains ideas in a more concentrated way."
"You are losing that space," I said. "Are you going to find another equivalent space, or is this going to be the home base for a while?"
"No, this place is its own thing."
"So, where are you looking?"
"Now that is between me and my landlord."
I pointed at Dotti.
"And the dog," I said.
"Yes and the dog," he said. "She tells no tales."
"Dotti is very well press-trained."
And then someone put on "Hold On" by Wilson Phillips, and everybody danced.