Absence really does make the heart grow fonder. Look no further than the star treatment being lavished on Glenn Close, returning to Broadway after an intermission of 20 years. It stops just short of rose petals.
Producer Scott Rudin snagged her a Pulitzer Prize play worthy of revival—Edward Albee's civil and unsettling domestic drama, A Delicate Balance—surrounded her with an impeccable cast and handed her a Close-range, licensed-to-kill role. The result has been setting house records at the Golden since the first preview.
Theater is family to Ms. Close, and she has come home to where her roots and Tony Awards (three of them) are.
Not every star has roots that go back directly to Broadway, but then not every star can recall precisely the day that stardom arrived. Ms. Close can: for her, she said, it occurred on the first Saturday of November in 1974. Not to put too fine a point on it, but it happened between the afternoon and evening performances of Love for Love. Seated in the back alcove on the first floor of Sardi's, she still welled up a bit, remembering.
Her first job in theater was as an understudy in a revival of the 1695 Restoration comedy by William Congreve. She was hired—sight unseen by director Hal Prince—to understudy for the also-debuting Mary Beth Hurt and for Oscar nominee and noted star of the time Mary Ure.
Ms. Ure is best known for originating the role of the wife on stage and film in his Look Back in Anger, she appeared twice more on Broadway (in Duel of Angels opposite Vivien Leigh in 1960 and in Harold Pinter's Old Times, in 1971). She was Oscar-nominated for Sons and Lovers. But, by the time Love for Love came along, it was obvious she was struggling with her lines, and her inner demons.
The problem was apparent during the Philadelphia tryouts, and it continued into previews in New York. "Back then, you'd have five previews rather than a month of previews," Ms. Close said. "At the Saturday matinee, Hal met me at the stage door, took me out on the stage and said, 'Miss Ure is having trouble remembering her lines, and I think I might have to let her go. I'll decide during this performance, so, at the end instead of going and having dinner, I'd like you to go up to your dressing room and wait.' I did that, and eventually I heard, 'Will Ms. Close please come down to the costume room?' I'd not had an understudy performance, but for some reason—I guess it was my green eagerness—I'd been to every rehearsal and learned the lines.
"I went down and, because we all had one dress, they put me in Mary's dress, which she had just gotten out of, filled with very distinctive perfume. They put her wig on my head, and all of a sudden I found myself in her dressing room, getting ready to do something that I had never done before.
"Hal got in front of the curtain before the show began and said, 'Our actress playing Angelica got her Equity card seven weeks ago, and this is her first performance,' and on I went. I ended up being shocked at how loud everyone was speaking because I hadn't rehearsed and heard that wonderful projection."
Her personal review of her debut? "I was O.K." (One suspects that she was better than that because she wound up with a Drama Desk nomination for Best Actress.)
Just before she went out there a star forever, there was a knock on the door. "A note was handed to me. It still makes me cry when I think about it. I opened it. It said, 'There's a tradition in the English theater for one leading lady to welcome the next into the theater. I welcome you. Be brave, and be strong. Mary Ure.' "
Ms. Ure had one more opening night left in her. Five months later, she opened in London in The Exorcism with Honor Blackman and Brian Blessed. It was a disaster, and the next day she was found dead aged 42 from an overdose of alcohol and barbiturates in their London home. She left eight children.
"It always struck me that she said 'brave and strong,' " said Ms. Close. "She didn't say, 'Break a leg.' It was unbelievable! Unbelievable that she would take the time to do that in the middle of her pain. That's a daring, profound lesson in what this profession can do."
Exactly half of Ms. Close's 40 years as a star have been spent doing eight performances a week in the American theater. Mike Nichols' direction led her to two of her three Tonys—for the first go-round of The Real Thing, opposite Jeremy Irons, in 1984 and for Death and the Maiden, with Gene Hackman and Richard Dreyfuss, in 1992.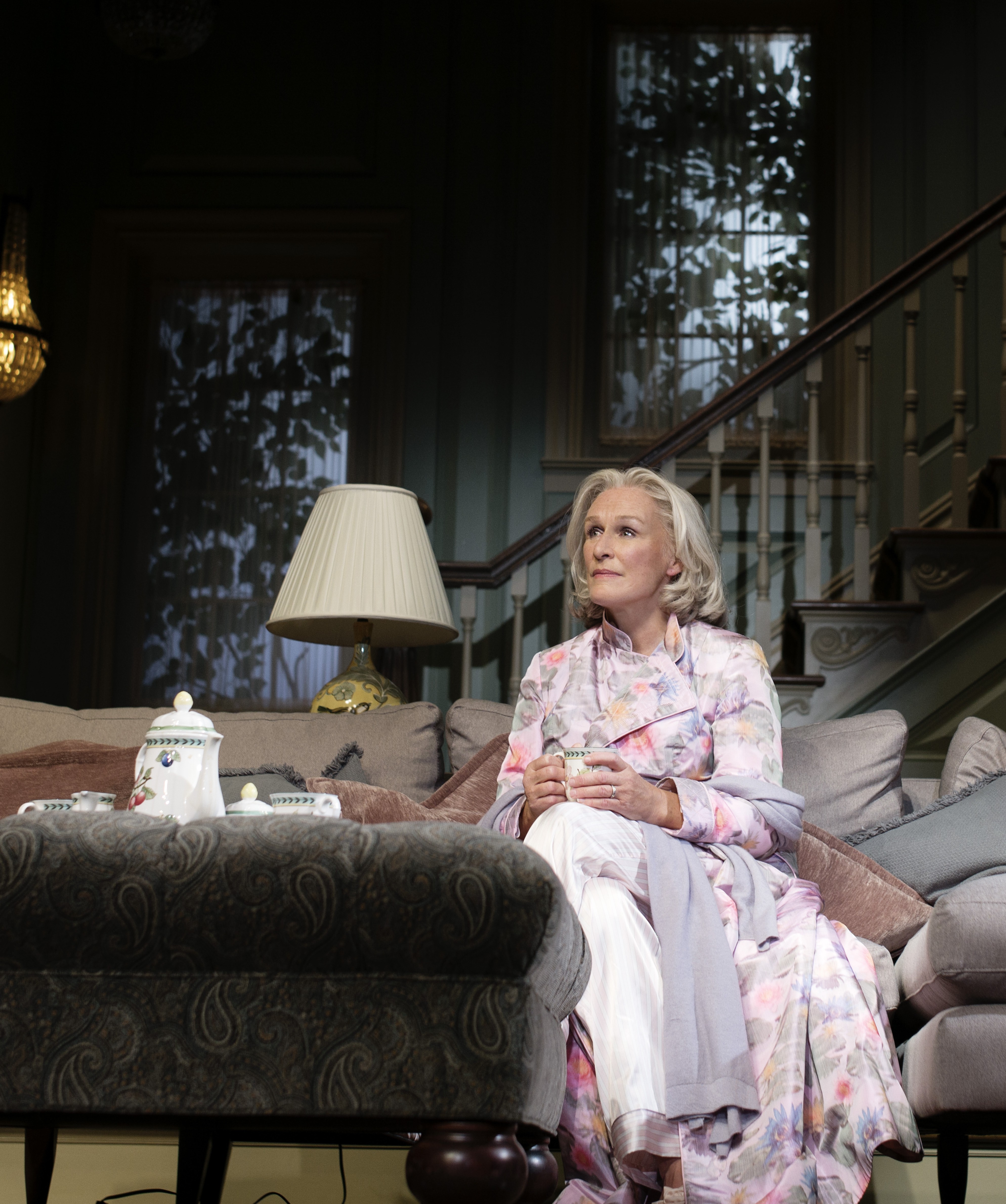 Her first Tony nomination—for a supporting role, the wife of Jim Dale's Barnum—caught the eye of casting pioneer Marion Dougherty, who put Ms. Close into pictures where she promptly ran off with three supporting Oscar shots in a row (The World According to Garp, The Big Chill and The Natural). She won three more as a star, most memorably as Alex Forrest, the unhinged, knife-wielding husband-stalker in Fatal Attraction. Now it can be told: it was a paper knife made of cardboard ("It's framed. I may hang it in my dressing room.")
"I won't be ignored!" was Alex's battle cry, and, indeed, she took the film into some extra innings. The original film ended "softly" (and unsatisfactorily for preview audiences), with her killing herself and making it look as if Michael Douglas did it, but more commercial minds reigned. The film went back into production to give Alex a more emphatic finish. "It would not have been the hit it was if the ending had not been changed," Ms. Close admitted, "but for me it was a real crisis because it meant that Alex, who was basically desperate and self-destructive, became psychopathic."
During the re-shoot, she suffered a concussion when her head struck a mirror. She was rushed to the hospital where she learned she was pregnant. Annie Maude Starke, her daughter by producer John H. Starke, was born April 26, 1988. Two months later, Ms. Close began filming another of her Oscar-nominated performances (Dangerous Liaisons); her most recent Oscar-nominated work (Albert Nobbs) had her daughter in a bit role. Ms. Close took her 20-year leave of the stage with her third Tony win in 1995—Norma Desmond, the madwoman of Sunset Boulevard, a comeback-crazed silent-screen star "waving proudly at a parade that had long since passed her by." 
She played that role a year and a half, starting with a very shaky pre-Broadway run in LA. "The big earthquake happened on a Monday. We didn't work that Tuesday. We came back on Wednesday, and there were still lots of after-shocks. It was a suspended stage and always moved a little bit when the earth was still, but, after that, even very little shakes started your adrenalin going. That went on for months."
After Sunset Boulevard, there were rumors of a return to Broadway in a musical—if not Lady in the Dark, then A Little Night Music ("That's still on my bucket list, but I'll probably have to play Madame Armfeldt now"). Ultimately, motherhood trumped eight performances a week, necessitating a career move to big screen/little screen.
Now, she is one of those rare "EGOT" nominees—a performer who has contended for Emmys (14), Grammys (three), Oscars (six) and Tonys (four). She won an Emmy for the 1995 TV movie, Serving in Silence: The Margarethe Cammermeyer Story, and two more as Patty Hewes in the FX series, Damages. She won a Golden Globe for the role that won Rosemary Harris a Tony and Katharine Hepburn an Oscar—Eleanor of Aquitaine in a TV remake of The Lion in Winter.
As luck would have it, the role Ms. Close is currently playing on Broadway—Agnes—was previously played by Ms. Harris on stage and by Ms. Hepburn on film and was originated by her first movie mom, Jessica Tandy, in Garp.
The character is something of an oasis of strength and sanity in the play, ruling the roost because she has to, trying to keep her strained relationship with her husband (John Lithgow) on even keel in the face of home invasions from her sister who's the alcoholic-in-residence (Lindsay Duncan), a daughter fresh from her latest marital failure (Martha Plimpton) and, oddest of all, two old friends seeking safe haven from some unknown, unnamed horror that's out there (Bob Balaban and Clare Higgins).
The casting here reinforces her sense of the family of theater. She and Mr. Lithgow go back to when they were Oscar nominees for Garp—he a transsexual ex-footballer to her rule-breaking feminist—and haven't worked together again until now when producer Mr. Rudin pronounced them husband and wife. "We started basically around the same time, and he's one of the great friends I've known my whole career.
"The wonderful thing about working with Lindsay Duncan is that Kevin Spacey and I were supposed to replace her and Alan Rickman in Les Liaisons Dangereuses, but they closed the show before we could." (Consolation prize: Ms. Close got the movie.) "So to be working with her, for me, is a wonderful kind of closing of a circle. I never worked with Martha Plimpton, but I've worked with her father, Keith [Carradine]."
As an icebreaker (and possibly to get into hostess mode early), Ms. Close had the whole cast and director Pam MacKinnon up for the weekend at the Westchester spread she shares with her husband, biotechnology entrepreneur David Shaw.
The next generation of stars regards her with the awe that comes with a sustained career. "It feels great," Ms. Close confessed. "I remember sitting with Mary Beth and saying, 'I can't wait until I can say I've been an actress for 10 years.' "
On opening night of The Real Thing a couple of weeks ago—Maggie Gyllenhaal's first official night on Broadway—she received a note backstage from the actress who had originated her role 30 years earlier. It read, simply, "Welcome to the theater."