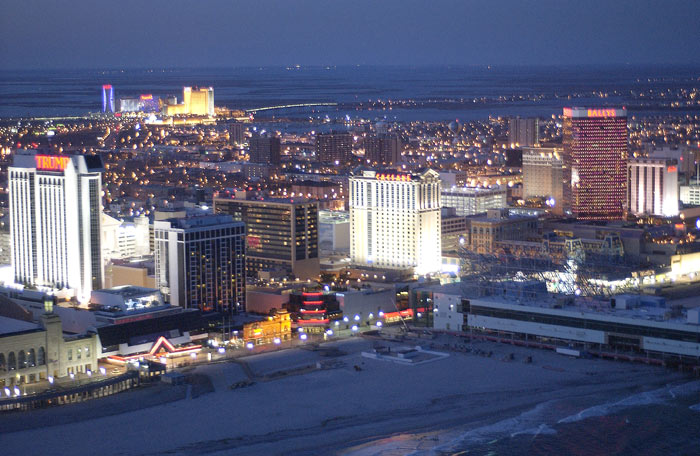 ATLANTIC CITY – There are others in the line-up for governor in 2017 — many more widely discussed among political circles in New Jersey, and especially this week — but the host of one of this year's earliest kick-off cocktail parties for the League of Municipalities didn't hesitate to throw another name into the ring.
His own.
"I do, at some point I'd like to run," Assembly Majority Leader Lou Greenwald (D-6) told PolitickerNJ in a plush ballroom overhanging a frothy Atlantic Ocean at the end of Caesar's Pier Tuesday night. "I've had a lot of people coming here to certainly talk to me about running, including people like Phil Murphy and Steve Sweeney and Steve Fulop and others. And so you know, I think we all know a short list of people that are out there and have grand ambitions to really help the state recover."
Decidedly low-key with its steady ebb and flow of Democratic party leaders and operatives noshing on flank steak and goat cheese, Greenwald's event might have lacked the pizzazz some later gatherings had — Jersey City Mayor Steve Fulop's late night banger at the Borgata's Water Tower comes to mind, which had near-frantic guests cramming outside the first floor elevators to get into a party that was already well over capacity. But it did rekindled conjecture on the Camden native's own political objectives, especially given the weighty presences of two other gubernatorial contenders book-ending the event.
Murphy — seemingly all over the map at these three days, with appearances here, a Mercer-Middlesex-Union party leader-sponsored event at the Borgata later, and his own star-studded party tomorrow night with rocker Jon Bon Jovi — popped in early, chatting with guests before zipping off. A former U.S. Ambassador to Germany, Murphy's movements together with his alleged gubernatorial aspirations have the NJ political scene abuzz this week. 
Sweeney would be there later, hosting his own function in this same venue, though one that drew a considerably larger crowd. Political observers note a surprise Greenwald bid might significantly complicate things for the Senate President and quest for the governor's seat, as both pols hail from South Jersey political environs.
"[Greenwald] might like to see Sweeney fall on his face so he could step in," one attendee mused, clutching an empty Heineken.
Still, the ever-dapper Greenwald — looking, appropriately, in suit and carefully-shaped hair, like he had just walked off the set of the A.C.-ccentric HBO hit, Boardwalk Empire — betrayed little of the competitive spirit shared by Sweeney and Murphy and Fulop in their gubernatorial ambitions. For him, it's simply about improving the state — and strengthening the Democratic party.
"I think we have lived through six years of some real struggles while we've watched the nation add jobs, recover quicker," he said. "I looked at the stock market today, it was up over 17,700, yet our state continues to languish behind. I think we need to try some new and exciting ideas."
Among those ideas: fixing a tax policy that he argues is "outdated compared to the rest of the country."
"You know, you look at businesses that are looking to locate," he said. "New Jersey has to go all in on these economics incentives that are long term solutions and not quick fixes to get people's attention. The reality is that head-to-head competition, New Jersey's tax policy and tax structure doesn't compete."
Other notable names in attendance included Assemblymen Vince Mazzeo (D-2) , Wayne DeAngelo (D-14), Daniel Benson (D-14), Joe Lagana (D-38), state Senators Loretta Weinberg (D-37) and Robert Gordon (D-38), Monmouth County Democratic Chairman Vin Gopal, and former Sweeney staffer Karin Elkins, among others.