NORTH BERGEN – It seems a cruel twist of irony that the dateline is "North Bergen," given the cement-mixed brand name state Senator Brian P. Stack forged in his hometown of neighboring Union City, where hordes of Stack's followers jumped into cars, SUVs and buses and barged over the municipal line into Schuetzen Park for this annual Stack-fest.
But Stack and state Sen. Nick Sacco (D-32), North Bergen, don't nurse the antagonisms of old – unless someone suggests that one of the two of them has more people on his guest list.
Cross-pollination no longer looks impossible. Too much has happened – and much could happen, given certain county-based emanations of gubernatorial ambition.
For Stack on Friday it was 2,000 guests by night's end, many of whom grooved in a ballroom-sized kaleidoscope of Latin-toned psychedelia, the senator at the center of attention, his face lit up amid balloons like a disco ball in jacket and tie, a beacon festively beckoning to an unending line of revelers crowding through the front double doors.
Beer flowed.
Guests to the Brian P. Stack Civic Association event included the new, latest comfortable addition to Stack world: Hudson County Executive Tom DeGise (pictured, below left), backed by Stack (and Sacco) for re-election next year. DeGise happily navigated the room with former state Senator Bernard Kenny (D-33) (pictured, below right), and at one point huddled up with U.S. Rep. Albio Sires (D-8) and Weehawken Mayor Richard Turner.
People were spilling out of the sides of the place – set like a Greek temple on a hill overlooking the twinkling swamplands of North Jersey – by the time Jersey City Mayor Steven Fulop arrived and personally paid homage to Stack.
The men have a history and a common connection – and a divergence.
Stack built this Latino-majority operation by consolidating loyalty and running against the Hudson County Democratic Organization (HCD0), capping a run of anti-establishment antagonisms by beating the organization in 2007 for the retiring Kenny's senate seat and settling in as the county's unreconstructed rebel.
Convinced of his results-oriented record, capped by the 2009 grand opening of the new high school, diehard supporters more than a few times tried to get him to run for governor. But Stack, never comfortable away from di Donato concrete, even in Trenton committee hearings – and maybe especially then – unable to break away from those yellow legal pads crammed with the names of phone numbers of constituents daily demanding his local attention, had little interest.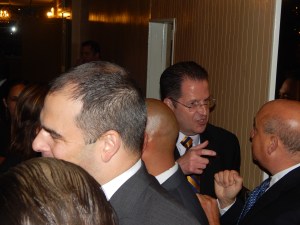 He admitted as much when he effectively committed statewide hara-kiri in any future Democratic Primary by backing the 2013 re-election of Republican Gov. Chris Christie, and giving Christie some Hispanic-tinctured traction toward a national 2016 run.
That was the same year the voters of Jersey City elected the young anti-establishment Fulop as mayor of the state's most populous city, selecting the Edison kid made good as a local ward councilman over the Hudson-reared incumbent with sons on the fire department.
The day after that election, the Fulop gubernatorial buzz intensified.
Before Fulop defeated him, Jersey City Mayor Jerry Healy had broached the subject on the stump.
"If I get re-elected, I'm not going anywhere – unlike someone else we all know," Healy told a crowd of supporters at Casino in the Park.
One of the last pillars of that iteration of a crumbling HCDO, Healy looked like the perfect target for Stack, who might have pinned a final insult on the fading chances of the mayor by backing Fulop.
But fellow upstarts, coming at politics from different ends, Stack and Fulop didn't immediately get on.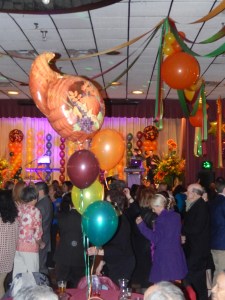 Often tired of bureaucratic resistance, Stack had a habit of letting his Irish temper go haywire.
A Wall Street bond trader and U.S. Marine whose fortunes in life were not shaped by organization politics, Fulop didn't routinely respond favorably to Stack's style. And frankly Stack didn't instantly approve of Fulop. His training was at the knee of Bill Musto, the late mayor of Union City, a creature of Hudson County and political godfather to both himself and Senator Bob Menendez.
It was Stack's county antagonist, in fact – fellow power broker Sacco – who appeared early to be developing a closer behind-the-scenes connection to Fulop.
Stack backing the similarly – at least publicly – anti-HCDO candidacy of Fulop wouldn't have surprised anyone. The fact that Stack stayed out of the 2013 mayoral race was not stunning. But what did surprise a little was that Sacco, an HCDO guy just like Healy, did stay out of it.
"I don't think anyone cares what the mayor of North Bergen has to say about Jersey City," Sacco told PolitickerNJ at the time.
2011 redistricting had chopped the Jersey City portion of the 32nd Legislative District, and with it Assemblywoman Joan Quigley, away from Sacco.
When Fulop made mayor, Sacco stepped in as a ready ally.
Ever elusive and unpredictable, Stack didn't immediately stand at Fulop's side.
But others eager for this era of Hudson to brand itself on the rest of the state, including those who on occasion had urged Stack to run for governor, saw the promise of Fulop, who – once he deposed Healy – didn't interfere with any of the old structures. He merely modified them to absorb his own aims.
Stack understood.
The fact was he wanted to stay in Union City.
One of the last living Irishmen in town, whose father worked for the Port Authority, who fist-fought his way into City Hall, Stack doubted a political universe which he could not reach out and immediately touch. Others could laugh or doubt the constant local jack-hammering of his ends. To in some way alleviate the plight of the poor was what he longed for. There would never be a bigger prize for him, nor did he desire one.
Based on his instantaneous ability to fill a room with backers, translated every Election Day into 10,000 votes, as it was in 2009 and 2013, as it was with old rival vote-getter Sacco, the two of them united for the moment partly by giving Fulop rising star status at all public events, Stack would remain one of the gubernatorial gateways for those upward-reaching hopefuls in either party.
On Friday night it was Fulop who crossed it, again, his presence underscoring the argument of Stack intractability. If it wasn't going to be governor, it would be the man who makes the governor; as the possibility hovered – as it always does with the Jersey City mayor – that Fulop would make good on a 2017 guv run.
They hugged: the man who would be governor and the man who wouldn't, who would be ever the obstinate district-wide power broker. Mutual allies have worked to enable the two mayors to build on those things they have in common, starting with a stubborn independent streak, tempered for the moment as they both enjoy the symbiosis of the reviving HCDO. In the words of one of last night's partiers: "Their skill-sets complement each other in a gubernatorial gunfight."
Smiling broadly, Stack lingered in the celestial-lit doorway with Fulop – "Anyone in here – good luck getting out," cracked the JC mayor, and local photographers, elbows flailing for that one money shot, rushed the men, capturing the moment – of upward mobility and earthbound insistence and the connective tissue in between – in that great, throbbing and still growing Union City crowd.