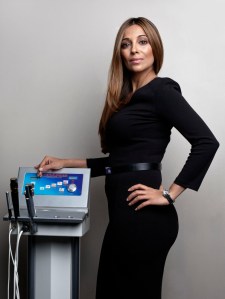 When celebrity makeup artist Charlotte Tilbury launched her new makeup line in Los Angeles last month, she invited her doctor and aesthetician Dr. Nigma Talib along to give "face readings" at the event.
As Dr. Talib described it: "I saw at least 100 people that day and everything I was telling them was spot-on. You can see so much about somebody's health from their face, in terms of texture, pigmentation, spots or blemishes, creases in the skin and so on."
The glitzy event, which took place at Nordstrom and drew Kim Kardashian, Kate Bosworth and Lily Allen among others, might have felt like an unusual setting to be diagnosed with IBS, hormonal imbalances or polycystic ovaries, but it was all in a day's work for Dr. Talib.
Gaining a reputation as facialist to the stars (as well as Ms. Tilbury, she counts Sienna Miller and Guy Richie's fiancé Jacqui Ainsley among her regular London clients), she is actually a registered naturopathic doctor. "People come to me for a face treatment, and end up with a full health check, because youthful, great-looking skin is always an inside job," she said of her regular practice.
Having opened her first clinic in Vancouver 11 years ago after doing her pre-med in the city, she moved to London when she married a Brit in 2007. This fall, however, perhaps feeling the call of her American roots (born in Nairobi, she was raised in Florida and Texas), she begins a monthly NYC "residency" in the office of MD Dr. Keith Berkovitz, where the duo will offer patients a two-pronged approach.
"Keith is a medical doctor, but he gets it," she said of her colleague, meaning that he already combines alternative, integrated methods with a modern Western practice. As a naturopathic doctor (unlike a homeopath, for example), Dr. Talib is also qualified to prescribe medication when necessary—but with the emphasis on exploring natural, often preventative, solutions first.
She realized the implications for the anti-aging market with her own 40th birthday looming. "I actually decided seven years before I turned 40 that I needed to get my act together and create a face program to protect women's skin from aging," she said, going on to describe a process that's part facial—"although I don't do any extractions"—part holistic health diagnosis.
Often, "treatment" for fine lines or issues with pigmentation or texture begins with dietary changes. She sees a lot of what she calls "dairy face, wine face and gluten face. Dairy face is quite bloated with dark circles, wine face is dehydrated, so lines are more pronounced, and gluten face is actually belly bloat, which also shows up as puffiness in the face."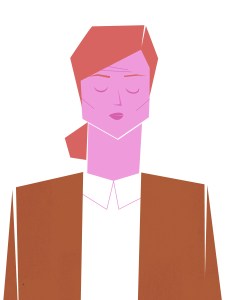 It's not exactly news that digestive issues are extremely prevalent among busy, city-dwelling women, but perhaps less reported is the fact that problems in the gut can lead to hormonal imbalances, which in turn are a major cause of what Dr. Talib described as "gut aging." The knock-on effects of these internal imbalances manifest as tired, aging skin, which looks dehydrated and lifeless.
Sun, cigarettes and alcohol are also what she called "skin suicide," while sleep (or rather lack of it, in any society that's fuelled by equal parts caffeine and cortisol) "is the biggest beauty weapon." Alongside food intolerance tests, blood work and vitamin profiling to determine any deficiencies, she regularly screens clients for adrenal fatigue.
"We'll do a saliva test to rule out cortisol or progesterone imbalances, and then fine tune. Because once that starts to work, their sleep gets better, and then their skin improves. It's a domino effect."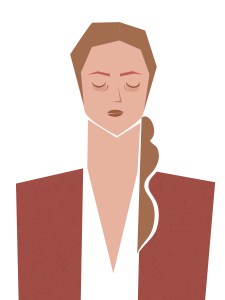 Perhaps surprisingly, Dr. Talib is not opposed to Botox, but only tiny amounts of "baby Botox" as part of a more portfolio approach. She recently coined the catchphrase: "No wrinkles is the new old! A few lines are actually very endearing, and losing the ability to communicate fully with your expression just isn't sexy. It's fake, and extremely aging."
Rather, "it's texture that's more important. Kim Kardashian might look flawless in photographs, but all the Botox and fillers mean she looks like an alien close up. And under all the makeup, you can see some bumps on her face. I wonder what she looks like without it."
This is where the machines come in—high-tech new gadgets Dr. Talib believes are at the cutting edge of the anti-aging vanguard. "There are technologies being developed that use ultrasound to tighten the skin, or radiofrequecies to encourage the growth of stem cells. Personally I use LED and oxygen delivery devices, because I've seen them work for everybody."
If Botox and fillers have represented a quick fix to the unavoidable slide of the aging process, this more holistic approach speaks to the fact that among her U.S. clients Dr. Talib said she was already noticing a slow-down in the popularity of the needle—even if the U.K. is only now embracing these methods in the mainstream.
"Women in New York are generally better educated about their skin," she said. "For example, it's unheard of here to go out without sunscreen on." And if forgoing gluten and dairy has also become common practice among New York's healthy eating evangelists, then the anti-aging benefits will surely only step up our commitment to the cause (even if giving up the occasional glass of wine seems less appealing).
But then, "once you're in the chair, you're there. You're committed. You want to make a change," said Dr. Talib. "Often somebody will come in for a facial, and we'll get around to talking about how they've been going from doctor to doctor and getting frustrated because they still don't feel well, which is actually affecting their whole life. From there, we'll usually schedule a second appointment to go over their symptoms in more depth."
Dr. Talib's services don't come cheap, with a basic consultation costing $325 and "full deal" face treatment coming in around $450. "I'll work on what the patient needs first, then we talk about financial commitments," she said. "Usually they're like, 'You can't put a price on this. I want it all.'