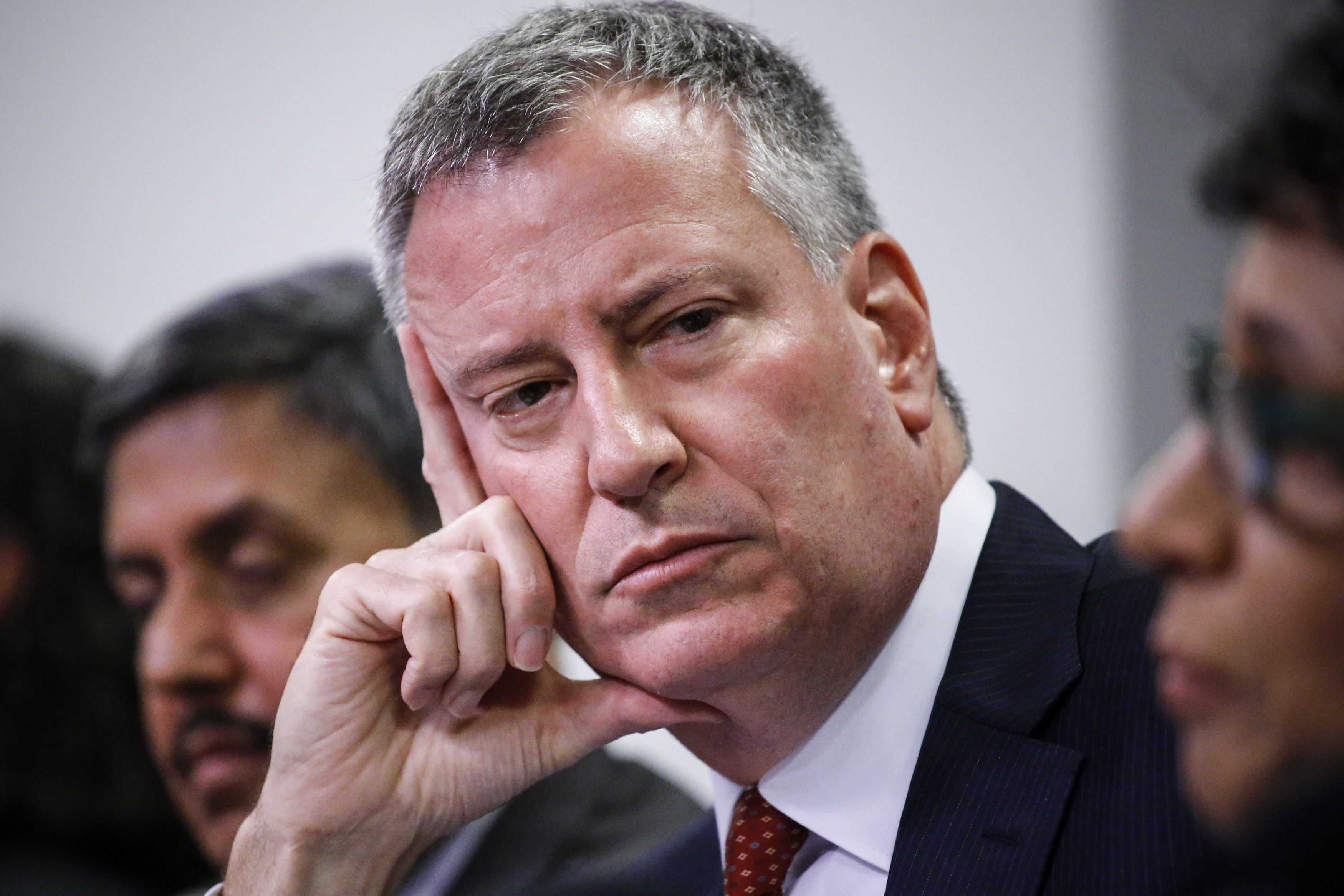 Mayor Bill de Blasio went elephant hunting and got stomped.
The liberal Democrat, who invested heavily in a Democratic takeover of the State Senate, saw his extraordinary efforts–to borrow a favorite de Blasio word–go nowhere. Republicans won almost every key swing race across the state, capturing an outright majority and relegating the Democrats, and even the 5-member Independent Democratic Conference, to the minority.
"Bill de Blasio is in a weaker political position now in Albany," argued one Democratic operative. "Cuomo and the Republicans will exploit that weakness to their full advantage.  de Blasio never pushed Cuomo to uphold his deal with the WFP to campaign for Senate Democrats, and the loss of several Democratic seats is a major setback for de Blasio."
If the IDC remains in a power-sharing alliance with the GOP to pad their thin majority–after tonight, the Republican conference has 32 members, the bare minimum for a majority needed, and one Democrat, Simcha Felder, who caucuses with them–Mr. de Blasio will have to once again try to finesse his many progressive priorities past Dean Skelos, the Republican majority leader, who will have every reason to spite the lefty mayor who tried to destroy his conference.
Like Republicans in Washington who serve constituents hostile to the Democratic president, Mr. Skelos and his conference represent suburban and rural communities where the de Blasio left-wing is feared and vilified–giving them little incentive to help the New York City mayor.
"I don't think he tries to go up there and negotiate, but instead just adjusts his agenda. Maybe he'll do Albany activism on things like local control of minimum wage–things that are good campaign issues for him even if he doesn't get them," said a Senate Democratic source. "But he's too smart to seriously believe he can talk to the wackos who are going to be running the Senate for the next two years."
Mr. de Blasio took a very different approach to the wilds of Albany, where many a New York City mayor's ambitions have died or been downsized, than his predecessor, Michael Bloomberg. The billionaire Republican-turned-independent showered cash on the Senate Republican majority, alienated Democrats and saw priorities like congestion pricing meet a swift demise.
Mr. de Blasio, on the other hand, was more nimble–the old Clinton operative strained to appease Gov. Andrew Cuomo, an avowed centrist, and wield his labor connections and City Hall brainpower to craft the get-out-the-vote machine needed to push Democrats into the majority, where they have rarely been in the last half century.
His intergovernmental affairs director, Emma Wolfe, took leave from City Hall to try to steer the Democrats to victory. Other staffers took leave to work on other races. It appeared Mr. de Blasio made a worthwhile gamble in the short-term because the GOP's road to an outright majority, even in a midterm year where Democrats were swamped nationally, looked tough.
Mr. de Blasio had already arranged this spring for the IDC to enter into a shotgun marriage with the mainline Democrats to share power in the majority next year. All that was left was for the Democrats to protect their incumbents and maybe sneak away with a toss-up race or two, keeping their numbers.
Instead, disaster struck. As Mr. de Blasio told elated Democrats at an election night party for Mr. Cuomo that what they "started here in 2014 will be even greater in 2016," Republican challengers were trouncing Senate Democrat incumbents like Ted O'Brien, a Rochester lawmaker, and Terry Gipson, a Dutchess County legislator. Justin Wagner, a much-heralded Democrat who nearly knocked off a Republican incumbent two years ago, fell hard in an open race for a Hudson Valley seat. Cecilia Tkaczyk, well-liked among liberals, was wiped away by Republican George Amedore in a district drawn specifically to elect a Republican.
In just about all these races, Republicans invoked Mr. de Blasio repeatedly, treating him like an alien force intent on ruining their way of life. Mr. Cuomo, meanwhile, did almost nothing to help Democrats take the majority.
"Governor Cuomo promised to take back the State Senate," fumed Working Families Party State Director Bill Lipton. "Instead, he squandered millions on a fake party, and left millions more in his campaign account as New York Democrats in the legislature and in Congress withered on the vine."
Mr. de Blasio wants several things from Albany next year. He was able to get Mr. Cuomo to publicly commit to letting the city raise its minimum wage beyond $8, the state's minimum, to as high as $13.13–but in a world where the Republicans now have even more clout, Mr. Cuomo has an excuse to back out or allow the agreement to be watered down.
With rent laws expiring in 2015, Mr. de Blasio is under pressure to ensure Senate Republicans and the powerful Real Estate Board of New York, which has spent millions to protect the GOP, doesn't further chip into protections for tenants. Mr. de Blasio also wants to repeal the Urstadt Law, which gives Albany power over the city's rent laws–a near impossibility in this new climate.
"Practically speaking, even if there was a Democratic majority, they would have needed to cater to the moderates and conservatives," said Bill Mahoney, research director for the New York Public Interest Research Group.
"Resting on Ruben Diaz to get 32 votes isn't going to guarantee a lot of the programs," he added, referring to the Democratic Bronx state senator who endorsed the Republican candidate for governor, Rob Astorino.
Those close to Mr. de Blasio say he is taking the long view. 2014 was not ideal, but two years from now a president, maybe Hillary Clinton, will be on the ballot to drive Democratic turnout. The Republican majority is still slim and, to an extent, living on borrowed time.
"They tried hard to bring the coalition together, labor and progressive donors, and I think they did so, I think they have already set the stage for 2016," argued a person familiar with Mr. de Blasio's thinking, chalking up the losses to a Republican wave year. "The fair thinking was there wasn't a lot to lose, the Senate was already a hostile place. There was a lot to be gained."
Other de Blasio backers point out that he is still close with Assembly Speaker Sheldon Silver, long a Democratic bulwark against a GOP Senate majority. With Mr. Silver's help, Mr. de Blasio can bring plenty of clout to Albany–and not see all of his priorities die in hostile territory.
"Budgets and legislation in Albany require three-way agreements. Skelos and Cuomo will want stuff and they'll need to trade with Shelly, who is still the master of Albany negotiations," an organized labor source said. "Pretty sure the Assembly majority isn't doing away with rent control … Shelly has done pretty well for progressives and unions and New York City no matter whose been Senate leader or governor."