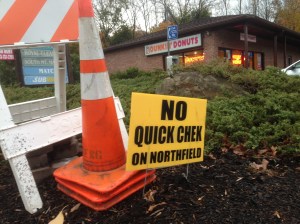 If you drive down Northfield Avenue in West Orange, you'll see some of the most gorgeous fall foliage imaginable. You'll see the South Mountain Reservation, Turtle Back Zoo, and the shockingly popular Codey ice arena bisect over 2000 acres. Even Joe DiVincenzo's classic Essex County boondoggle McLoone's is booming. But you'll also see something else: rectangular yellow signs dotting the landscape screaming "No QuickChek on Northfield."
To me, living in North Jersey and being opposed to QuickChek is like living in South Jersey and opposing WaWa or living in America and opposing baseball. QuickChek is northern New Jersey. Founded in Hunterdon County in the year I was born, 1967, the chain has grown to 136 outlets, mostly in New Jersey and all of them featuring some of the most delicious tuna subs you could imagine.
Now that they've added gas pumps to several of their locations, they've graduated from being merely convenient to sublimely wonderful. And yet the law of NIMBY dictates that every single sign of progress must have a coalition to oppose it.
If there were a store giving away free gold bars and IQ points, a coalition of silver miners and stupid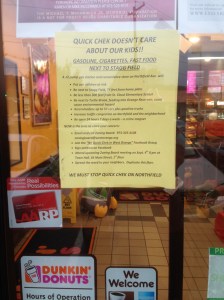 people would form to picket it. So let's take a closer look at the objections of the anti-QuickChek coalition, shall we? And make no mistake, it is a coalition. Someone paid for those professionally printed lawn signs.
According to the flyer the group has been passing out, the objection is that QuickChek will "put our children at risk." That's because it's near Stagg Field, a small, scruffy baseball diamond in West Orange. In case you're not worried about baseball, there's another favorite hobgoblin of activists, the environment. Since the station will be near Turtle Brook, the flier warns that it "could cause environmental hazard." And if security is your issue, the plan for the QuickChek to be open 24/7 is called a "crime magnet" by the hysterical flyer. Citizens are urged to call the West Orange zoning board and to join the No QuickChek in West Orange Facebook group.
These sound like solid objections, right?
But wait a minute. This flyer was posted in the window of the Dunkin Donuts, which is itself no more than a couple hundred feet from Stagg Field. And the Dunkin' Donuts mall has its own little convenience store in the same strip mall, as well as a Subway. That's funny. The flier warns about fast food and cigarettes being so close to Stagg Field. And the flier also warns about possible contamination from gasoline. But right next to the Dunkin' Donuts is a dilapidated BT station, with none of the state-of-the-art safety measures one would assume would be built into a brand-new gas station. I have nothing against whoever owns this place, but BP is not a name most New Jerseyans associate with environmental responsibility.
I have no idea whether there should or should not be a QuickChek on Northfield. But in general, I'm suspicious when people opposing an idea have self-serving reasons for doing so. If Dunkin' Donuts, a convenience store, a Subway and BP are worried about QuickChek, they ought to sell better donuts, cheaper cigarettes less grotesque submarine sandwiches and … well, I don't know what the gas station can do. But don't try to hijack the town's political process as your own private protectionism scheme.