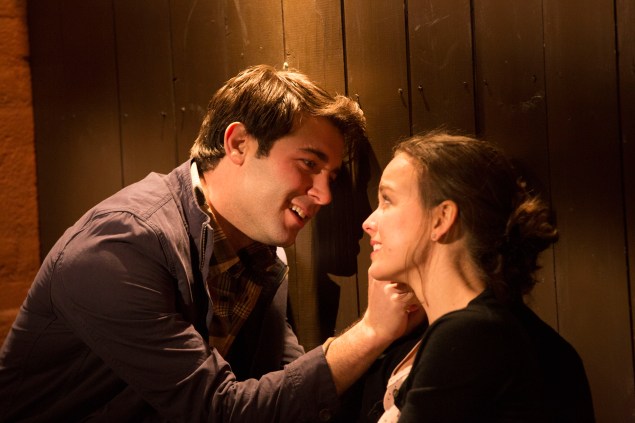 Another week, another benign rock and roll romance. Always Woodstock is about a pretty career girl in New York, slaving away at a dead-end job with a record company while dreaming of being the next Joni Mitchell. Catherine Brown (Allison Miller) is trapped in a dead life, engaged to a self-absorbed actor (Jason Ritter, wasted again) with a talent for melodrama, psychotherapy, sex addiction and rehab. Catherine can't connect the dots in a life she feels is being lived by a stand-in. "A plagiarized version" of herself, she calls it. I like that, if not much more of the hackneyed screenplay by writer-director Rita Merson.
---

ALWAYS WOODSTOCK ★★
(2/4 stars)

Written and directed by: Rita Merson
Starring: Allison Miller, Jason Ritter and James Wolk
Running time: 90 min.

---
So poor Catherine gets fired and loses her boyfriend in the same day. Understandably depressed, she moves back to her hometown of Woodstock to a family house she hasn't seen since the age of 4. For a house nobody has lived in for 20 years, all it needs is a dustpan and the straightening of a few overturned chairs and crooked picture frames. Catherine wants to be a singer-songwriter, but she's no Laura Nyro. In fact, it's a vocation for which she has not a shred of talent. Ms. Miller has some charm, but her singing is a nightmare, which hardly explains why she ends up an overnight star.
But wait. I'm getting ahead of myself. The movie, which has all the freshness and insight of a Movie of the Week on the Hallmark channel, is a first for the writer-director, which probably accounts for its lack of any definitive style or focus. But its shortcomings are partially redeemed by cool, handsome James Wolk (a dazzling actor who never gets an even break) as a local doctor who spends more time in a karaoke bar than in his office examining room. Ms. Miller is cute and polished as the city girl trying to find herself in Cactus Junction, U.S.A. Mr. Wolk deserves a movie of his own. No one in town resembles a real person; everyone in residence seems to be left over from the doped-up, naked, mud-soaked revelers from the old Woodstock music festival. (My god, these folks actually still listen to Jackie DeShannon records!)
Never mind. Catherine sings cornball lyrics like "I was a runnin' man/ A lost soul, never had a plan … Then your love showed me the other way/Now from you I will never run away." Everyone in this movie seems to be in love with bad music, so her wobbly voice and anemic melodies are right at home. Before you know it, she's torn between her love for the too-good-to-be-true doctor at the family clinic in Woodstock, the good-for-nothing boyfriend in New York, and a career with the old record label that fired her. No spoilers, please, but the title comes from the talisman her dead father taught her: "Never sell out. Always put love first. And if all else fails, there's always Woodstock." You do the math. The two stars are appealing. But to save Always Woodstock, they would not only have to learn new lines but write them, too.