If you own a small business in New Jersey, you're probably worried. Well, you're right to be worried.
For the second year in a row and the third time in four years New Jersey has been ranked dead last in the annual State business tax climate Index released by Washington DC's tax foundation. Our state's high taxes and brutal regulatory structure are not just numbers on a chart. They're affecting our daily lives. According to one expert, last year's growth rate in Wyoming, which was No. 1 in the survey, was 7.6 percent. In NJ, it was 1.1 percent.
What's even more troubling is that no hope seems to be on the horizon. After eight years of Democrat control in the governor's mansion and in the legislature, small business owners were excited to welcome Gov. Chris Christie and his pro-business message. It hasn't helped. If anything, things have gotten worse since 2010.
It's election time. This is the time of year when candidates are on television discussing a mythical character they call the "small business owner." That's me. I own two small businesses in New Jersey—a print shop and a laundromat. Both of them were hit hard by the recession, but both continue to struggle along, employing a handful of New Jerseyans and providing for my family. In turn we use the money we earn to go grocery shopping, buy clothes and even visit the occasional restaurant, thereby employing other New Jersey families just like ours. That's how an economy is supposed to work.
But let's take a look at how an economy actually works, shall we?
My print shop, The Office (hey, if you need business cards, a poster, or design work, give us a call!) was in Hoboken, in the very heart of the business district on Washington Street. It was exciting to see the town come alive as one of the hottest shopping districts in the state. What was less exciting: seeing beloved business after business fail, always in the same way. As chronicled in the local blog Hoboken411, someone builds a business, then his rent doubles, and the business would simply vanish. That's what happened to the UPS store before we came, the hardware store of more than 23 years, to the Barnes and Noble (leaving one of the best-educated towns in the state without a bookstore). The chain Maoz opened and closed so quickly there was barely time to grab one of their great veggie falafels; same with Ibby's falafel (Hoboken 411 blamed "exorbitant rent" and exorbitant carbs). Even Maxwell's, the Hoboken institution that was treasured by a generation of rock bands as a critical cultural institution and where I had the first date with my wife closed. Replaced with the same name, but the wrong vibe.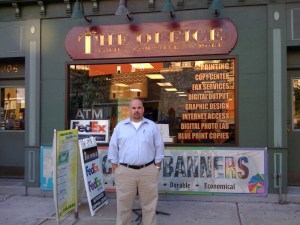 I accept that as neighborhoods prosper there are winners and losers. It's generally a good thing that Hoboken is so desirable, though I question just how much the city really needs three dozen real estate storefronts, since every time some awesome business closes, that's what seems to take its place — yet another real estate storefront that has the same pictures of overpriced hipster lofts dotting its front window. But back to business. I'm a businessman and I get that if someone comes in and will pay more the landlord should take it. If the people of Hoboken—and the landlords of Hoboken—think there ought to be 30 real estate stores where wonderful restaurants shops and cultural institutions once stood, so be it.
But what I don't understand is why the city of Hoboken adds to the misery of its small-business owners by viewing them not as respected contributors to the local economy, but purely as a source of additional revenue on top of the massive property taxes they're already paying.
Time and again, The Office was fined for putting our garbage out 15 minutes too early, complaints from customers that they just got a parking ticket for being two minutes expired or face surprise inspections by the fire department, or a whole bunch of other crap that sounds like nothing on its own that adds up when you're in a business that's barely making its rent in the first place. That's hard enough to swallow if you're operating in a well-run town. But Hoboken has possibly the worst streets, the worst parking, and some of the worst schools in the whole state. And don't let them blame it on Sandy. Yes, it was hit hard—you could have swam from our shop to the Holland Tunnel, for about a week. But take my word for it, the business climate was just as bad before Sandy.
As a local print shop, The Office printed fliers, banners and pamphlets for many elected officials in town. Hoboken has a strong tradition of grassroots campaigning, and it was charming every November to see high school kids hired to walk up and down Washington Street wearing T-shirts and carrying signs for their favored candidates. I once confided to one of the candidates picking up his own leaflets off how frustrated I have become by Hoboken's hostility toward its business owners. He surprised me with his candor, telling me most of the people who own businesses here don't vote here. It's easy to tax and fine you guys.
He's right. I live in Essex County so I don't vote in Hoboken. But I voted for with my feet. Earlier this year, I moved The Office and our six jobs to Jersey City. From the looks of things around Journal Square, plenty of others are joining me or considering the same move.
Last week, I was making a delivery to a loyal customer in Hoboken and I ran into my former next-door neighbor, who owns a beauty products business. He told me he was leaving his spot because of an incredible increase in rent, but had luckily found a more affordable place right across the street. He even started to move a couple boxes into the new storefront so he'd be ready to open in a few weeks. Hoboken's vigilant inspectors spotted a couple harmless cardboard boxes filled with shampoo sitting in the vacant storefront, and wrote him a ticket. $1000. And Hoboken wonders why it's lost its mojo.