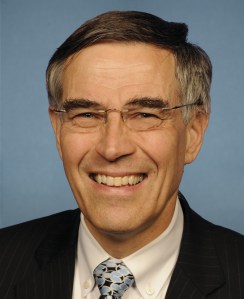 Retiring U.S. Rep. Rush Holt (D-12) announced today that he will join the world's largest general scientific organization, the American Association for the Advancement of Science (AAAS), as chief executive officer and executive publisher of the Science family of journals following the end of his eighth term in Congress.
Holt, a research physicist and former teacher, will serve as the 18th chief executive of the AAAS starting in February 2015, during the association's 2015 Annual Meeting from the 12th to the 16th in San Jose, Ca.
He will succeed Alan I. Leshner, Ph.D., who had previously announced that he would be stepping down as AAAS CEO.
In a statement released today, Phillip A. Sharp, chair of the AAAS Board of Directors, welcomed the addition of Holt to the organization.
"Rush Holt will be a great leader of AAAS and a powerful spokesman for science both nationally and internationally," said Sharp, who serves as an Institute Professor at the Koch Institute for Integrative Cancer Research, Massachusetts Institute of Technology. "His career as a scientist, educator, and public servant, uniquely prepares him to take the reins of AAAS from another great leader, Alan Leshner."
Holt, 66, has represented Central New Jersey (12th District) in Congress since 1999. He earned his B.A. degree in physics from Carleton College in Minnesota, and he completed his Master's and doctoral degrees at New York University. In 1982-83, while he was teaching physics and public policy at Swarthmore College, Holt was selected by the American Physical Society to receive a highly competitive AAAS Science & Technology Policy Fellowship.
Earlier this month, Assemblywoman Bonnie Watson Coleman won the district's general election against Republican Aileta Eck to succeed Holt.
"AAAS, as one of the world's most respected non-profit, non-partisan organizations and publisher of the leadingScience family of journals, helps to promote scientific progress and to improve human welfare," Holt said regarding his acceptance of the leadership role at AAAS. "I look forward to supporting the association's mission to advance science, engineering, and innovation throughout the world, for the benefit of all people."
The American Association for the Advancement of Science (AAAS) is the world's largest general scientific society and publisher of the journal Science (www.sciencemag.org) as well as Science Translational Medicine (www.sciencetranslationalmedicine.org) and Science Signaling (www.sciencesignaling.org).