In recent years, Paul Brodeur has found himself at the center of several public feuds, primarily with The New Yorker, which employed him for nearly four decades. His latest spat places him in opposition to the producers of American Hustle, the David O. Russell film released in December 2013. In late October, Mr. Brodeur filed a $1 million lawsuit against the movie for misquoting him about microwave radiation, on which Mr. Brodeur is an expert, having published a seminal book on the subject, The Zapping of America.
In the well-known scene, Jennifer Lawrence tells her husband, played by Christian Bale, that microwaves—which she refers to as "science ovens"—sap food of their nutritional value. "I read it in an article—look, by Paul Brodeur," she says, handing Mr. Bale a magazine that looks similar to The New Yorker, where Mr. Brodeur published his findings on the dangers of microwave radiation in the 1970s.
Mr. Brodeur, who has never published such information—in fact, he stated the opposite in a 1978 interview with People magazine—felt that the misattribution had marred his status as a science writer and trivialized his work. The lawsuit, which he is bringing against Atlas Entertainment, Annapurna Pictures and Columbia Pictures Industries—who did not respond to requests for comment—alleges libel, defamation, slander and false light.
The whole scenario feels kind of absurd—is it really possible that Mr. Brodeur has suffered $1 million in damages from such a seemingly inconsequential reference?—but Mr. Brodeur, an enemy of misinformation, clearly isn't messing around. He never has, and he expects the same of others. If the creators of American Hustle had done a modicum of research, Mr. Brodeur, a prodigious researcher himself, told me in a recent phone conversation, they would not have found reason to refer to him.
"Why would they use his name in this movie?" said Leon Friedman, Mr. Brodeur's attorney. "Because he's known as an environmental specialist. So they throw in his name and use it in a way that really damages his reputation. They have him say something that everybody knows is not true."
In his nearly 40-year-long career at The New Yorker—he retired in 1996—Mr. Brodeur carved out a niche for himself writing serious articles on serious issues related to environmental and occupational health problems that rival, in significance, Ralph Nader's muckraking on American automobile manufacturers and Upton Sinclair's The Jungle.
Mr. Brodeur's 1968 article for The New Yorker, for instance, "The Magic Mineral," was the first piece of journalism to go up against the asbestos industry, revealing the long-hidden hazards of inhaling the substance. (He was followed as a result, he said—and bribed by Johns Manville.) His work on the ozone layer, and damaging chemicals like chlorofluorocarbons that were depleting it, helped to bring about the Montreal Protocol, an international treaty established, in 1989, to save the ozone from eventual destruction.
While many have referred to Mr. Brodeur as an investigative journalist, he rejects the label, calling it a "bullshit term." "All reporting is investigative," he told me. Nevertheless, Mr. Brodeur's work stands out for its punctilious devotion to facts, history and, perhaps most importantly, its adversarial nature.
"He's a feisty individual," said Anthony Bailey, the British art historian, who met Mr. Brodeur at The New Yorker in the late 1950s. "He reminds me, in many ways, of the French writers of the late 19th century—people like Zola, who got very worked up about justice. He's taken seriously a lot of stuff that a lot of people shy away from, and in that sense, I think he's a hero."
*** *** ***
"I'm a great believer in the documentary evidence," said Mr. Brodeur, whose small, piercing eyes and tight-lipped mouth, the corners of which veer down to his chin, give the impression of a permanent scowl. "When I wrote my pieces, some of which were very embarrassing to and hard hitting about many industries, accusing them of culpability and death—that's pretty heavy stuff!—I was never challenged."
Despite his pugilistic persona, Mr. Brodeur, 83, lives a quiet life in Truro, Mass., on the northern tip of Cape Cod, about 10 miles from Provincetown. His home, a hexagonal cement structure, built, in 1978, by the Modernist architect Charles Zehnder, is situated in a scrubby forest off Route 6. He winters in Tavernier, Fla., on Key Largo, where he spends his time angling for Spanish mackerel, writing books and enjoying his solitude. (His wife died last year.)
In the third-story living room of his Truro residence, where we had coffee one morning not long ago, birds occasionally swooped in to a feeder, filled with Smucker's jelly, that Mr. Brodeur had placed on a balcony overlooking the backyard. Novels, periodicals and history books served as utilitarian forms of decoration. A National Magazine Award, known as the Ellie for its elephant shape, sat on a nearby balustrade.
"The New Yorker got it, but I absconded with it because I wrote the piece," Mr. Brodeur said, referring to his 1973 five-part series, "Casualties of the Workplace," about asbestos and other chemicals that were killing American workers in droves. "My daughter, Adrienne, also won an Ellie, bless her heart, for being the editor of a fiction magazine called Zoetrope, of which she was the founding editor. It was financed by Francis Ford Coppola. We may be the only father-daughter combo to have won the National Magazine Award."
Mr. Brodeur began at The New Yorker in 1958 in the newsbreaks department—"humorous squibs," as the magazine describes them, "that occasionally appear at the end of articles"—working his way up to becoming a Talk of the Town reporter, before which he was an intelligence agent in the U.S. Army from 1954 to 1956. Mr. Brodeur was in charge of counter-espionage and counter-sabotage at the first nuclear underground storage depot in Europe, which he recounts in his last published book, the 1997 memoir Secrets: A Writer in the Cold War.
"It was a joke—frankly, I did not even take it seriously," Mr. Brodeur said. "That may have been, come to think of it, the beginning of my concern about the environment. There were these warheads down in the igloos underground, and when something went wrong with the electrical system, and you were in the installation where they were being stored, you were forbidden to move. You were sort of waiting to be blown up or vaporized. So I never went there."
During a year in Paris in the wake of his service, Mr. Brodeur published his first piece in the The New Yorker, a short story called "The Sick Fox," which would become his first novel. Mr. Brodeur originally wanted to be a fiction writer but had a family to take care of and did not see it as a financially stable endeavor. His second novel, an anti-war book called The Stunt Man, published in 1970, was turned into a film starring Peter O'Toole, which has achieved a kind of cult status. "The book's better than the movie, but that always happens," Mr. Brodeur said.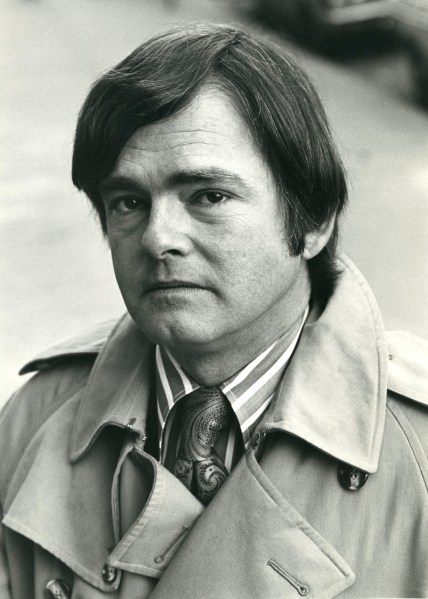 Mr. Brodeur finds fault with much these days—the government, the asbestos executives who were never tried in court, the magazine he once worked for, The New York Times—Joe Nocera made a scientifically dubious claim about asbestos poisoning in his Op-Ed column, which Mr. Brodeur objected to—and the New York Public Library. Nearly four years ago, Mr. Brodeur engaged in a fiery public dispute with the library over the alleged mishandling of his papers, which he had donated to the institution's archives.
Mr. Brodeur has taken issue with The New Yorker several times since his retirement, in letters to the editor, for factual inaccuracies related to his work. Some of the issues seem trivial. In the spring, for instance, Mr. Brodeur took on the magazine for using a particularly famous quotation from the late Nobel Prize-winning chemist F. Sherwood Rowland, which had originally appeared in an article by Mr. Brodeur, without attribution. In response, he wrote a letter to David Remnick, the magazine's editor, asking that he publish an editor's note that would attribute the quote to his piece. The magazine declined to do so, saying the quote was so widely used that it had "lost its authorship." This infuriated Mr. Brodeur.
"Paul loves a fight," said Louis Slesin, the editor of Microwave News. "Anyone who's read his work on asbestos or microwaves can't be surprised by any of this." Still, Mr. Slesin said, it would be a mistake to let the hoopla over American Hustle and his other recent scuffles obscure Mr. Brodeur's real accomplishments. "These are just footnotes to the major work."
Other issues, however, feel more urgent, when considered through Mr. Brodeur's eyes. In 1999, a young Malcolm Gladwell published a Comment piece in the magazine, which contained information that Mr. Brodeur found to be suspect.
"Gladwell claimed that there was no medical evidence to show that trichlorethylene was a cancer-producing agent," Mr. Brodeur said. "Well, I don't know what Gladwell was basing it on. I think he's grown up a lot. In those days, he used to love to shoot his mouth off because it was kind of controversial—it would make a lot of waves. But the fact was trichlorethylene is a leukemia agent, as anybody knows from reading A Civil Action or seeing the movie with John Travolta. Trichlorethylene is just too important a chemical to trivialize."
So Mr. Brodeur wrote a letter to the magazine and got one back from a subeditor, who said that one particular study supported Mr. Gladwell's point. "I went and got a half a dozen and mailed them in," Mr. Brodeur said. Then he published an article in the now-defunct Brill's Content, accusing the magazine of journalistic negligence.
*** *** ***
It would be easy to view Mr. Brodeur's antagonistic temperament as a symptom of boredom. But it may in fact just be his natural disposition, exacerbated by a life spent writing about asbestos poisoning, ozone depletion and microwave radiation.
Former colleagues have their own theories. "Paul is of French heritage, and he has the sensitivity of a Frenchman," said Jon Swan, who worked as a fact checker and a slush-pile poetry reader at The New Yorker from 1955 to 1960. Mr. Brodeur's father served as a lieutenant in the French Foreign Legion, and two of his ancestors were soldier-explorers who founded Louisiana and New Orleans. "You don't mess around with Paul," Mr. Swan added. "He has a short fuse."
Mr. Brodeur explains his temper in slightly nobler terms. "I believe truly that our profession is an honorable one, and, God knows, an old one," he said. "And I don't intend to stand by in my final years and see people printing stuff that I know to be untrue in major newspapers like The New York Times or in an article in a magazine, let alone a magazine I worked at for almost 40 years."
Mr. Brodeur worked at The New Yorker during what he believes to be its halcyon days. Under the stewardship of William Shawn, writers were given ample time to develop their articles—Mr. Brodeur said it might take him a year to report a piece—and were never assigned stories. "Shawn had a very strong ethical and moral streak," Mr. Brodeur said. During his tenure, Shawn published John Hersey's "Hiroshima" and Rachel Carson's "Silent Spring." "I'm sure that's why he published a lot of my stuff. He felt, as I did, that there were huge environmental problems, occupational problems, such as with asbestos, that needed to be remedied."
When Tina Brown took over at the magazine, in 1992, Mr. Brodeur was disappointed by the direction she was steering the publication—and the fact that the magazine had been bought out by Advance Publications in 1985—and retired at 65. "She was manifestly uninterested in anything that had to do with the environment," Mr. Brodeur said of Ms. Brown. "I felt she had tarnished the whole image of The New Yorker."
He still thinks the magazine is not what it could be under Mr. Remnick, who took the reins in 1998. He enjoys the critics, like James Wood and Hilton Als, but the longer features, not so much.
"I'm not interested in reading, in The New Yorker, about bluegrass guitarists and that kind of shit," he said. (The New Yorker declined to comment for this article.)
Since he retired almost 20 years ago, Mr. Brodeur has written a number of novels—as yet unpublished—and short stories. One novel is about the infamous human radiation experiments conducted in this country after World War II; another concerns a trial lawyer involved in asbestos cases who reveals classified documents and goes to prison; and a third is based on the history of southeastern New England in the 17th century, from the point of view of a Native American. (Mr. Brodeur wrote two pieces for The New Yorker, which became a book, about the land claims of Native Americans.)
Spending time with Mr. Brodeur attunes you, in a healthy way, to the specifics of history, the environment and even existence. You walk away from a conversation with him wondering what unknown agents might be leaking into your body and killing you—radiation from cellphones, for example, which Mr. Brodeur believes to be particularly dangerous.
Later in the day, over drinks at Fanizzi's by the Sea, on Commercial Street in Provincetown, where Mr. Brodeur worked when he was in college, he bantered with the waitress when not expounding upon the town's zoning laws, its geographical complexities and the nature of its water supply.
As for his recent dispute with American Hustle and his numerous tiffs with the magazine that employed him for half his life, Mr. Brodeur claimed, in a measured voice, that he is only trying to defend his work.
"I'm truly not looking for trouble."