The "cavernous" spaces that make up the 6,000 square-foot Unit #2 at 69 Wooster Street are set off by "serious art walls," according to the listing for the co-op held by Douglas Elliman's Trish Riedel. And small wonder. The sellers, who just succeeded in closing a deal for $6.3 million, according to city records, were none other than Eileen and Michael Cohen, collectors of long standing for whom art walls any less than serious surely would not do.
The buyer, an anonymous, Delaware-registered company known only as Sbventure, LLC, leaves no digital trace of his own personal interest in high-class visuals. But given that the apartment is a true—and enormous—loft, "classic Soho" to a T, he can do with it pretty much anything he likes. (The apartment has great live/work potential and currently contains a few offices.)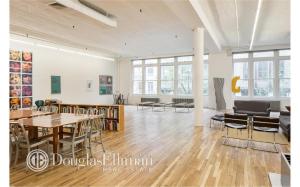 Still, for aesthetically-pleasing—if somewhat idiosyncratic—home design, it's tough to imagine an arrangement more fitting than the one used by the sellers. In the kitchen, over blocks of blonde wood cabinetry clad in restaurant (or hospital)-style metallic counter tops, a large, enigmatic cloud puff of what might be cotton or dense peonies hangs still from a soaring ceiling on a thin line. A trio of slatted backless benches that would not be out of place in a modernist sculpture garden stand to one side of the living room, before a long row of windows.
As currently configured, the apartment has three or four bedrooms, one of which seems to double a library, a media room, a utility kitchen, a large den and a study. A keyed elevator provides private access.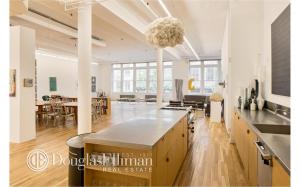 It's unclear how long the Cohens owned the loft, but it has been since before public records began tracking such things. An article nine years ago described the place as their "headquarters," praising Ms. Cohen's appraising eye for art ranging from African sculpture to 1970s minimalism, a collection of which went to MoMa.
Her eye for real estate received no mention, though obviously, it should have.