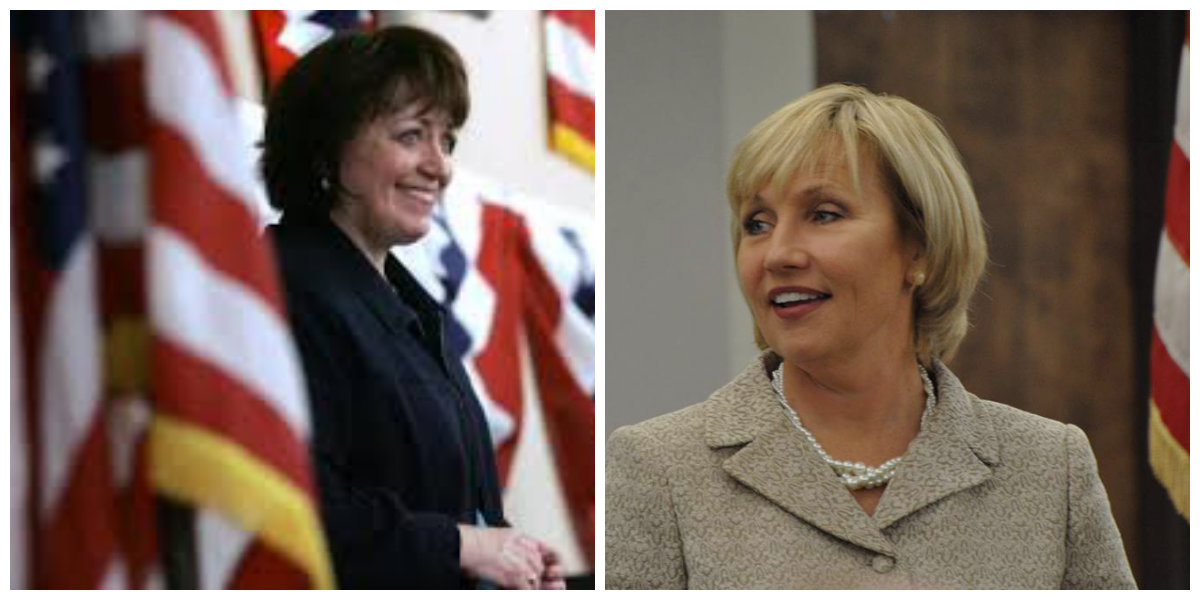 An interesting New Jersey power dynamic could begin to play out in Lyndhurst tonight.
Lt. Gov. Kim Guadagno is scheduled to appear at a Monday night rally in Lyndhurst on behalf of fellow Republican Kathleen Donovan, the incumbent who is seeking to fend off Democratic challenger Jim Tedesco in the Bergen County Executive's race on Tuesday.
While Bergen County is hours away from the sunset of the 2014 election season, it could be the dawn for Guadagno's potential gubernatorial ambitions. With Gov. Chris Christie apparently preparing for a 2016 presidential run, many say Guadagno, simply because of her current position, is in the pole position to be the GOP's gubernatorial candidate in 2017.
A Donovan victory, however, could alter this political calculus. One key number is 30 – the number of years past which Donovan has been on the political scene in Bergen, the bellwether county in statewide politics. This type of name recognition in Bergen has put her on the edges of statewide power before – Donovan was reportedly just edged out by Guadagno in the selection process to be Christie's lieutenant governor.
Guadagno, a former Monmouth County sheriff, in the meantime has been a muted presence in the shadow of the larger-than-life national profile of Christie. The limits of the powers of the lieutenant governor's office have become a subject for debate in the state Legislature.
PolitickerNJ asked some observers of the statewide political scene if Donovan could be a serious candidate for governor if she survives on Tuesday.
'Kim Guadagno is the odds-on favorite to be the next Republican gubernatorial candidate," said Ben Dworkin, professor of political science and director of the Rebovich Institute for New Jersey Politics at Rider University. "[Gov. Christie] might leave early, which would put Kim Guadagno in the governor's seat. That's a huge advantage over everybody else. People might rally to Donovan if she wins for county executive, but [Guadagno] has been loyal. It's hard for anybody to find a reason not to support her."
But state Assemblywoman Holly Schepisi (R-39) expressed admiration for her fellow Bergen County resident.
"It's a fascinating possibility. [Donovan] has never lost an election. Her brand in Bergen County is fantastic, she's almost like Cheerios up here," Schepisi said. "It's a county that in order to win a gubernatorial election, you need. That's why so many dollars from potential Democratic candidates for governor are being pumped in to the county executive's race. She is viable. The questions are will she want it, will she leave something she just won to pursue it, and what sort of support from the state party would she get to do so."
Some political observers have told PolitickerNJ that Schepisi's name has also been bandied about as a future Congressional or statewide candidate, including for governor.
Schepisi, who has served in the Assembly in 2012 and is the daughter of John Schepisi, a former Bergen Republican chairman, noted that some constituents have suggested that she run for governor. However, she took a measured, longer-range view of her political future.
"I would have to do a lot of hard thinking about the pros and cons of doing something like that at this time," Schepisi, 42, of River Vale, said. "I've indicated to anybody who may have interest [in running for governor] that I'm here as a resource to whoever ultimately ends up doing it. Everything in life is timing. Right now, I think it's not my time, but you never know."