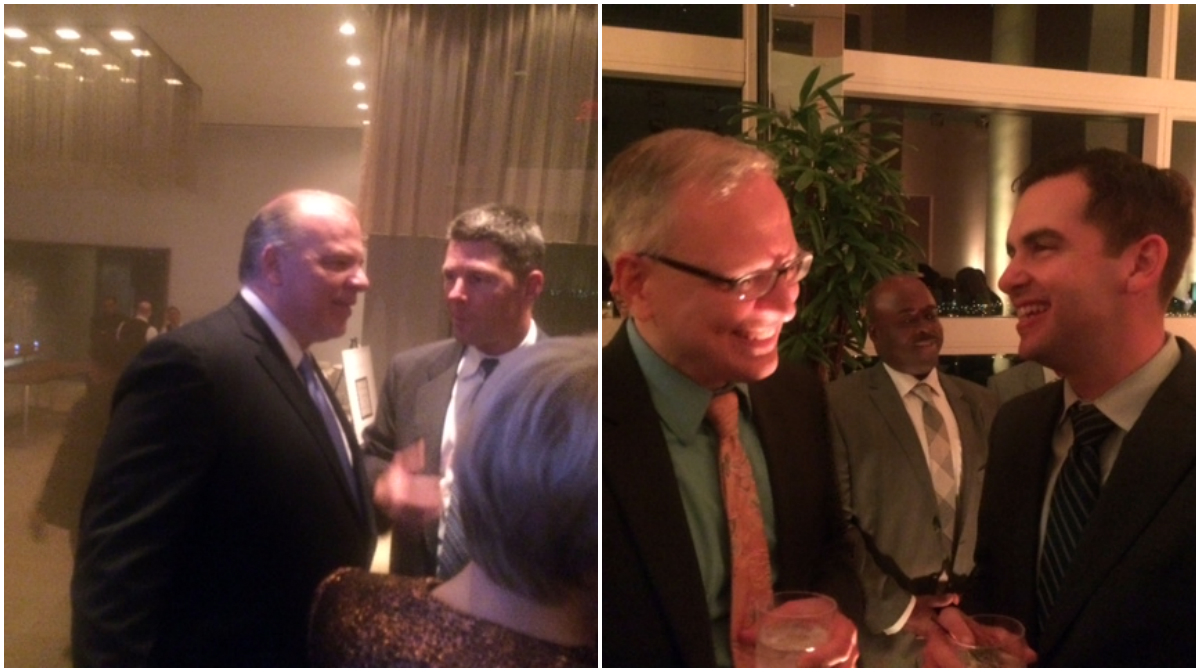 ATLANTIC CITY – From Tuesday night into Wednesday morning, two Democratic New Jersey politicians who have dominated the speculation about the 2017 gubernatorial race participated in the staged fun befitting of the New Jersey League of Municipalities conference stage: dueling parties meant to demonstrate statewide power.
The party hosted by State Senate President Steve Sweeney (D-3) on the pier at Caesars was befitting of the name of the locale. Hundreds came to pay tribute to the elected political emperor of South Jersey, including many boldfaced names from North Jersey.
Notables from the north included a sizable Bergen County-based delegation, including state Senate Majority Leader Loretta Weinberg (D-37), state Assemblywoman Valerie Vainieri Huttle (D-37) and Bergen Democratic Chairman Lou Stellato, as well as Central Jersey stalwart state Assemblyman John Wisniewski (D-19).
As much as whispers of gubernatorial runs continued to be heard over the clinking of cocktail glasses throughout the evening, Weinberg didn't think the contenders were heading to their boxing ring corners just yet.
"The people on the inside, I don't they've made up their minds, and certainly the average voters are not concentrating on this," Weinberg said. "There are other things we need to be working on."
Sweeney, who specifically pointed out to PolitickerNJ partiers from Bergen, Middlesex and Monmouth counties, also got specific about what 2015 should be about for the Democrats.
"We have to reelect a Democratic Assembly," Sweeney said. "With the Senate and the Assembly on the same page on a lot of issues, even if [Republican Gov. Chris Christie] is not the same page, when he's gone, we've already passed a lot of legislation that the people want. As for anything else, Governor [Richard] Codey summed it up perfectly: anyone that plans for something year in and year out is stupid. Focus on today, not tomorrow."
Patrick Murray, director of the Monmouth University Polling Institute, noticed that the focus seemed to have changed from this year to last, when Jersey City Mayor Steve Fulop, Sweeney's potential North Jersey rival in 2017, notably partied at Sweeney's event.
"Steve Sweeney was putting his stake in the ground, and Steve Fulop was putting his stake in the ground," said Murray. "I think what they're realizing now is that it's not about the schmoozing at these big events, it's about getting out there and pressing the flesh one-on-one across the state."
Murray could be seen later across town at the Borgata hotel, where Fulop held his party high up on the 32nd floor. The pollster was lucky to get in: scores of people had to be held at bay at the downstairs elevators as they surged to get in.
The Fulop party generally skewed younger and more urban, with more mayors and council members in attendance, including Trenton Mayor Eric Jackson and Newark Mayor Ras Baraka, as well as Bergen County Executive-elect Jim Tedesco. It paid to keep your eyes peeled and shoes dry at the chlorine-scented event: two politicos to be named later fell in the pool.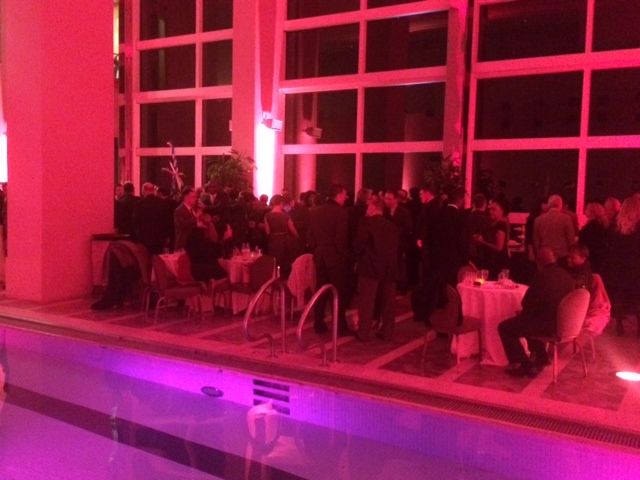 Momentarily dodging the madness, Baraka, the mayor of New Jersey's largest city, reinforced his alliance with the mayor of the Garden State's second-largest city.
"Steve Fulop is a great mayor. I came out to pay my respects to him," said Baraka, who will be hosting his own party Wednesday night at Caesars. "We're just trying to have fun, that's all."
For Fulop, the night was not all about fun, but also on his focus for 2015.
"The year 2015 thematically is about building a stronger majority for Vinny Prieto," Fulop told PolitickerNJ, referencing the state Assembly Speaker, an important Hudson County ally. "We're growing as a blue state. The goal next year is that we get more involved in Assembly races. Where Vinny points us, we're going to be supportive. That's the Hudson County model at this point."
The League of Municipalities conference may be all about business, done both in conference rooms and back rooms. But Fulop, looking out at the crowd and at the Atlantic City skyline with a vaguely provocative look in his eye, underscored another key League phenomenon.
"I don't know how important it is, but we've got the coolest party," Fulop said.