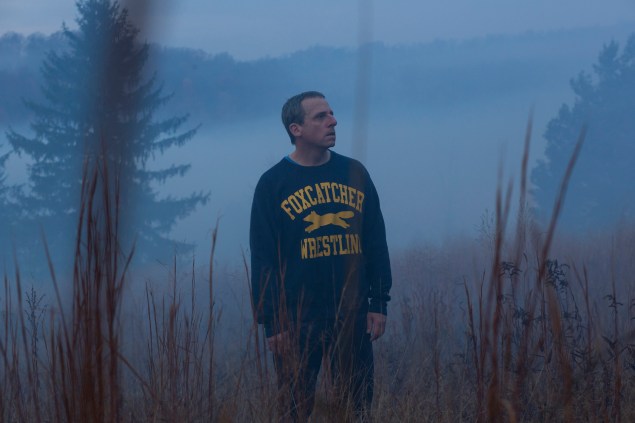 Bennett Miller, the meticulous young director of Capote and the popular baseball film Moneyball, brings his quality of excellence back to front-row focus in Foxcatcher, a different kind of epic biopic about crime and wrestling that is unlike anything you've seen before. It's an amalgam of dramatic all-American themes including ambition, paranoia, greed and the ice cubes in the blood that fuel the ruthless pursuit of success in the competitive world of sports. Color it hair-raising.
---

FOXCATCHER ★★★½
(3.5/4 stars)

Written by: E. Max Frye and Dan Futterman
Directed by: Bennett Miller
Starring: Steve Carell, Channing Tatum and Mark Ruffalo
Running time: 134 min.

---
At the center of the complex true story is Mark Schultz (Channing Tatum), a 1984 Olympic gold medal champion on the U.S. wrestling team whose career has already peaked when he meets eccentric billionaire John du Pont (Steve Carell, unrecognizable with a bulbous prosthetic nose in a career-changing performance). Du Pont offers Mark, his athletic role model, a second chance at the gold, using his lavish Pennsylvania estate Foxcatcher Farms as a training facility to prepare for the 1988 Olympics in Seoul. He also offers Mark's seasoned, experienced older brother, Dave (Mark Ruffalo), a job as his workout partner and coach, but Dave turns him down, refusing to take his kids out of school and relocate.
On his own, Mark adjusts quickly to the lifestyle of wealth and luxury endemic to America's richest dynasty, but it doesn't take long to notice the weirdness. Du Pont claims to be a coach, hunter, author, ornithologist and flag-waving patriot, but his cruelty and craving for power also make him a world-class mental case. When he pulls out the cocaine and a machine gun arrives, it's clear that Mark is not in Kansas anymore. The surrogate father slowly turns into something diabolical in search of a dream—to turn Foxcatcher into a training camp and permanent home for his own team of Olympic wrestlers, plying Mark with whiskey and drugs, destroying his strength, concentration and self-confidence in the process. Even after Dave is persuaded to join "Team Foxcatcher" to protect his gullible kid brother, Mark's frustration and rage collide with du Pont's madness, leading in a downward spiral to murder and attempted suicide. Twenty years ago, the case made headlines.
Mr. Miller's collation of the facts in the unsettling screenplay by E. Max Frye and Dan Futterman, dramatized in riveting detail, hits pay dirt with the aid of a superb ensemble cast. Mr. Carell's creepy transformation will stir controversy, but everyone is a match. Vanessa Redgrave, as the imperious du Pont matriarch who sees through her son's unhealthy obsession with wrestlers and their six packs, lends a naturalistic smoothness to the delusions around her. Mr. Ruffalo delivers with his customary realism as the brother who sees trouble on the horizon but is unable to change fate. And do not underestimate Mr. Tatum, who goes through his wrestling maneuvers the same way he played the male stripper in Magic Mike—with fastidiously timed precision. For anyone who thinks of him as just another over-publicized hunk who got lucky, listen up. As an athlete going down for the count, this is his juiciest role to date—and he plays it like a hungry man heading for a steak house with somebody else's credit card.