SOUTH TOMS RIVER – In the parking lot outside the local polling place here, Republican city councilman William Gleason was chatting with voters when incumbent Mayor Joseph  Champagne, Jr., a Democrat, walked up and brushed a piece of lint off the lapel of his fellow official.
"Let me get that for you," he said.
It took them two minutes to start bickering.
"I have thousands of ideas that you guys don't listen to," Gleason said, lamenting the Democrats' control of the decision-making apparatus in city hall and pointing to a recent robo truck program that he said took too long to implement.
"That's my problem with you," Champagne shot back. "You said you have the idea 10 years ago but you never get it done. We came up and we get it done."
If it was any other town in uber-conservative Ocean County, the interaction might have come to fisticuffs, two officials on the opposite ends of the political spectrum finding themselves alone –save this reporter's prying eyes — in an empty parking lot on election day. But in this tiny South Jersey borough, dropped almost dead-center on a map of the county, the conservative politics that define other towns, from Toms River to Ocean Gate, don't hold sway. Here, nearly three-fourths of voters are undeclared, with the remainder split almost evenly between Republicans and Democrats. With Champange, voters elected the first and only African American in county history — and are set to elect a second, if he loses (Champagne's challenger is also African American).
And on city council, where Gleason sits, members can't seem to decide exactly which party they even belong to — Gleason began Democrat but got elected on the Republican ticket several years ago, and the board's current council president, Edward Murray, had a recent change of heart and is now running as a Republican against Champagne and his own former Democratic colleagues.
To hear them tell it, South Toms River is a microcosm of politics unlike anywhere else in Ocean County.
"South Toms River is small. You know, there's no real way of getting everyone to communicate what they're up to," Gleason said about the task of gauging voter interest and allegiance in the town. "They're all very closed mouths so you're not going to know. We've walked the town multiple times, and we have a good feeling about it, but until 8:30 tonight, you can't tell."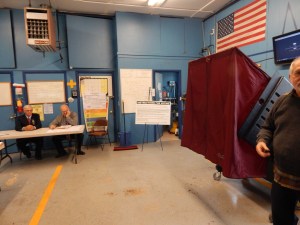 Today, only Champagne is on the ballot, challenged by Republican Oscar Cradle on as he seeks a second term. The incumbent Democrat has had to endure a nasty campaign season, where his opponent's strategy has involved pointed attacks against his record as mayor, particularly attacks over a taxpayer-funded newsletter promoting his accomplishments as the borough's chief executive that went out to residents within the 90-day window when candidates are supposed to be barred from such mailings. Champagne said he reimbursed the town the $983 cost of the newsletter upon learning about the rule, but that didn't stop his Republican opponent from using the mishap as campaign fodder in his quest to unseat the Democrat.
"And I showed it to my contender during the debate, and then three or four days later we saw a big ad on the news, 'Cradle slams Champagne for using taxpayer funds to send literature out to the borough.' And I was like, wait a minute, I thought I showed that to him, and the borough has not paid for this yet, so how can that come up on the news? So that was very disconcerting."
A native of Haiti who moved here in 1991 and still speaks with a thick accent, Champagne said he stepped onto the political scene here with the "noble idea that everybody is fair," especially considering "Cradle is a reverend." But he now finds himself deeply concerned with the political process itself, saying that if nothing else, this campaign season has taught him "how politics can turn people who are seemingly angelic in their interactions with others into something else during the time of election."
"I don't like the whole political season where people are just throwing mud at each other, and not mud that is deserving, but mud that is created in order to castigate somebody else," Champagne said. "This is really a cancer to our democracy, and I'm hoping that this culture changes, because other nation's are looking at us like, 'really? is this what democracy is all about? You give people the right to choose but you try to cover the eyes of the person from seeing them for who they are with lies and propaganda?'"
For his part, Gleason was at the polling place today to help the voting process along smoothly, though he too has a vested interest in today's outcome. In the Borough Council race, Republican incumbent Councilman Edward Murray and fellow Republican Sandford Ross are competing against Democrats George R. Rutzler, Jr. and Adrienne Lawrence for two seats. On the county freeholder level, another Republican incumbent, Joe Vicari, is looking to stay Democratic hopeful Tim Ryan.
And on the congressional level, Republican businessman Tom MacArthur is vying against Democrat Aimee Belgard in the county's third congressional district race.
While Ocean County is widely expected to be MacArthur's to lose, Gleason said it's hard to read which way South Toms River will go in either of those races, for the same reason that it's hard to predict even how the mayor's or council's race will turn out. He said Cradle's team has put out over 300 lawn signs over the past two weeks compared with Champagne's 100, but it's still hard to tell who has the edge. Voters in South Toms River just aren't like their counterparts elsewhere in the county, he says, and that makes for especially interesting political dynamics and outcomes — like the ones shown here — on election day.
Champagne himself is a testament to the weirdness.
"This guy made me the first African American mayor in the history of the whole county," Champagne said, pointing to Gleason. "That tells us something about the county but it also tells you something about South Toms River. That we don't necessarily judge people by race or color. The may be some elements of that, but generally, people see people as people. Maybe to answer your question, South Tom's River could become the leader for the rest of the county, to show them, look, it's not about color or race, it's about character and leadership."
"Did I say it right?," he laughed.
UPDATE…
Champagne lost.
According to the Asbury Park Press…
Oscar Cradle (R) 431
Joseph M. Champagne (D) 391