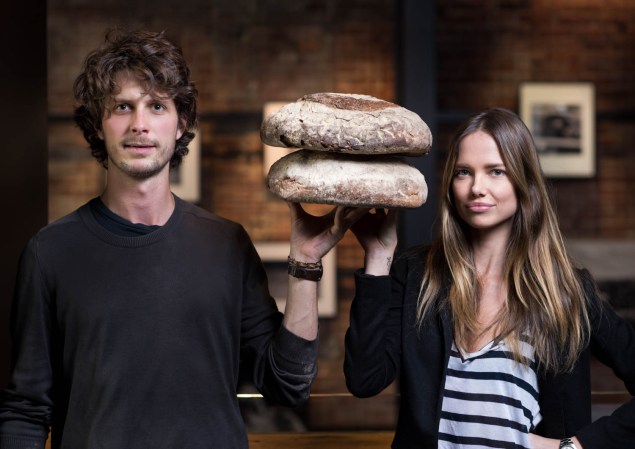 Nicolas Dutko doesn't remember the first time he tried pain poilâne, the famous French country bread, slashed, on top, with an iconic "P." Like most of those lucky enough to be raised in Paris, where poilâne is made, the large, round sourdough loaves have always been a part of his life.
"Every good family in Paris has poilâne bread at home," Mr. Dutko said on a recent afternoon over lunch at the Tartinery, the one-of-a-kind Nolita restaurant devoted to tartines—French open-faced sandwiches now popular in fashionable places—he founded four years ago with the model Alicia Rountree. "It was a part of the kitchen all the time."
Since 2010, poilâne, a type of miche, has been a mainstay at the Tartinery's kitchen as well. But that may change soon, much to the chagrin of customers who have relied on the Tartinery as one of the few sources in New York where poilâne, the mere mention of which makes the most refined Frenchman salivate with wheaty desire, can be located.
Mr. Dutko, 31, and Ms. Rountree, 28, have concluded that they must remove poilâne from the menu. The decision wasn't easy. For years they have held out, under the assumption that poilâne, which they ship in four times a week from Paris, was the finest sourdough they could serve. "It has a very good consistency," Mr. Dutko said. "And it's the best bread to toast." Even with an array of cucumbers on board, it never collapses under the weight of its own toppings. A few major complications, however, stand in their way.
There are, first of all, the environmental issues. The Tartinery prides itself on serving locally sourced ingredients, and bread flown in overnight from Europe certainly isn't local. It's also expensive. A loaf of poilâne, which is made by hand, costs about $25, and Mr. Dutko spends nearly $50,000 a year on poilâne alone. (An equivalent loaf, in the United States, costs around $6.) What's more, and perhaps the biggest handicap to the operation, is the loaves often get held up in customs by the Food and Drug Administration, delaying their delivery by as long as a week, after which time the bread is no good. The Tartinery often runs out of poilâne.
And so the restaurant has, since opening, been working with different bakers to find a suitable stand-in, but Mr. Dutko and Ms. Rountree have recently begun searching in earnest for a permanent replacement. The Tartinery currently serves two other types of bread along with poilâne—a country multigrain, made by Eli's Bread, and a sourdough from the Balthazar Bakery similar to the Tartinery's French offering. "They're great," Mr. Dutko said of Balthazar's loaves. "But if we remove poilâne, we need to find better." They are still looking—at bakeries upstate and in the city—but so far, Mr. Dutko claimed, nothing compares.
*** *** ***
While the Tartinery's predicament may not seem like the most pressing affair—it is, after all, a first-world issue, and plenty of purveyors in the New York area make fine loaves that would satisfy the palate of even the most discerning bread connoisseur—Mr. Dutko's allegiance to poilâne, it seems, has more to do with emotional attachment than gourmet expertise.
Mr. Dutko, who grew up in Saint-Germain-des-Prés, in Paris's Sixth Arrondissement, has known Apollonia Poilâne, the CEO of the eponymous company that makes Paris' most prized bread, for a long time. In 2002, at the age of 18, her parents, Lionel and Ibu, died in a helicopter crash off the coast of Brittany. In the wake of the accident, Mr. Dutko's mother provided Ms. Poilâne with the emotional support that any teenager might need at a time of loss, and as a result, Ms. Poilâne became very close with the whole family.
Given that bond, Mr. Dutko and Ms. Rountree—who used to date but have since broken up—had originally intended to open a poilâne bakery in Manhattan while running the Tartinery on the side. (Poilâne, which was founded in 1932, has three bakeries in Paris, one large factory in Bièvres and two bakeries in London.) But in the end, much to Mr. Dutko's disappointment, Ms. Poilâne wasn't convinced she could reproduce the same bread in the city.
"Hypothetically, you could bring a starter to New York and make an equivalent," Ms. Poilâne said in a phone conversation from Paris. But it's not that straightforward. Bread is, at base, simple—it takes flour, water, salt and yeast to make—and yet there are environmental factors that dictate how a loaf might taste: wild yeast, humidity, the water supply. (The London bakeries use the same French starter, the bacterial culture made from flour and water that is the basis of all sourdough bread, and the city, Mr. Dutko said, has a similar enough climate to Paris that the taste and texture stay consistent.)
"You see it here," said Mr. Dutko, who studied for four and a half years in Switzerland at the École hôtelière de Lausanne. "You can ask a very talented baker to do a baguette. The baguette is going to be amazing for one hour—after that, it's dry."
Which makes the quest to find a local substitute all the more pressing. "Bread is sort of an indigenous thing," said Paula Oland, founding baker at Balthazar, whose sourdough is made with a combination of wheat, rye, beer and wild yeast, cultivated on site. "Good bread can be made anywhere. And I bow down before Poilâne and that whole legacy, but would I pay to have it brought over? No."
Although the decision to import poilâne—which uses sea salt from Guérande, stone ground flour and an original starter from 1932—was not made with the most financially sound reasoning, it did give the Tartinery a certain level of epicurean cachet that a newly opened restaurant might need to attract necessary buzz. "It was kind of a crazy idea, but that's also what made a lot of people come in the beginning, especially lots of French people," said Ms. Rountree, who was raised in Mauritius and splits her work life between modeling and the restaurant. "If you tell a French person about poilâne, he will come for it."
Still, not all connoisseurs are so enamored of poilâne. Daniel Leader, the founder and chief baker at Bread Alone, an organic, European-style bakery in the Hudson Valley, which has supplied the Tartinery with multigrain loaves in the past, is one naysayer. "Poilâne makes damn good bread, but I think their reputation is a little overblown," Mr. Leader said. "Sometimes I find their bread too acidic—the sourdough is too developed and it breaks the texture."
*** *** ***
But the bread isn't the only thing that makes the Tartinery stand out. The restaurant offers several varieties of open-faced sandwiches, which run the gamut from the experimental to the traditional, some influenced by the classic cookbook Les Meilleures Tartines de Lionel Poilâne. There is, for instance, a tartine with lobster claw and grapefruit. There are tartines with fig and blue cheese and with roast beef and herb mayonnaise, dessert tartines smeared with ricotta cheese and loaded with fresh berries, all served on an 11-inch slice of bread.
And, of course, there are croque monsieurs and croque madames, the sine qua non of any French bistro. According to Mr. Dutko, the croque monsieur, which is typically served on pain de mie, a kind of French white bread, is a particularly popular item. "Americans," he said, "love anything that has grilled cheese on it."
The Tartinery, which stores its inventory in a commissary in East Williamsburg, is not the sole place in New York City that is serving poilâne. Agata and Valentina, on the Upper East Side and in Greenwich Village, sells the bread, and Poilâne has a number of private accounts. (You can order individual loaves on the bakery's website.)
It is, however, the only restaurant in the city devoted almost exclusively to serving tartines—they do have soups and salads, but tartines are their specialty—though some cafes and bakeries in the city have them on their menus, like Le Pain Quotidien. ("They don't toast them" Mr. Dutko said, with some degree of skepticism. "We've never understood why.") Maison Kayser, the French baker Éric Kayser's international chain, serves tartines, too.
"What we do doesn't even exist in France," Mr. Dutko said. "The tartines, they exist, but they stay very basic—it's a toast with butter, ham and cheese. A few places have started to do more sophisticated tartines with more interesting toppings, but to really do a place where you only eat tartines, it doesn't exist."
The Tartinery, which labels itself as a bistro moderne, may have opened at an opportune time, even if the decision to use poilâne is inconvenient. Tartines and their toasted affiliates are, it seems, rising in popularity, despite this country's widespread aversion to gluten. In a recent article in The New York Times, David Tanis extolled the virtues of tartines as a quick, convenient and hearty lunch option. In San Francisco, toast has mysteriously become one of the hottest food items in the city.
And it's been a big year for the Tartinery, which, in the summer, opened a restaurant at Hudson Eats, the high-end cafeteria at Brookfield Place. In 2012, the bistro expanded uptown to the Plaza Food Hall.
It remains to be seen, of course, what will happen when poilâne is taken off the menu. But one gets the sense that few will notice—thanks to the thoroughness of the search for a replacement—save for those diehard poilâne fans biased by nostalgia, like Mr. Dutko himself. Indeed, when he talks about alternatives, like Balthazar's miche—which, as it happens, is also a French slang term for butt cheek—he can give no other reason for why it isn't suitable besides saying that it isn't as good as poilâne.
In the end, Mr. Dutko, who has lived in New York since 2007, may, in fact, be the worst judge to decide which bread should replace his beloved poilâne, which summons memories of childhood and family and home that no other food could compete with. Eventually, Mr. Dutko will just have to pick, and he may be coming to that conclusion. He said in an email that, as a result of this article, he had recently reconnected with Mr. Leader, whose new variety of poilâne-style miche had impressed him.
In the meantime, Mr. Dutko and Ms. Rountree say they are planning to open more restaurants—on the Upper East Side, at Columbus Circle or in Nomad, just north of Madison Square. Hong Kong, London and perhaps the Middle East are also on the horizon, and eventually, they would like to make their way back to Paris—though not for another five years or so, according to Mr. Dutko—where an updated take on tartines could draw attention.
"It would be funny, actually, to have come here to build a French concept and to go back with it, 10 years later, in Paris," Mr. Dutko said. "Then," he added, with an air of finality, "we would use poilâne—and only poilâne."