At 62, Terry J. Lundgren is staring at the most expensive renovation in his company's history—and one of the priciest in the world. The tall, fit CEO of Macy's, Inc., is expansive on the reasons why he is bullish on New York. It's the American city in which the most people live and the most would choose to live, fashion capital, tourism capital, a resilient economy. That's boilerplate. But he lights up when he tells me, "This is where you'd like to be if you want to be in our business." And, after all, Macy's is already here with Herald Square, and has been since 1902.
That's the secret to the success of Macy's and the contradiction. This old-school business—people walk in and buy stuff—is actually on the verge of becoming the city's largest employer, and one of its best run. This old-school CEO, who worships at the altar of a 1950s management guru straight from the IBM playbook, is actually an exceptionally decent fellow who's made "giving back" a core part of his company philosophy.
The day before his interview with the Observer, in addition to the usual responsibilities of running a $28 billion retailer with more than 840 stores, he hosted an hour-long meeting with 100 University of Florida grads employed by Macy's in New York. He also announced that Macy's and Bloomingdale's will open new stores in Abu Dhabi. That evening, he presented the Deming Cup at Columbia Business School (Mr. Lundgren received the award in 2012). He has just returned from store openings in Sarasota and Palo Alto, with an itinerary that somehow included a stop in Dubai.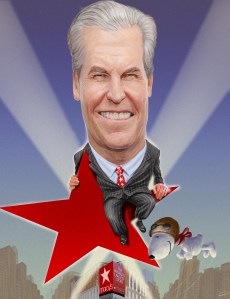 Macy's is clearly winning in the challenging retailing game. Despite intensifying competition from online retailers and a flagship store sealing off 200,000 square feet of the world's most valuable retail shopping space for renovation, Macy's continues meeting goals for growth in sales, earnings and returns on invested capital. According to the annual statistics compiled by Crain's New York Business, the head count of Macy's has grown 30 percent in the past five years, approaching JPMorgan Chase & Co. as the region's largest corporate employer. (Crain's also inducted Mr. Lundgren as an inaugural member of its Hall of Fame last in September.) In addition to a $400 million renovation of Macy's Herald Square, in August Macy's opened its first new store in the tri-state area in 40 years, at the Mall at Bay Plaza in the Bronx.
At the same time, the company has established itself as New York's leading corporate citizen. Last year, Macy's gave $73 million to charitable causes (including corporate, employee and customer donations). For instance, the company used the occasion of opening its Bronx store to give 50 local charities an opportunity to raise money on a Charity Shopping Day on August 30. Macy's is also supporting programs at the New York Botanical Garden and the Bronx Zoo. Its "Partners in Time" program encouraged employees nationwide to volunteer 134,000 hours of their time last year in community service. A lot of those hours benefit the New York community, like on August 19, when over 500 Macy's volunteers prepared the Martin Luther King Jr. Educational Complex for the new school year by painting murals, planting bushes and installing gardens.
Mr. Lundgren, on his own, has a remarkable (and remarkably diverse) list of civic and community accomplishments. He just finished three years as the co-chair of the Partnership for New York City. (He remains a member of the executive committee.) He has been Commissioner on Women's Economic Development for the city of New York, chairman of the National Minority Supplier Development Council, and is vice chairman of the Economic Club of New York and a board member of Carnegie Hall and United Way of New York City. This is a partial list of the groups honoring Mr. Lundgren's civic and charitable accomplishments: American Jewish Council, Breast Cancer Awareness, Fresh Air Fund, NOW Legal Defense and Ovarian Cancer Society.
I wanted to find out from Terry Lundgren, once I could corral him for an interview, how he and Macy's managed all this. How did Macy's reconcile its commitment to renovating its 112-year-old Herald Square store with the current generation of online shoppers? Why is the company increasing its bets in the most expensive city with the most powerful government? And how does it remain on top in this ruthless business while (almost always) being one of the good guys? In short, how does an enlightened CEO accomplish the theoretical ideal of serving economic interests while satisfying the shifting and expanding responsibilities of being a good corporate citizen?
Strength in Numbers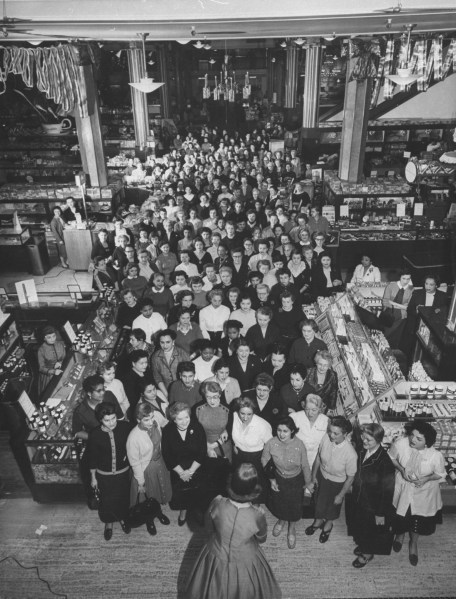 By any measure, Terry Lundgren is one of the best CEOs in America. Jim Cramer considers Mr. Lundgren in a class with superstar CEO's Ellen Kullman at DuPont, Jim McNerney at Boeing, Alan Mulally at Ford, and Howard Schultz at Starbucks and he's been recognized for his innovations by several universities. And just about no one seems to hate him.
Despite the near-universal acclaim, at the outset of our discussion, he cautioned that satisfying everyone is an impossible goal, especially in New York. "New York City is such a melting pot of individuals from different places with different opinions and different backgrounds. Not everything that we'll do will be supported by everyone." During his time with the company in New York, he has even received earnest letters from people explaining why Macy's must cancel its venerable Thanksgiving Day Parade.
Mr. Lundgren also insists that he follows—rather than leads—by example. When Macy's volunteers refurbished the Martin Luther King Jr. Educational Complex, he was just another volunteer. "I am personally involved in that but it's really our employees. It's something we all do together and we're very proud of it." Mr. Lundgren makes it his job to find out where his employees want to contribute and volunteer.
"I spend time surveying our employees on a regular basis. I like to do it in small groups. We try to stay in touch with what's on the minds of our employees and use their feedback to help us perform better, for them and for our customers. One of the things that's come up in the last several years was the whole issue of social responsibility, whether it's recycling or giving back to particular organizations." Macy's has over 170,000 employees nationwide, so getting meaningful feedback takes time and commitment. "We have a very, very large company," he says, "and my goal is to continuously focus on making our big company feel like a small, family-run business and make our employees feel that I'm accessible."
That commitment to employee input is the engine of Macy's social commitment. Not surprisingly, it can also feed profits. Empowered employees accomplish more than mere cogs in machines. It turns out that some of the employee initiatives can also, in addition to making the world a better place, save or make the company money.
Macy's: In the Heart of New York
Terry Lundgren and his colleagues are caretakers of a relationship with New Yorkers that extends beyond retailer-customer. Other companies give back to the community. Codes of corporate responsibility today are as fashionable as poison pills were in the '80s. But there will never be a classic movie named Miracle on Aisle 34 at Walmart. Maybe there will be a parade sponsored somewhere, someday by Amazon.com, but it won't be the same. And if someone else ever launches fireworks off the Brooklyn Bridge, they are just aping what Macy's has already done. It's easy to understand how Macy's got its place in New York's zeitgeist. How does Macy's keep that place?
Mr. Lundgren is an enthusiastic disciple of the theories of the late W. Edwards Deming, the legendary scholar and management theorist. "Continual improvement" was Dr. Deming's guiding principle, and it guides Mr. Lundgren: "That's exactly what we try to do in all aspects of our business, including events like the parade and the fireworks."
Macy's two signature spectacles, its 4th of July Fireworks and Thanksgiving Day Parade, continue to amaze and delight millions of New Yorkers. Macy's vice president of government and consumer affairs, Ed Goldberg, is the company's main point of contact for the city. Celebrating his 40th year with the company, Mr. Goldberg calls the fireworks "the party of the year that we throw in the summer for New Yorkers of all ages."
Mr. Lundgren expressed particular pride in the quality of the 2013 Fireworks show, in which Usher orchestrated the fireworks with music. After that show stunned and awed the city, Mr. Lundgren, ever the improver, said, "Wow, that was really fantastic. What are we going to do next year to make it better? We're always thinking about that and how we can go to the next level."
For 2014, the 4th of July Fireworks returned to the East River. This has been a goal of Mayor de Blasio since his time as public advocate but the company will not take credit for doing the mayor a favor. Macy's will continue moving the Fireworks among locations. Mr. Goldberg insists, "There's no negotiation. There's not any opportunity—and we wouldn't want it to be that way—for the borough of Brooklyn to be negotiating against the borough of Manhattan."
Last summer's show exceeded even the sky-high expectations of 3 million New Yorkers watching it live. For the first time, Macy's launched explosions from the Brooklyn Bridge itself.
Continual improvement can be risky business. Although Mr. Lundgren is quick to acknowledge the engineering and logistics expertise of his team and its longtime partner, Pyro Spectaculars by Souza, firing bombs off the Brooklyn Bridge was a risk. "We've never done that before. We weren't even sure how we could do that. We couldn't close down the Brooklyn Bridge for several days to test the idea. We just had to hope this was going to work. It went off beautifully, but that was just a next-level performance of what we had done the prior year."
The fireworks show, now 38 years old, is a baby compared with the Thanksgiving Day Parade, which will turn 88 this year. Amy Kule, group vice president of Macy's Parade & Entertainment Group and executive producer of both events, recognizes the parade "is not just a march just down the streets of New York but it's really a march through peoples' lives. Being in our 88th year of producing the Macy's Thanksgiving Day Parade, it's not only woven into the fabric of Macy's and our history but it's woven into the fabric of every generation's history."
Mr. Lundgren takes that patrimony very seriously. After September 11, 2001, he received those letters suggesting he cancel that year's Thanksgiving Day Parade, because it was somehow an inappropriate time for the civic display. (During the financial crisis, he received a smaller number of letters expressing an identical view.) "I had and have a strong difference of opinion. I felt it was the responsibility of Macy's to deliver the joy and happiness that had been taken out of our community for those periods of time, and the worst thing we could do would be to not give that joy back to the community." Mr. Lundgren turned from affable to adamant. "The parade went on, the fireworks went on, at our expense, and that was the right thing to do then and it will be the right thing to do in the future."
On November 27, 3.5 million New Yorkers lining the parade route and a television audience approaching 50 million will see if Amy Kule and her team deliver "continuous improvement." Ms. Kule's ever-present enthusiasm does not waver. "I'd like to say I'm nervous about meeting that expectation but there are so many people involved in bringing this parade to life that there's not even a chance that we'd miss it." Indeed, Macy's debuts six new balloons this year, including Paddington Bear, a balloon so detailed that each of the grommets on his sweater and cuffs are individually inflated. It will also debut five new floats. Ms. Kule says, "the parade is also a parade of numbers." Thirty major floats, 18 giant balloons and more than 40 smaller ones, 1,000 clowns, a dozen marching bands and so on.
Like her boss, Ms. Kule draws strength from the quality (and quantity) of the people helping her bring the parade to life. In addition to Macy's Parade Studio and the Parade & Entertainment Group, "The heart and soul is our volunteer base. What I find really gratifying is when we have new employees come on board, what they want to do in addition to having a great career is to be part of the parade. Some of those volunteers have been part of the parade for nearly 60 years." Macy's gets 5,000 volunteers for the parade.
Pressing the Company's Bets on New York City
Macy's naturally wants to capitalize on all the good will it has created in the city. But is there a chance spending $400 million and four years renovating Macy's Herald Square and opening its first new store in the tri-state area in 40 years is too much of a commitment? This is the age of online retailing. Mr. Lundgren is quick to point out that "We're the eighth largest Internet company in America and we've grown so fast." But I can tell that he is not satisfied with eighth largest. New York is an expensive place to do business and that $400 million is a substantial portion of the company's total spending capital.
Mr. Lundgren likes the idea of the world coming to the world's biggest store. But he loves the idea of "having them come to visit the largest and best store in the world. In order to do that, I knew it was going to take a significant renovation." Macy's Herald Square has another year to go on the four-year project, and the massive investment has multiple ways of paying off. In addition to increased business from a better, updated store, the renovation will also create 100,000 square feet of retail space. The renovation also has, according to Mr. Lundgren, "broad positive ramifications" for the Macy's brand. "The world is seeing what's happening in this store as the true transformation of the Macy's brand. We're getting that feedback and we're thrilled with the response that we're getting."
In a style typical for Macy's, it has combined the Herald Square renovation project with opportunities to do good for the city. If you walk around the building, you can see that Macy's is replacing the sidewalks on all four sides of the store: Broadway, 34th Street, Seventh Avenue, and 35th Street. According to Ed Goldberg, Macy's is doing so at its own expense.
In September 2013, Macy's announced its collaboration with NYC & Company to install and operate, inside the store, the Herald Square Visitor Center. Six million tourists visit the Herald Square store each year and you can hear in Mr. Lundgren's voice how he is mesmerized by the experience of connecting with them on an additional level. "I think it's a very big deal. [The Visitor Center] is busy constantly and you will hear every imaginable language being spoken on the mezzanine floor, which tells me why this is such a great service."
The (Healthy) Breakfast Club
Once a month, Terry Lundgren hosts breakfast for 15 employees in the meeting room adjacent to his office on 34th Street. He invites different people each month, typically high-potential executives who have been with Macy's three to five years. In meetings like this, or his monthly Q&A webcasts to 26,000 employees, or his latest initiative of bringing together Macy's alumni of various colleges like Penn, Indiana and Florida, in all of which Macy's is the biggest recruiter, he answers questions and, more important to the retailer's social conscience, asks them. This is where he learns about the issues of greatest concern to his employees. The breakfast meeting has grown to an hour. "We used to do it for 30 minutes but we could never finish it. I was too curious about what's on their minds."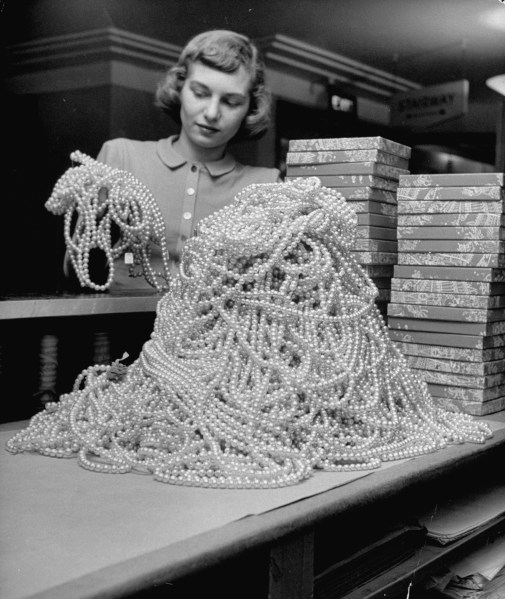 Of course, listening to employees also turns out to be profitable for business. The company's commitment to recycling came from meetings like the breakfast club. In addition to helping the environment, recycling has proven cost-effective for Macy's. Mr. Lundgren explains, "You feel good about saving paper and using less plastic and at the same time not costing the company more money to do so. I think the work is very sincere and driven by our employees."
By the end of the interview, it is clear a key to Terry Lundgren's charm is that he can preach the right way to do things without sounding preachy. His office clearly had to work to carve out this time for the interview, which took months to arrange. I found myself promising to wrap things up and wondering what the sounds coming from his office phone were signaling. His attention, however, was undivided on the interview.
My "just-one-more-question" question concerned what he served at the breakfast meetings. Very deliberately, he told me, "Only. Healthy. Foods." (He is also co-chair of a new American Heart Association CEO Roundtable trying to make workplaces healthier. He repeats it with a smile. "Only healthy foods, because we've had a tendency in the past to throw out all kinds of bad choices and we're encouraging all our employees to live a healthy lifestyle. Fruits, yogurts, cereals and everything that would be considered healthy." He concludes, in a grumble that sounds funny and rueful, "Oatmeal." Not preachy. Just another attempt at continual improvement.