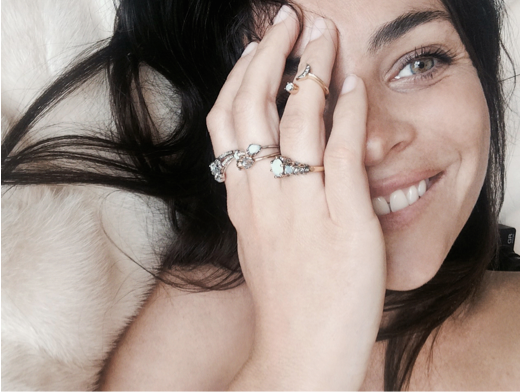 Julia Restoin-Roitfeld has the perfect mother, the perfect daughter, the perfect Instagram feed, the perfect hip mommy blog, the perfect pregnancy (it was the best time of her life and like a detox to her!), the perfect controversial directorial debut… Basically, the woman can do no wrong.
She has now turned her discerning eye to jewelry design. She's released a collection of rings and necklaces for the jeweler ManiaMania.
Ms. Restoin Roitfeld's Immortalia resort '15 collection ranges in price from $840 to $3,000.The pieces buck the passé big-rock trend, but still offer enough heft for ladies who aren't satisfied with a simple gold band. The baubles are far from minimalist, but also not chunky. The engagement rings bear clusters of medium-to-smallish stones; the necklaces feature a large quartz with smaller stones around it.
Ms. Restoin Roitfeld has also included such incredibly on-trend hybrid pieces as a twisty knuckle ring and a double ring with a chain that dangles across the finger. Preferred stones in the collection include opals and aquamarine with white diamond highlights.
The pieces call to mind Stevie Nicks' witchier ensembles, as well as the Georgian and Victorian eras to which Ms. Restoin Roitfeld says she looked for influence. The range is available on ManiaMania's website and at Bonadrag.com, Love Adorned, Catbird, Just One Eye, Esqueleto, Garment and Acrimony's No. 3.