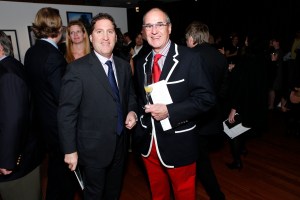 Paris native and whimsical commercial photographer Michel Tcherevkoff had an epiphany years ago when as a law student, he visited New York to see his sister, who was working as a model: "There was no comparison between my perceptions of what life could be as an advertising photographer and what my life was as a law student." Mr. Tcherevkoff was perhaps naively optimistic, lighting out forthwith for creative territory. Had he explained to his parents then, as he forsook the legal world, that he would one day achieve some not-totally-insignificant acclaim for photographing women's shoes fashioned from floral elements, they would likely have been less than reassured.
But things have turned out okay for the Frenchman. He and Veronica Tcherevkoff have just sold their loft at 15 West 24th Street for $5.45 million, according to city records.
Mr. Tcherevkoff, who has worked for Canon, L'Oreal and Maybelline, among others, divided the 4,150 square-foot co-op, using the southern space for residential purposes and turning out the northern portion as a studio featuring a dark room, an office and an expanse of open work space. (The buyers, Seth Meisel and Anna Kovner are finance-y types who, we can only guess, will have set aside a budget to efface all evidence of artistic activity in their new home; the place could easily accommodate four bedrooms, but contains only two at present. Then again, everyone needs a hobby—perhaps the buyers, too, might like to try their hands at botanical arts and crafts.)
Either way, there are numerous elements both useful and attractive to citizens outside the photographer's guild: a keyed elevator, high ceilings and veritable baths of "natural light from over forty feet of south-facing windows, two enormous skylights and open southern exposure," according to the listing held by Josh Rubin of Douglas Elliman. Upstairs, a vast roof deck offers "an amazing sense of tranquility," which might be helpful, what with the anxiety-heightening chaos of Eataly just downstairs.