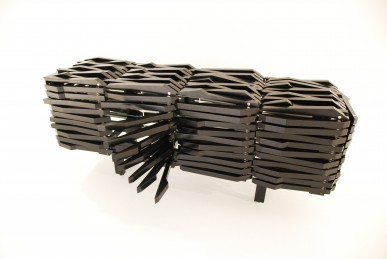 In its third year at the Park Avenue Armory, the Salon of Art + Design fair attracted a critical mass of crème de la crème collectors: Barbra Streisand, real estate developer Aby Rosen and Ronald Lauder were among the shoppers, along with Jacques Grange (decorator all of Yves St. Laurent's and Pierre Bergé's homes).
In celebrating design and art from 1890 on, the fair, which ends at 5 p.m. today, threw a favorable spotlight on Paris.  Front and center at François Laffanour's Galerie Downtown booth, for example, stood Modernist Charlotte Perriand's unusually large 1950 oak cabinet priced at $150,000.
Nearby, Carpenters Workshop Gallery of both London and Paris showcased the sculpture/design work of Ingrid Donat. Long collected by Tom Ford and Brad Pitt, Donat is now creating large panels of sculpted blackened aluminum. (For those who covet an entire room kitted out with such panels, one can be ordered, offered dealer Julien Lombrail).
On David Gill's stand was the work of the Swedish-English design collective Fredrikson Stallard. Their 2014 crumpled stainless steel dining table makes a strong sculptural statement and cost considerably less than a John Chamberlain.  It's priced at $150,000.
On view with Soho dealer Cristina Grajales was Chilean designer Sebastian Errazuriz's riff on Japanese armor.  His 2014 Samurai cabinet of lacquered maple, steel and glass is tagged at $70,000. "Collectors who pounce on his work include Keanu Reeves, Beth Rudin de Woody and Clarissa Bronfman," said Grajales.  The Carnegie Museum of Art has devoted an entire exhibition to Errazuriz.
A total of 55 dealers took part in the uniformly surprising strong show, with newcomers London dealer David Gill and the Paris Galerie Kreo, among them; veteran New Yorkers Todd Merrill, Salon 94 and Throckmorton Fine Art also joined the fair helmed by pioneers in the field Sanford Smith and Jill Bokor.
As to the art on display, a prized Damien Hirst Spin painting, his 2007 Beautiful Windfall of Hypnosis Over Hippy Trippy Landscape Painting could be found within the Paris Galerie Boulakia for $850,000 .
London dealer Robilant Voena was touting Enrico Castellani's 1965 Superficie Bianca, a white painted canvas stretched over nails. Castellani is associated with the Zero Group movement. "This example is about light, volume and space," said gallery assistant Polimnia Attolico, of the artist whose work is featured in the Guggenheim Museum "Zero: Countdown to Tomorrow 1950s-60s" exhibition. Prices for his work have shot up in the past five years. The one on view was tagged at north of three million Euros.