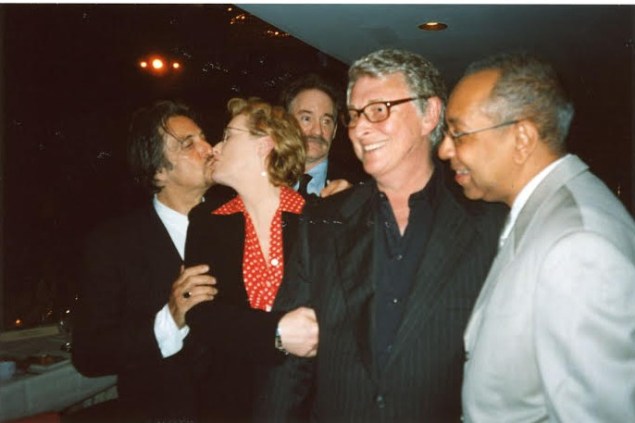 When Mike Nichols spoke from the Book of Revelations at Jacqueline Kennedy Onassis' funeral in May 1994, he said "There will be no more death."
But yet, there is.
Mike Nichols "passed away suddenly on Wednesday evening," according to an internal ABC statement released earlier today by ABC News President James Goldston, the supervisor of Nichols' wife, broadcast journalist Diane Sawyer. Known for the intelligence, humanity and humor of his touch in a career that spanned six decades, the legendary film and stage writer and director, 83, was both heavily laureled and much beloved by collaborators and colleagues.
And he was a true New Yorker.
If you get out much in Manhattan, you probably saw the golden couple, Nichols and Ms. Sawyer, around at charity events or play openings, eating at the front corner table at Marea overlooking Central Park or something equally and classically New Yorkish. And whether or not you personally knew Mr. Nichols, famous for iconic films like The Graduate, The Birdcage and Silkwood and for Broadway hits like Barefoot in the Park and Hurlyburly, you could always viscerally sense how much he enjoyed this city and how much he enjoyed people.
It was easy to imagine why actors of the caliber of Dustin Hoffman, Meryl Streep and Jack Nicholson loved to work with him at the helm. He radiated a relaxed and warm intelligence and, like his wife of 26 years, he had that interviewer's magic that made you feel that you were very, very real to him and that he liked you and appreciated what you brought to the planet, just in being you. That's powerful stuff.  It's the opposite of schadenfreude, that sense of pleasure in others' misfortune. Nichols acted rather instead like a mirror that radiates comprehension and satisfaction in others' shining.
Born Mikhail Igor Peschkowsky in Berlin, Germany in 1931 to a German-Jewish mother and a Russian father, who was a doctor, Nichols' family fled to New York from the Nazis. He was only seven. His career in entertainment began as part of the Compass Players at the University of Chicago in the fifties, a group that spawned Chicago's famed Second City troupe. His subsequent stand-up comedy partnership with Elaine May redefined the rhythms of comedy with its fast and sophisticated improv leading to three best-selling LPs and a career-making stint on Broadway in 1960.
After winning a Tony in 1963 for his direction of Neil Simon's Barefoot in the Park with Jane Fonda and Robert Redford, Mr. Nichols turned his attention to Hollywood, although he would always return to the theatre through his career, winning seven Tony Awards. His first two films, 1966's Who's Afraid of Virginia Woolf, starring Elizabeth Taylor and Richard Burton, and The Graduate with Dustin Hoffman and Anne Bancroft one year later established him in the top-tier of Hollywood directors and cemented a reputation as an "actor's director". He would win an Oscar and a Golden Globe for The Graduate, being nominated for four other directing Oscars over his career, as well as winning two Prime Time Emmy Awards for directing the TV movies of stage hits Angels in America and Wit.
Speaking of being directed by Nichols as a young actor in The Graduate, Dustin Hoffman said "I was on pins and needles, terrified that Mike didn't like what I was doing. He was never satisfied; he was always looking for the exquisite take. I was dubbed a perfectionist for years, and all I could think was 'I learned from Mike Nichols.' "
Of his legacy as a director, Nichols purred to Vanity Fair in 2008 "I was just thinking about how happy we were making The Graduate. What was different? Of course, we were different then. There's nothing better than discovering, to your own astonishment, what you're meant to do. It's like falling in love."
"He was a true visionary," noted Mr. Goldston in his statement, "winning the highest honors in the arts for his work as a director, writer, producer and comic and was one of a tiny few to win the EGOT—an Emmy, a Grammy, an Oscar and a Tony." Nichols was honored with a Lifetime Achievement Award from The American Film Institute in 2010.
In addition to Sawyer, his fourth wife, Nichols is survived by his three children, Daisy, Max and Jenny, and four grandchildren. A small private memorial will be held this week.