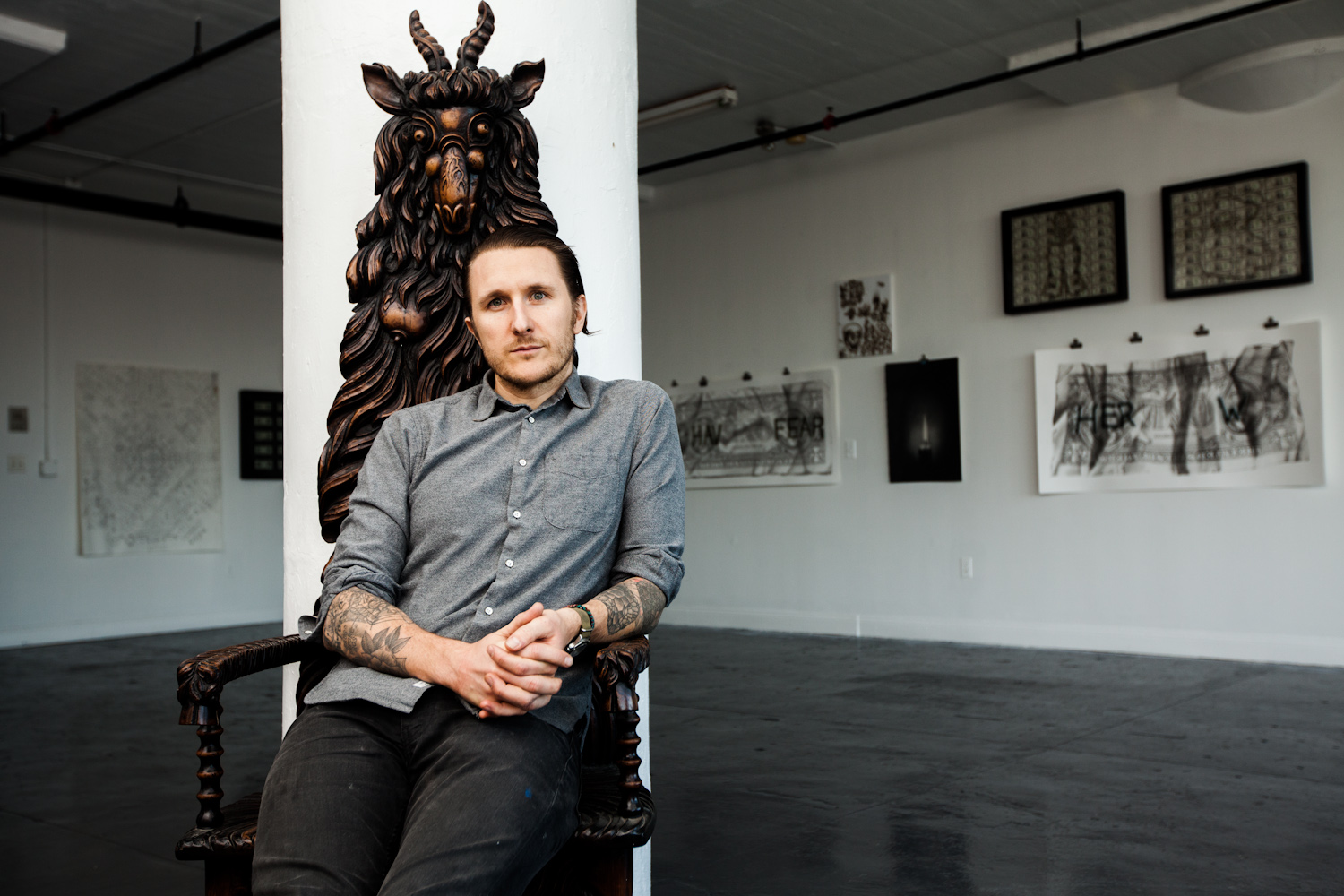 When I meet up with Scott Campbell, the seemingly tireless celebrity tattooist-turned-visual artist, at The Smile on Bond Street, he confesses that he's kinda pooped. In addition to running his trademark business, Williamsburg's Saved Tattoo—not to mention the other collaborations in which he is constantly entangled (e.g. Deth Killers, the Bushwick fashion line)—he is setting up a new studio space in the Brooklyn Navy Yards. If that's not enough, he and his very pregnant wife, the actress Lake Bell (who has since given birth), are in the process of moving into a house in Fort Greene. "I came from throwing sheetrock in the back of a dump truck and I'm going right back to that," he says.
Pleased for the break, Mr. Campbell holds court at his usual table, in a back alcove, munching minted sugar snap peas. Before long, The Smile co-owner Carlos Quirarte cruises over to say hello. "Getting hammered in the afternoon?" he asks, seeing a spread of wine bottles before us.
"We actually got this space together," Mr. Campbell tells me. "For one summer, I had a tattoo shop in the basement. It was really fun, but there were a lot of logistical complications with having a tattoo shop in the bottom of a restaurant. Plus, I missed natural lighting."
But back to those bottles, a red blend and a rosé from Saved Wines, Mr. Campbell's most unexpected—and booziest—joint venture to date. (His partner is California winemaker Clay Brock.)
Why, one may wonder, would a person drink vino from a self-described "grimey tattoo kid"? "If I sat here and said, 'Hey, here's wine that I made'—don't drink it!" he says, pouring me a splash of rosé. "But I'm really adamant about letting the people I work with kind of guide me. If I meet someone who's amazing and passionate and really brilliant, I'll let that pull me in directions I didn't expect to go, and this project is definitely one of those."
As Mr. Campbell puts it, Mr. Brock takes care of everything inside the bottle, and he takes care of everything on the outside—namely: the label art. "I just thought I could do it better," says Mr. Campbell, who is especially sensitive to aesthetic.
"Going into a wine store, I'll have someone hand me the perfect bottle of wine and then walk away, and I'm like, 'But it's ugly.' You know? Like, I don't want that on my table. If it really is that beautiful of a product, there's a huge disconnect between the visual experience and what's inside the bottle. I care about that."
I tell Mr. Campbell that, according to a wine-buyer friend of mine, choosing a bottle based on its label is a very "Jersey" thing to do, and as a result people miss out on great wine.
"But his argument is kind of to my point!" he says. "You're having people drink lesser quality because of aesthetic. It's not to say it's all show, no go. I'm the show. He's the go. And I firmly believe that the proof is in the pudding—but that doesn't mean the packaging of the pudding can't be amazing as well."
To say Mr. Campbell had no input on the liquid product, however, would be misleading. He and Mr. Brock held a series of long conversations. In the end, he left the winemaker with what he calls "emotional references."
"For the rosé, it was Domaine Ott at Hotel Du Cap in the south of France," he explains. "It's this crazy old hotel, totally gangster. They only accept cash. People pull up on yachts. Body guards with briefcases chained to their wrists. They tried so hard to kick us out, me and a buddy, but we knew people there. They were so bummed they had to let us in. It was amazing. Everyone was trying to figure out what band I was in."
So what hotel was he kicked out of for the Zinfandel-led red blend, I wonder? Mr. Campbell shrugs. "I don't have as good a story for that one."
Throughout our conversation, I try to prod Mr. Campbell into discussing the wine in more depth—its nose, its tasting notes, etc.—but he resists. "You really shouldn't trust my expertise on wine," he says, deflecting. "I enjoyed giving it a visual narrative."
Eventually, however, he gives in. We agree to sniff the wine and just say the first things that come to mind—emotional references. He goes first, holding up the glass of red.
"Let me see this," he says, expanding his nostrils. "The red one's hard." More sniffing. "Now I'm just hyperventilating, inhaling so much." But then something lights up in his eyes. "All right, all right!" he says. "I'll go there, fuck it. When I was a kid I kept a Ziploc bag full of Playboys buried by a tree in my backyard, and the dirt smell of digging those up each time I wanted to look at them is like the red wine."
He picks up the rosé, now on a roll: "The rosé is the wrapper of a strawberry Starburst. Not the candy, but the wrapper itself. It's not quite as intense."
Dude, that was great, I say. He laughs. "You really drudged it out of me!"