TOMS RIVER – Republican businessman Tom MacArthur is now U.S. Rep. Tom MacArthur (R-3).
The former Randolph mayor from North Jersey — now congressman in South Jersey — declared victory in New Jersey's third congressional district race moments ago. He won by a nearly 17,000 vote margin over his Democratic opponent, Burlington County Freeholder Aimee Belgard.
At the head of a room packed with jittery supporters at the TR Hotel, Ocean County Republican Committee Chairman George Gilmore stepped up onto the stage to heap praise on the newly-minted rep.
"After much deliberation, and a number of quality candidates, we had a very tough decision to make," Gilmore said of the selection process. "We could've picked four five maybe eight candidates that would've made excellent congressman. But when the final decision was made, the committee decided that Tom MacArthur would be the recommendation to Republican county council.  He pledged to the people and voters of Ocean County that he would work hard every single day and put every effort in necessary to prove that we made the right decision. And I'm proud to say tonight that we obviously made the right decision."
Later, he ventured to dispel the notion that MacArthur's victory in the conservative-leaning district was pre-ordained.
"Now some people think Ocean County is so Republican that that's normal. Well that's not the case," Gilmore said. You have to fight and earn every vote you get in this county. You have to prove to the people that you will represent them to the best of your abilities and provide them the best services you can. Tom MacArthur proved that."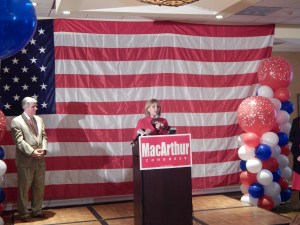 Also in attendance was Lt. Gov. Kim Guadagno, who introduced MacArthur and his family to raucous applause.
"This is a man ladies and gentleman who will never forget where he came from, this is a man who will never forget who put him there, this is a man who will be a great third congressman from the third district," she said.
MacArthur received 58.47 percent of the vote.to Belgard's 39.03 percent.
The AP called it at 9:47 pm.
There was some confusion between the Republican and Democrat camps leading up to the final declaration, with Belgard's campaign team waiting on last-minute votes counts in Burlington County as MacArthur campaign manager Frank Luna pined to pull the trigger.
"It's over," he said with a smirk.