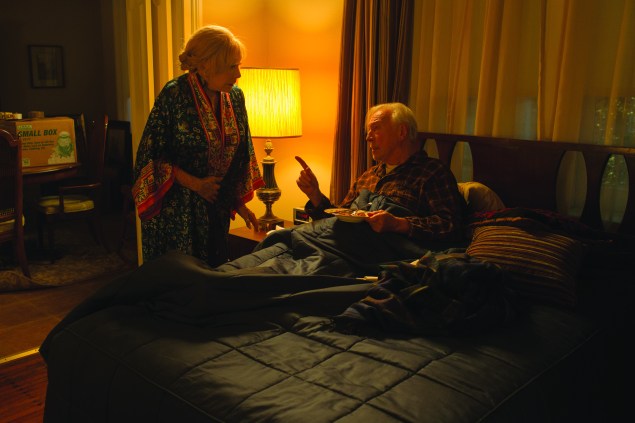 Shirley MacLaine and Christopher Plummer. That's all you need to know, and all a rom-com about senior citizens in love called Elsa and Fred is really about. Forced, contrived and slow as Christmas, it's a pleasant enough time-waster, but what a treat to spend just under two hours in the hands of pros.
---

ELSA AND FRED ★★
(2/4 stars)

Written by: Anna Pavignano and Michael Radford
Directed by: Michael Radford
Starring: Shirley MacLaine, Christopher Plummer and Marcia Gay Harden
Running time: 94 min.

---
Set for no reason in New Orleans, America's most photogenic city, the movie contains not a single shot of the Crescent City worth noting. It might as well have been filmed in Cleveland or Hasbrouck Heights. This generic letdown is part of what ails the movie as a whole. It has no personality, and director Michael Radford (Il Postino) imposes no imprimatur of his own. It's up to the two stars to leave a doddering stamp of distinction, and they're pretty much on their own. Ms. MacLaine's clarion call is somewhat muted as Elsa Hayes, an eccentric old biddy clinging to life on her own terms, rising above family intrusions and medical inconveniences. (She's on dialysis, signaling trouble ahead, but she treats kidney failure as no less an infraction than a trip to the dentist.) When first we see her, she's in bed watching La Dolce Vita and daydreaming she's in a world created by Federico Fellini. This is something Ms. MacLaine would do, so it's not difficult to relate.
Mr. Plummer plays her surly new neighbor, Fred Barcroft, a curmudgeonly widower who has pretty much given up on life and just wants to be left alone. Uprooted against his will by his daughter Lydia (Marcia Gay Harden) and her lazy husband Jack (Chris Noth) whom he loves "about as much as sciatic nerve pain" and moved into a condo replete with a combination housekeeper and home-care companion (Erika Alexander), Fred retaliates with cynical repartee meant for W. C. Fields, aimed at anyone who acts cheerful. "Anything you'd like in particular?" "Yeah, to be 30 years younger and have a prostate the size of a peanut."
Fred spends most of his time in bed—a condition that does not escape the eagle eye of pushy neighbor Elsa. They meet cute when she backs into his daughter's car in her aging orange roadster, smashing two headlights. Her oldest son Raymond—a conservative, button-down banker played by Scott Bakula—writes out a check to cover damages. Appealing to Fred's sympathy with a torrent of hard-luck stories she makes up about her invalid granddaughter, she exchanges the check for cash, which she promptly uses to finance an art gallery opening for her youngest son Alec (Reg Rogers). Elsa's penchant for flamboyant kimonos and her grief for the dead husband she still mourns after 27 years eventually wear down Fred's resistance and a December-December love story takes shape, even after he meets her terminally ill granddaughter, who is the picture of health, at a colorful birthday party, where one of the guests is her dead husband (played by an especially robust James Brolin).
Although he no longer believes a word she says—most of all her insistence that Pablo Picasso once painted her picture—it doesn't matter. Changes are already in motion. Elsa takes it upon herself to show Fred the road to life and love. She's got him throwing away his medications, joining a ballroom dancing class and taking mid-afternoon bubble baths. Looking 20 years younger, he makes her dream come true by taking her to Rome to re-trace Fellini's settings and re-live the actions of Anita Ekberg and Marcello Mastroianni in La Dolce Vita. This extravagant postcard tour of the Holy City provides the movie with the kind of lush cinematography that ended on the cutting room floor in New Orleans. But it's a diversionary tactic to distract from the fact that nothing much is going on anywhere at all. Remember the dialysis Elsa ignores, as well as the Picasso you just know will show up in the film's brief, anti-climactic coda.
The only diversion in Elsa and Fred worth remembering is the dynamic MacLaine-Plummer charisma. Rarely have I seen two old-timers work so hard to bring so much life to a movie that is dead on arrival.