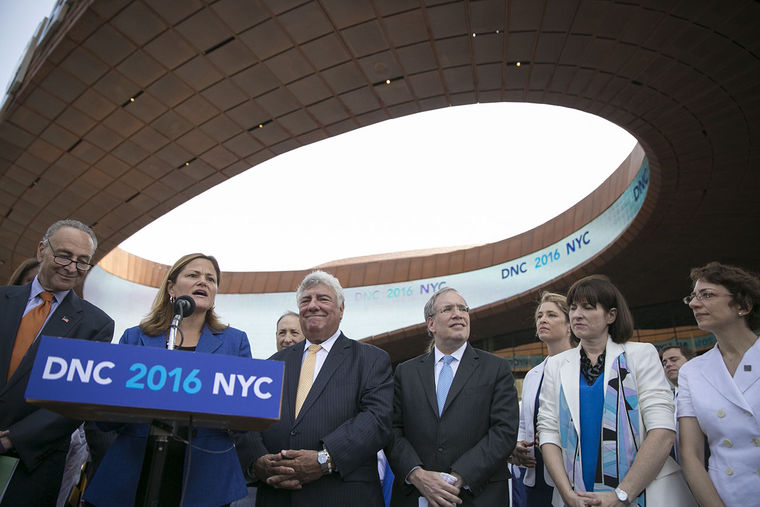 Council Speaker Melissa Mark-Viverito gave a half-hearted endorsement of the mayor's latest call-to-arms to progressives across America, telling reporters today that his Huffington Post op-ed was simply the "mayor's opinion" and not her own.
"Every election is very different in how we run it–particularly in red states," Ms. Mark-Viverito said at City Hall, all but slapping down Bill de Blasio's central contention that Democrats lost nationally because they weren't staying true to liberal values. "That's the mayor's opinion."
Mr. de Blasio wrote yesterday that last week's Republican wave, which elected a GOP majority in the U.S. Senate and solidified the Republican Party's advantage in a large number of statehouses including New York's, should only embolden Democrats to further communicate a progressive message, even in swing states where outright liberalism can damage candidates.
The mayor double-downed on his views on television and with the press yesterday, arguing that centrist Democrats who disavowed President Obama and the core tenets of the Democratic Party deserved to lose and had no political future.
"Howard Dean had a great formulation … when he said he's from the Democratic wing of the Democratic Party. You know, I think that's what people are looking for," Mr. de Blasio argued. "They're looking for actual, consistent values and that's what will motivate them to vote and anything short of that won't."
Strategists in more conservative states like Arkansas dismissed Mr. de Blasio's contention and Ms. Mark-Viverito's reaction to Mr. de Blasio's op-ed was more in line with their arguments.
The liberal Democrat, who some observers say is to the political left of even Mr. de Blasio, said she was proud of the City Council's progressive record but couldn't bring herself to offer much support for the op-ed.
"I'm proud to be a progressive and I'm proud of the work that this Council is doing, we're going to move that agenda forward," she said. "Every election is different."