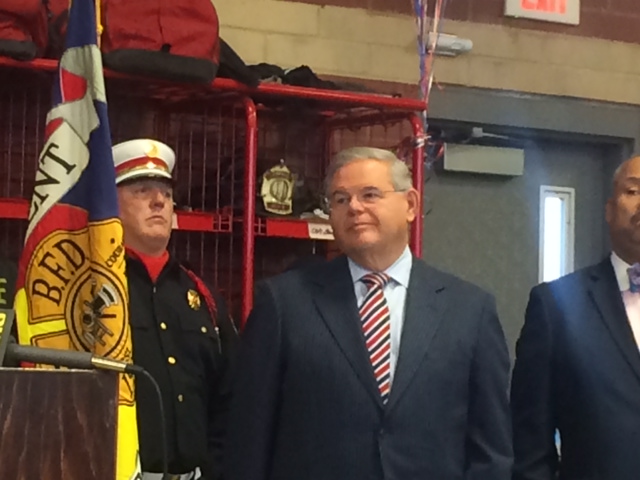 BAYONNE – U.S. Sen. Robert Menendez (D-NJ) surveyed the national political landscape in the aftermath of the Democrats' drubbing in the elections earlier this month, then surmised what the Democrats need to stage a comeback.
"We had retirements of Democratic Senators in red states, who could have preserved those positions," said Menendez, who led the Democratic Senatorial Campaign Committee from 2009 to 2011, in Bayonne on Monday, specifically citing Tom Harkin of Iowa, Jay Rockefeller of West Virginia and Max Baucus of Montana. "Secondly, there is a strong antipathy towards [U.S. President Barack Obama], rightly or wrongly, and [the Republicans], successfully tried to make this about the President. Lastly, I think the Democrats failed to talk about the economy in a way in which average families would say 'They feel my pain.'
"But in 2016, there is a series of seats that [the GOP] is going to have to defend, and they're going to have to defend a lot more [than Democrats]," Menendez added. "Plus, it's a presidential election year. In that case, the turnout is younger, more diverse and more Democratic. I'll think we'll turn it around."
Menendez knows he is about to experience a change following the GOP takeover of the Senate's majority, and therefore the end of his chairmanship of the Senate Foreign Relations Committee. But looking towards 2016, Menendez, who has reportedly been considered as a U.S. Secretary of State candidate by potential 2016 Democratic presidential candidate Hillary Clinton, noted that experience gained does not change.
"The ranking member [of the minority party] has a lot to say," said Menendez, who was elected committee chairman in January 2013. "The two years as chairman have given me a global imprint that won't go away just because I'm the ranking member now. I have as many requests to travel, knowing that I'm not going to be the chairman, as I had when I was."