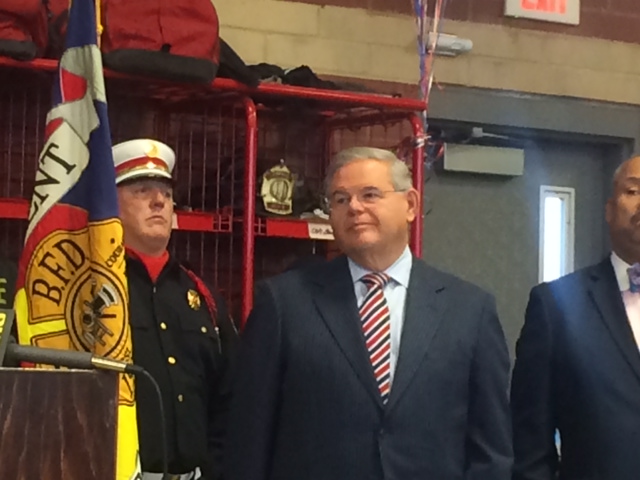 U.S. Senator Robert Menendez (D-NJ) issued the below statement in reaction to President Obama's executive action on immigration.
The statement can also be viewed here.
"For as long as I've been in public life, I have been fighting for immigration reform. This is an important moment – not just for immigrant families and communities – but for all Americans.  I believe the President's action to prevent the deportation of millions of people is about accountability not amnesty, about deporting felons not families, criminals not children.
"Today's announcement is an historic step forward, but the work continues.  I remain committed to working with my colleagues to create long lasting solutions that only comprehensive immigration legislation can provide.
"Let's be clear: Administrative relief alone will not grant anyone legal status or citizenship, but it will clear the way for many to come out of the shadows, register with the government, get work permits, and no longer live with the fear of being deported. We still need a legislative fix for our broken immigration system – for our national security, our economy, and in keeping with the values we have as a nation of immigrants.
"Let's remember, executive action that provides discretionary relief from deportation has been used by every single president since Eisenhower. Eleven U.S. presidents from both parties have taken executive actions on immigration 39 times over the past 60 years. In fact, it was the sweeping action of President Reagan and George H.W. Bush that deferred the deportations of up to 1.5 million undocumented spouses and children – 40 percent of America's undocumented population – at the time.  And now President Obama is using his legal executive authority, as they did, to grant deportation relief to millions of families who have been living in fear and in the shadows.
"The bottom line is this:  Republicans in the House of Representatives have had a year and a half to vote on the Senate's bipartisan comprehensive immigration reform bill that secures our borders, promotes our economy and fixes our broken immigration system, but they failed to act. We simply couldn't afford to wait any longer for Republicans to decide to act on the civil rights issue of our time.
"Today, we're not simply talking about family values – not putting it on a bumper sticker as a political weapon. We're practicing what we preach by valuing families and keeping mothers and fathers and children together in the country they now call "home" to share our values and share in our ideals as a nation.
"That's what we do in America. that's what we stand for. That's what the President meant when he said: 'What makes someone American isn't just blood or birth but allegiance to our founding principles and faith in the idea that anyone – from anywhere – can write the next chapter of our story."