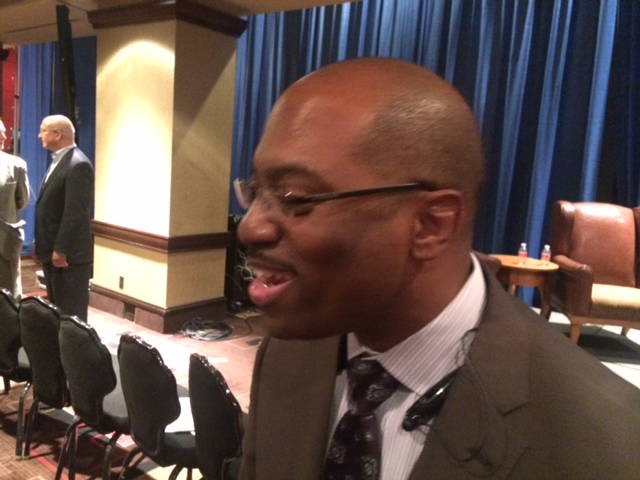 ATLANTIC CITY – Mercer County Freeholder Samuel T. Frisby announced on Thursday at the New Jersey League of Municipalities Conference that he is forming an exploratory committee to evaluate a possible run for the 15th Legislative Assembly district seat vacated by U.S. Rep.-elect Bonnie Watson Coleman (D-12).
"We believe that we will be running, but we want to make sure that we've done all of our due diligence and all of our homework," said Frisby, a Democrat, who said that he would make a final decision about a state Assembly run in the Mercer and Hunterdon counties-based district by the end of the year.
Frisby, 46, of Trenton, who is completing his first term on the Mercer County Freeholder Board, also served as Trenton's director of recreation, natural resources and culture under the administration of former Mayor Douglas Palmer. The CEO of the Trenton YMCA, Frisby is also the son of prominent political consultant Jeannine Frisby LaRue.
Frisby said that he has informed Watson Coleman, who was one of the LD 15 Assembly members for more than 15 years before her recent election to Congress, about the formation of his exploratory committee.
A potential Assembly bid by Frisby would set up a proxy clash between two powerful Mercer County Democratic politicians. Frisby is an ally of Trenton Mayor Eric Jackson, while Mercer County Executive Brian Hughes declared his support in July for Mercer County Democratic Chair Liz Muoio to step into the state Assembly seat soon to be vacated by Watson Coleman.
Incumbent Assemblyman Reed Gusciora (D-15) has also said that he is running again, while PBA Local 105 President Lance Lopez, Sr. is also interested in the seat.
A special convention will be held in either January or February to select Watson Coleman's replacement, according to Mercer County Democratic officials.
"When statements were made this summer, that was a little premature," Frisby told PolitickerNJ. "The reason why I'm forming the exploratory committee is that I want to test the temperature of my constituents. When the statement was made this summer, the temperature of the constituents had not been tested. I feel that I have the ability to lead, and that I have a base of people who believe that as well."
As Mercer County politics continues to recover from the chaos created by the conviction and subsequent removal of former Trenton Mayor Tony Mack earlier this year, the Trenton-based Frisby feels that his city's time to reassert itself has come.
"You have a city that for a while has not been as engaged in the democratic process as it should have been and needed to be. Trenton is a huge part of the voting bloc in LD 15," Frisby said. "If we are going to begin to turn this city around, we're going to have to make sure that we're engaged politically, especially Democrats. This is about the ability to be heard. Trenton is waking up."