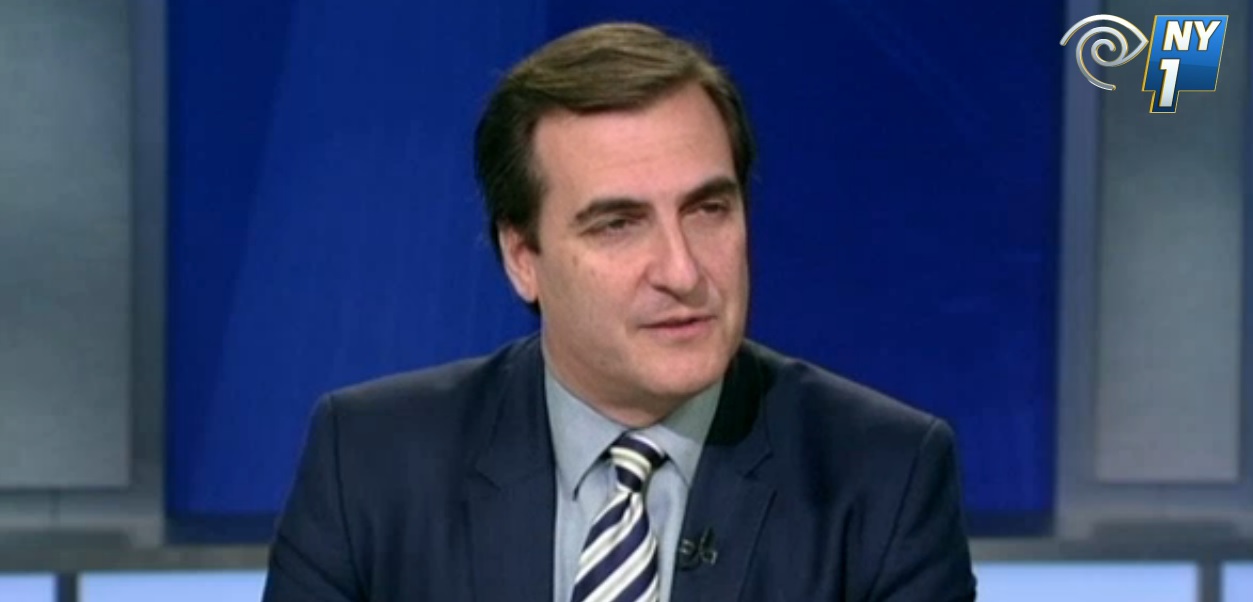 Michael Gianaris doesn't think he's going anywhere.
Mr. Gianaris, a Queens lawmaker who chairs the Democratic Senate Campaign Committee, said last night he intended to continue in his role as chairman–even after State Senate Democrats suffered a wave of defeats last week and chatter remains about Mr. Gianaris losing his post.
"I sure do," Mr. Gianaris said in a response to a question on NY1 last night about whether he intended to continue as DSCC chair. "I think my conference has confidence in me. I've spoken to Leader Stewart-Cousins, I know she has confidence in what we've done here."
Mr. Gianaris said Senate Democrats did just fine in spite of a national Republican wave that swamped Democrats coast to coast. He pointed to Democrat Marc Panepinto's win in a Buffalo area seat once held by a Republican as proof the DSCC was firing on all cylinders last week.
"In an historically bad year, to actually pick up a seat in Buffalo and hold on to some incumbents who were endangered–I think that we're moving in the right direction, we're just one seat away with a presidential year around the corner," Mr. Gianaris said.
On a night Gov. Andrew Cuomo underperformed and several House Democrats in New York suffered major defeats, Senate Democratic candidates lost almost every competitive race, handing Republicans an outright majority in the upper chamber. Three Senate Democratic incumbents lost and some Democrats privately blamed Mr. Gianaris–sources say Mayor Bill de Blasio, who played an outsized role in trying to steer the Democrats to the majority, was displeased with Mr. Gianaris, though a spokesman insisted on the record this was not the case. (It is up to State Senator Andrea Stewart-Cousins, the senate minority leader, to reappoint Mr. Gianaris.)
Senate Democrats had high hopes going into Election Day. A five-member bloc of breakaway Democrats promised to sit in the majority with the mainline Democrats after sharing power with the Senate GOP over the past two years. All that remained was for the Democrats to protect enough seats to keep that majority in tact.
But the Republican romp consigned the Independent Democratic Conference and the Senate Democrats to the minority. State Senator Jeffrey Klein, the leader of the IDC, is flirting with keeping some kind of power-sharing arrangement with the Senate Republicans, though it's not clear what form that deal could take.
Mr. Gianaris declined to criticize Mr. Klein last night.
"It's less relevant to me than if we had gotten that one more seat that we needed to be at 32, then we'd be spitting fire if someone was going to go hand the majority over the Republicans after we clearly had an understanding that would not happen," he said. "But now the Republicans are in charge one way or the other so, unfortunately, it's a little less relevant."