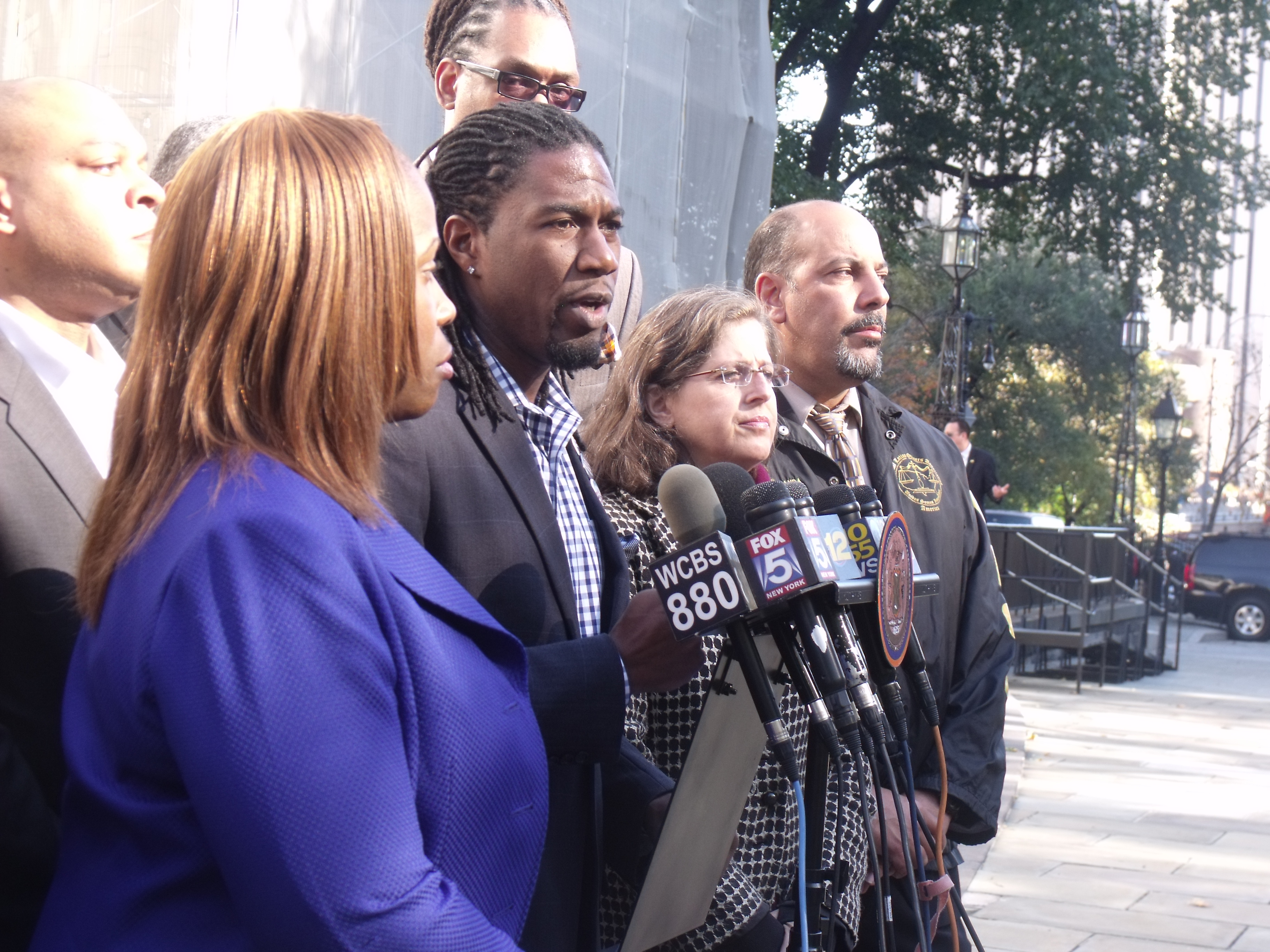 Representatives of black and Hispanic law enforcement groups slammed Police Commissioner Bill Bratton today, saying two top minority NYPD who have recently left the department were actually pushed out.
"These abrupt so-called resignations, we don't feel it's unintentional," Noel Leader, of 100 Blacks in Law Enforcement, said during a press conference on the City Hall steps today.
The press conference — which also featured several City Council and state lawmakers — comes after former NYPD Chief of Department Philip Banks stepped down on Friday, just days before he was set to be promoted to First Deputy Commissioner, a job many have said was stripped of much of its power under former Commissioner Ray Kelly. Mr. Banks was the top black official in the NYPD; he was set to replace Rafael Pineiro, the city's top Hispanic official, who abruptly retired in September.
Elected officials and activist groups have bemoaned Mr. Banks' departure, hailing him as an advocate of community policing who heard their concerns about diversity and race relations — though he did serve in the police brass while the department used now-controversial tactics like stop-and-frisk and broken windows policing.
"Perhaps Chief Banks and Chief Pineiro left because, after 10 months, there was a level of frustration — perhaps their abrupt resignation was due to the fact that they've seen that this police commissioner has no real commitment to cultural change," Mr. Leader said. "Perhaps that's why, after all of their tenure, after all of their years in the police department, that they just finally decided to immediately leave the department out of frustration."
Mayor Bill de Blasio furiously shot down reports this weekend of tension between him, his wife Chirlane McCray, and Mr. Bratton over Mr. Banks' resignation — and Mr. Banks himself said Sunday night he stepped down because he and Mr. Bratton could not "bridge that gap" over what the duties of first deputy commissioner would be.
Charles Billups, chair of the New York Grand Council of Guardians, said the promotion to a position with "no authority" was a way to force Mr. Banks out of the NYPD brass.
"It's a way to force him out, cut and dry, it's just simply: take the promotion or leave, because we already promoted someone else in your position, which — the promotions went on today. They have a new white chief of the department," Mr. Billups said.
He continued: "You're talking about diversity, you're talking about affecting change, you're talking about including everyone into the city — then why is it all of a sudden everyone up on top are now changed to white? That's the question you should be asking."
Anthony Miranda of the National Latino Officers Association of America called the officials' resignations their "removal." He likened the situation to the brief 8-month tenure of former first deputy commissioner David Scott, also African American, during Mr. Bratton's first tour as commissioner.
"History is repeating itself in his current actions, and we're not so easy to let this mayor off and say he's not directly responsible for the dismissal of these two high-ranking officials," Mr. Miranda said. "If he says he was not aware, then we have another police commissioner that is not accountable to anybody, and we've been there and done that. We need this police commissioner to be accountable, and if he was accountable, then the mayor has to say that he said it was OK to dismiss both these individuals. You can't have it both ways."
Elected officials at the event were a little less direct in their accusations that the top minority cops had been forced out, but called for explanations and diversity nonetheless.
"There's an atmosphere there that caused the top black and brown people to resign — what belief do we have that we're moving in the right direction, that the atmosphere is there to bring the change that we were expecting?" Councilman Jumaane Williams said.