David Hockney uses what's handy for his painting experiments, whether it's the crystal-clear swimming pools of his adopted Los Angeles, the gloomy countryside of his native England, his iPad, or the comforting features of the people around him.
As he hurtles toward his 78th year of life, the flair, expertness and focus he exudes is remarkable. Very few people on the planet have achieved Mr. Hockney's specific form of excellence. He is an artist who has continuously earned both critical acclaim and financial reward since art school. Most importantly, his fire has never tempered. He is still said to work in his studio seven days a week and is forever chasing newer and bigger ocular conundrums. In Mr. Hockney's life, everything else orbits around art, like diminutive planets around a sun.
This is the message spelled out cleanly–though somewhat unevenly–in his new show at Pace Gallery in Chelsea titled "Some New Painting (And Photography)," a luminous group of large and mid-sized portraits, mostly of inhabitants of the art world. It is a welcome departure from the artist's lengthy focus on landscape painting, which was punctuated recently by Pace's exhibition of the artist's iPad paintings (inkjet prints of landscapes made with the Brushes app).
Two glowing portraits welcome you upon entering the gallery: one of the collector Joan Quinn, and the other of the photographer Ray Charles White. Both works are vivid in color and fast in technique—attributes perhaps gleaned from Hockney's "tablet practice"—yet indebted to the electric line quality and intimate positioning of late 19th century works like Van Gogh's haunting Old Man In Sorrow. This creates pictures that are both childlike and sophisticated at the same time; forward thinking yet hearkening history.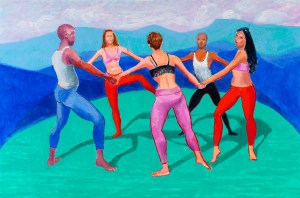 Hockney has always been a master of the beautifully removed character study, and his latest speedy blocks and zags of color are no exception. They are also some of the best works in the show.
Further into the gallery, one finds a series of paintings brazenly based on Henri Matisse's masterpiece, La Danse. For these paintings Mr. Hockney employed dancers to model for him in his Los Angeles studio, having them spin and stop, ad nauseam, while the artist attempted to capture the motion of dance in a still image. With idyllic Matissean backgrounds blocked in behind, Mr. Hockney captures a kinetic immediacy, yet one that is encased within Matisse's cultural icon. Mr. Hockney delights in these types of juxtapositions, which he builds with bold swaths of thrumming color.
Also present in the show are some of Mr. Hockney's photographic drawings. Shown on HD TV screens, the photos share the florid colors of the paintings but with the added assistance of illumination. All of the elements in the collages are seamlessly joined, creating imagery with an oddly meandering distance point. The effect is arresting, although they lack the linear harmony that is so enjoyable in Mr. Hockney's hand-painted works.
The rest of the paintings are made up of groups of people: friends, art associates and dancers at rest. They unfortunately employ a tremendous amount of a very grating light teal color, that makes the spaces in the paintings feel as if they are lit by buzzing fluorescent bulbs. The more complicated perspectives in these compositions are also not helping things.
The variety makes the show, open through January 10,  feel more "hit or miss" than a single series would have. Yet it's inspiring to witness an older artist still feverishly working through new visual ideas. It gives you the rich sense that art making is as involuntary as breathing to Mr. Hockney, and everything he does–the people he's with, the places he goes–is in deference to it.
The art-historical positioning of Robert Motherwell, 1915-1991, has seen a fair shift since the end of the 20th century. He was always a comfortably important part of the game-changing Abstract Expressionist movement that came to prominence in America in the 1950s, yet thanks to a lofty degree in philosophy and a talent for writing, Motherwell was often known more as an interpreter, even mouthpiece, for the Ab-Ex movement than one of its greatest figures. On top of that, his often boldly-colored but restrained images didn't have the instant recognizability of Barnett Newman's zips, Mark Rothko's windows or, most famously, Jackson Pollock's drips.
But if he was often a bit too esoteric for general audiences, fellow artists have always appreciated Motherwell's plurality, his insistence on being aesthetically multi-lingual, both within his art making and his occupational interests. His early process-based works influenced major 20th century multimedia artists such as Richard Serra and Bruce Nauman, but interestingly enough, he has now come full circle and is once again informing the realm of Abstract painting. It is Motherwell's diversity of passions, instead of Pollock's singular focus, that seems to make the most sense to young artists in our time of unlimited options.
"Robert Motherwell: Works on Paper 1951-1991," which is at Paul Kasmin's 27th Street location through January 3, focuses on the artist's lifelong intellectual approach to Abstraction with a gorgeous suite of drawings, collages and paintings on paper that span the entire arc of the artist's 40-year career.
It is a near-perfect show.
The son of a bank chairman, Motherwell was in the middle of earning a Ph.D. at Harvard when he fell in love with Modernism during a 1938 trip to Europe. Soon after, he jumped headfirst into making Abstract art, focusing on the technique of "surrealist automatism"—a new form of chance, mark-making intent on releasing inherent truths via the subconscious.
This new generation's propensity for exploring materials can be traced directly back to works such as Motherwell's glorious Bowes & Bowes from 1967, which takes a large and unusually lovely postage envelope as its centerpiece. What is exciting and innovative about Bowes is how its found-object component relegates the "paint" in the painting to the outer edges while simultaneously offering an enchanting color harmony that few artists could achieve.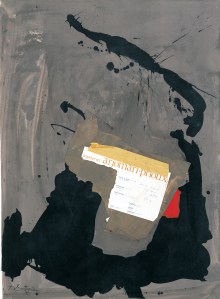 Motherwell also created some entirely paint-less works, such as a magnetic work titled Open, Bolton, 1969, from his highly reductive "Open" series (famously discovered when the artist traced the image of one canvas leaning against another.) With Bolton, Motherwell eliminates color completely, using only the barest of essentials—the paper's edge—to think through a compositional trope that absorbed him between the years between 1968 and 1972.
But one thing that Motherwell came back to again and again within his work is the utilization of chance-paint application in order to elicit feeling. Many of the works in this exhibition show how Motherwell relished experimenting with thrown paint, yet instead of overwhelming his surfaces with wild and immeasurable skeins a la Pollock, Motherwell tended to balance spontaneity with rumination. In an early painting on board entitled Fowl, 1951, one can plainly see where Motherwell has carefully painted around a zigzag of wheeling drips in order to create an amorphous shape that somewhat resembles a bird.
Motherwell's interests in Existentialism, body vs. mind dualities and Freudian analysis, are unquestionably dated, yet the point still comes across loud and clear: This is an immensely original artist whose blend of thought and feeling will echo throughout the art world for decades to come.