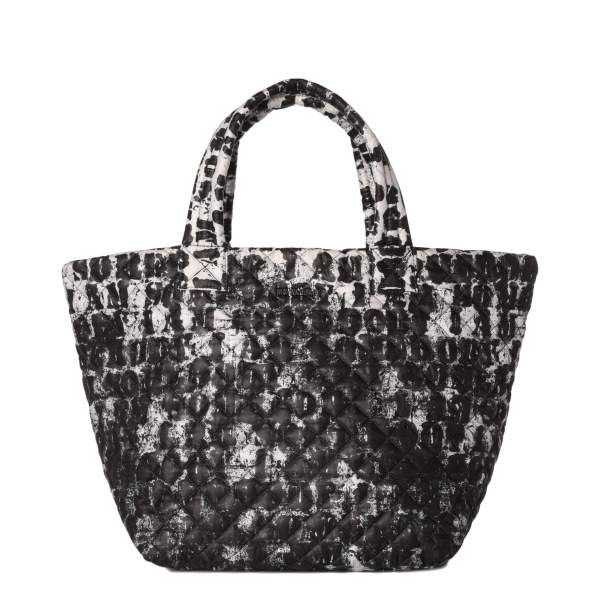 New Yorkers have at their disposal an arsenal of highly functional bags and totes stamped with the name of favorite museums, bookstores, and art fairs. While such accessories may emphasize nonchalant style and a commitment to eco-friendliness or advertise elite memberships, buying one doesn't necessarily change the environment.  The MZ Wallace and Glenn Ligon Metro Tote does both. As a collaboration between designers Monica Zwirner, Lucy Wallace Eustice and artist Glenn Ligon, the tote delivers quiet, utilitarian functionality and urbane appeal in quilted silk satin. 100% of the proceeds from sales will benefit The Studio Museum in Harlem's educational program such as its Expanding the Walls, an 8 month long teen photography program culminating in an exhibition.
Monica Zwirner and Lucy Wallace Eustice founded MZ Wallace in 1999. Over the years the design duo has rolled out a series of coveted bags, totes and backpacks for urbankind. Lightweight and unisex in gray, black and white, the Studio Museum tote is "appealing in its simplicity," says Ms. Eustice. "And it's great for travelling as you can flat pack it."
For the print, Glenn Ligon provided text from I Am Somebody (1991) whose letters are faint, rubbed out, and faded like overprinted negative film. "It has been a new in my experience working with a fashion company," says Mr. Ligon, who has exhibited widely internationally and at the Institute of Contemporary Arts in Philadelphia, The Studio Museum and his work has figured in several editions of the Whitney Biennial. "It is recognizably MZ Wallace and Glenn Ligon," adds Ms. Eustice.
$225. Available at MZ Wallace.com and The Store at The Studio Museum in Harlem and at www.studiomuseum.org. Limited run while supplies last.
http://www.studiomuseum.org/shop/mz-wallace-x-glenn-ligon-tote