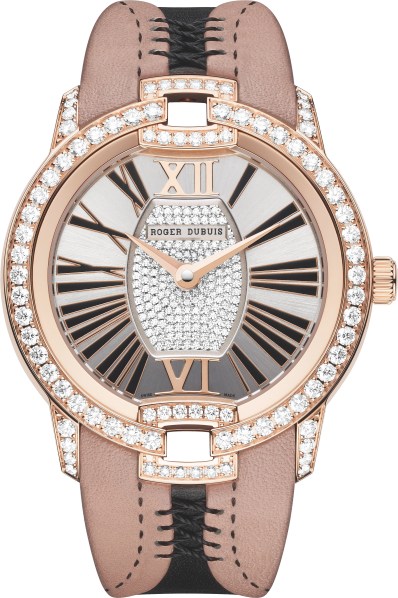 This timepiece is almost too glamorous to be true. This diva-esque, Velvet Haute Couture Corsetry watch by Roger Dubuis treads a careful, fin-de-siecle-inspired line along horology's outer limits of excess.
 The $53,000 watch is the result of a three-piece set of lingerie-inspired watches from Roger Dubuis, the Swiss horologist who launched his own line after working for the renowned watch manufacturer Patek Philippe. Another model comes with a mink strap.
The wristband's black lacing on blush-colored leather brings to mind a piece of lingerie about to burst open. The watch's face boasts Roman numerals made of velvet, atop a silver background, made of satin. A saucy combination hitherto unseen in a wristwatch.
 The watch is limited edition, with only 88 pieces in all. Designed with femmes fatales in mind, it also comes with a low-key alligator leather strap for more relaxed occasions — well, as relaxed as any woman can be with 162 brilliant-cut diamonds on her wrist.
 For this particular timepiece, Roger Dubuis worked with luxury leather specialists Artisans Selliers, a Swiss house which specializes in high-end straps and leather goods.
The watch is part of a collection available exclusively at Cellini, the jewelers situated in the Waldorf-Astoria Hotel.