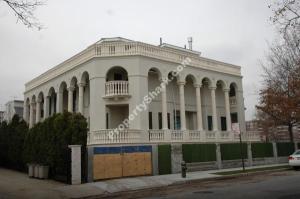 It is difficult these days to buy property in Manhattan for $704 per square foot, more difficult still to find a townhouse that can be had at that rate, much less a massive freestanding home. But if one simply must tell the folks back home, "Yes, I've bought a mansion in Manhattan," but cannot afford the prices in the city's premier borough and does not balk at the prospect of subterfuge, one might consider Manhattan Beach. Manhattan Beach is, of course, not Manhattan at all, but Brooklyn. And not even "cool" Brooklyn at that, but an enclave of Eastern European immigrants close by Brighton Beach.
This far flung district, unsurprisingly, does not boast nearly as much in the way of luxury development as Manhattan proper. But the lucky folks behind 340 Shore Boulevard LLC have lately come away with must surely be someone's idea of a grand prize, an 11,000 square-foot home at 2 Dover Street that went up in 2004, which they acquired for $7.75 million, according to city records. (The sellers, Desmond Realty Incorporated were also apparently once quite enamored with the place, paying $5.76 million for it in 2007.)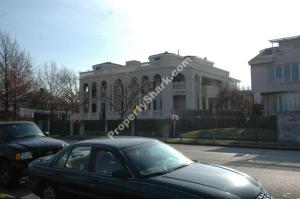 That figure might draw notice in even much tonier precincts, and it seems odder still given the home's—shall we say unusual?—exterior. It's the sort of thing that might result from hiring a particularly unscrupulous builder of New Jersey subdivisions to construct a multi-generational mausoleum: a towering off-white hulk ornamented with columns, arches and rounded balconies, thick, many-spindled railings and, it appears, some species of cherubim.
On the bright side, there is also what must be a pretty nice view of Sheepshead Bay, which lies just across the road. Outer Brooklyn has a number of odd big-ticket listings, of which 2 Dover is something of a piece. There is, for example, the Mill Basin mansion belonging to the former wife of a Russian oligarch that was on the market until a few days ago for $30 million. And who could forget the adorable gingerbread house, in Bay Ridge, currently asking $10.5 million?
The eventual buyers of the latter will require somewhat unusual tastes, but surely, they won't be quite so half-baked as whoever cooked up 2 Dover Street.