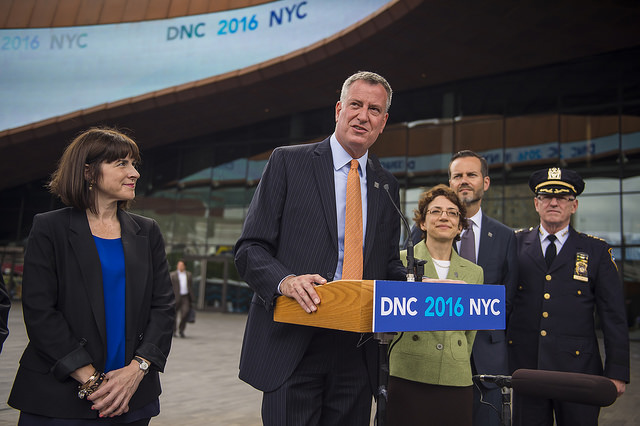 Brooklyn's still in the house.
The Democratic National Committee announced this afternoon that Brooklyn, New York is now one of three sites in contention for the 2016 Democratic National Convention, beating out also-rans like Birmingham, Alabama and Pheonix, Arizona.
Brooklyn will now compete with two cities, Philadelphia and Columbus, Ohio–undoubtedly pleasing Mayor Bill de Blasio, who has made bringing the DNC to Brooklyn a top priority.
"We're thrilled to move to the next step of the selection process to determine where Democrats will come together to nominate the 45th President of the United States," said DNC Chair Debbi Wasserman Schultz. "We are fortunate to have such a diverse and vibrant group of cities interested in hosting this special event and we thank Phoenix and Birmingham for showcasing their special communities."
"We look forward to working with Columbus, New York, and Philadelphia as we go forward," she added, noting that three weeks–July 18, July 25 and August 22–were under consideration as convention dates for the week-long affair.
DNC delegates visited the Barclays Center, the potential site for a convention, in August as the city's Democratic officials stressed the economic and civic importance of bringing the convention here. A Republican police union leader that month angered Mr. de Blasio and city Democrats when he claimed Brooklyn wasn't safe enough anymore to host the Democratic convention. Otherwise, the bid has the broad support of the city's political and business elite.
Last month, Mr. de Blasio dispatched his chief of staff, Laura Santucci, to head up the city's bid to host the convention. He recently announced $10 million had been raised toward the $100 million goal of paying for the festivities, set to be held in the summer of 2016.
Mr. de Blasio, a former Clinton operative popular with the Democratic Party's progressive wing, frequently travels to Washington and is trying to insert himself into national political debates. He recently encouraged–and chided–Democrats in an opinion piece, urging them to reject centrism and stick to a core liberal message.
The mayor did not immediately comment on the DNC announcement.
Ms. Wasserman-Schultz said a final decision would come in the next "few months."