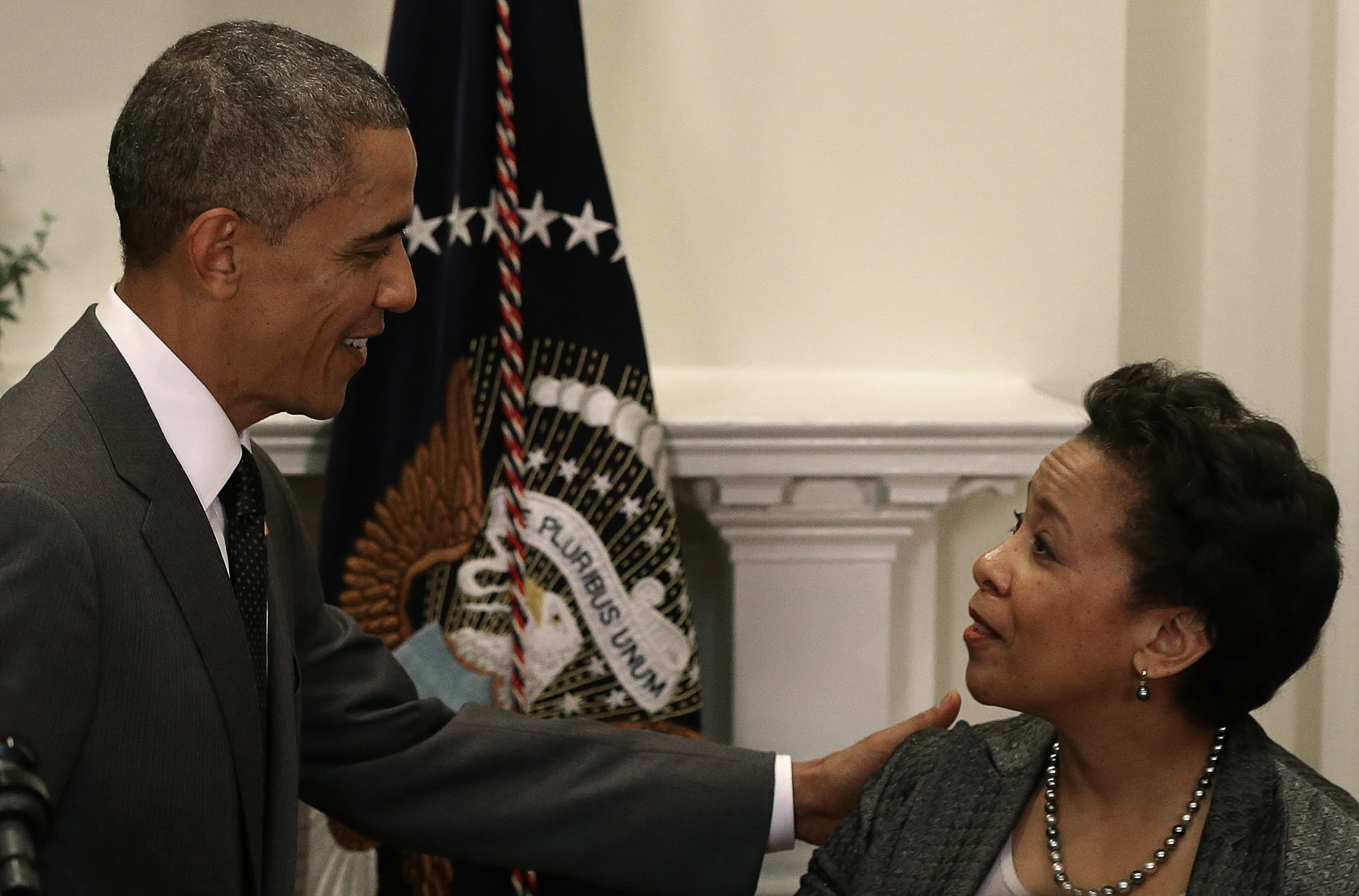 President Barack Obama will nominate Brooklyn U.S. Attorney Loretta Lynch to be the next U.S. Attorney General, his office confirmed today — prompting a slew of local officials to heap praise on the choice.
"Ms. Lynch is a strong, independent prosecutor who has twice led one of the most important U.S. Attorney's Offices in the country," White House Press Secretary Josh Earnest said in a statement. "She will succeed Eric Holder, whose tenure has been marked by historic gains in the areas of criminal justice reform and civil rights enforcement."
Several news outlets had reported that Mr. Obama intended to nominate Ms. Lynch earlier in the day. One of two U.S. attorneys serving New York, Ms. Lynch has kept a decidedly lower profile than the Preet Bharara, the U.S. Attorney in Manhattan. But even before her nomination was official, local officials were lauding Ms. Lynch — including Brooklyn District Attorney Ken Thompson, who told the Observer she would be a "simply superb" attorney general.
Gov. Andrew Cuomo called Ms. Lynch — who will be the first black woman to serve as attorney general — a "trailblazer."
"She has earned a well-deserved reputation as an aggressive but fair prosecutor, who has used her office to seek justice through both criminal and civil proceedings. I am confident that U.S. Attorney Lynch will bring those same qualities to her new position as our country's top law enforcement official," Mr. Cuomo said.
Mayor Bill de Blasio said the president has chosen a "great New Yorker."
"The nation is about to meet Loretta Lynch for the first time—but in the five boroughs, she is already known for her character, toughness and uncompromising sense of justice. She has never been afraid to hold those in power accountable under the law, or to fight for those facing inequity. I urge the Senate to recognize Loretta as the accomplished and respected leader she is, and confirm her as Attorney General," he said.
The president will announce her nomination tomorrow, the White House said. The Senate is currently controlled by Democrats — but after a crushing midterm election will flip to Republican control come January. Even if Ms. Lynch must be confirmed by a Republican Senate, she might be an easier sell than some others the president was considering for the job. Ms. Lynch is not a member of Mr. Obama's inner circle; her tenure in New York has been relatively noncontroversial, though Republican Congressman Michael Grimm has agued that Ms. Lynch's office engaged in "selective and vindictive prosecution" when it indicted him on 20 counts of mail and wire fraud and other charges related to his operation of a restaurant before entering Congress.
And Ms. Lynch has twice before been confirmed by the Senate as a U.S. attorney. She was first nominated for the job by President Bill Clinton in 1999, and then after a stint in the private sector was nominated by Mr. Obama in 2010. Ms. Lynch oversaw the prosecution of the police officers charged in the Abner Louima police brutality case — something some observers could earn her trust and credibility as the AG's office investigates the fatal police shooting of an unarmed black teenager in Ferguson, Missouri. More recently, she was part of a $7 billion settlement reached with Citibank.