Thousands of New Yorkers took to the streets Monday night following the Ferguson grand jury decision not to indict Darren Wilson for the shooting of Michael Brown. A protest, which began in Union Square, grew in number as participants marched through the city.
Initially, around 200 people gathered on the North Side of Union Square to await the results, released at 9.30pm. Surrounded by news vans, police, and metal barriers, the group's cries of "No justice, no peace" and "Turn it up, don't turn it down, we're doing this for Mike Brown" only softened in order to listen to newscasts on their cell phones.
"I thought justice would prevail," said Chamille Davis, a New Yorker marching with her husband. "This isn't about color, it's about citizens and the authority held by the police. Any of us could get shot."
Lauren Katzmen, a New York lawyer, told the Observer she believed the way the evidence was handled skewed the results. "It is so easy to indict someone," she said.
Upon learning that Darren Wilson would not be charged, the barriers were thrown back, and the protesters began marching south on University Place, shouting "Shut the city down."
The peaceful, but energetic crowd gained members as it marched. They called out "join us" to the bystanders who watched from the sidewalks. Others, like Ashley Freeze, a recent college graduate, saw the protest on the news and decided to come join. She called the grand jury verdict "an attack on black bodies."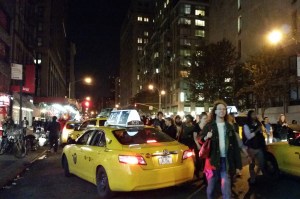 The group wound through the streets towards Times Square, stopping traffic along 7th Avenue. Policemen walked with the group in an effort to control the situation, while the crowd chanted: "No justice, no peace, no racist police."
In Times Square, the crowd eventually broke into two groups–the larger section announced a plan to march every day this week, before walking north to Harlem, and the smaller group remained in Times Square, where a man threw red paint onto Police Commissioner Bill Bratton. New York Magazine reported that Diego Ibanez, an Occupy Wall Street and immigrant rights activist, threw the paint. He was charged with "obstruction of government administration, disorderly conduct, harassment, criminal mischief, and assault on a police officer."
Past the chaos of Times Square, two NYU sophomores, Nigel Scott and Nathan Tempro, lagged behind the larger crowd. Mr. Scott lamented the intensity of situation, "What I wish is that when Mike Brown was shot, they didn't say 'a black unarmed man got shot.' I wish they said that 'an unarmed American got shot.' "
Mr. Tempro added, "The indictment issue isn't the only issue. It's a race and class and human issue. This is everyone's issue."
Update: This post has been updated to include information about the identity of Diego Ibanez.