Soaring prices are pushing builders to give some less developed Brooklyn neighborhoods a look, putting places like Prospect Lefferts Gardens, Flatbush and Kensington on the list of up and comers.
According to numbers from Brooklyn-based commercial real estate firm TerraCRG, since the borough's housing market sputtered back to life several years ago, land values have skyrocketed, with a number of neighborhoods seeing roughly two-fold price increases.
In greater Downtown Brooklyn (which, for the purposes of this analysis, encompasses prime brownstone Brooklyn plus areas like Clinton Hill and Red Hook), prices have risen from $120 per buildable square foot in 2011 to $212 in the first half of 2014.
Prices in Williamsburg and Greenpoint, meanwhile, have nearly doubled over the same period—from $107 to $209. Bed-Stuy, Bushwick and Crown Heights? Up almost double, as well—from $51 to $93.
"I always want to be more on the affordable side," said developer Eli Karp, explaining his move into some of Brooklyn's budding hot spots. Mr. Karp's Hello Living firm has done most of its work in Prospect Heights and Crown Heights, but, recently, lured by the promise of cheaper land, he's launched five projects in Prospect Lefferts Gardens and Flatbush, including a 40-unit condo building at 651 New York Ave., a 56-unit rental building at 271 Lenox Road, and a 44-unit condo building at 2417 Albemarle Road.
"Most of the land I bought in Prospect Lefferts Gardens I bought for $40 to $65 per square foot," he said, "whereas in Crown Heights, people are asking close to $100 or over."
Lower priced locales come with their own challenges, though, Mr. Karp noted—such as drawing customers.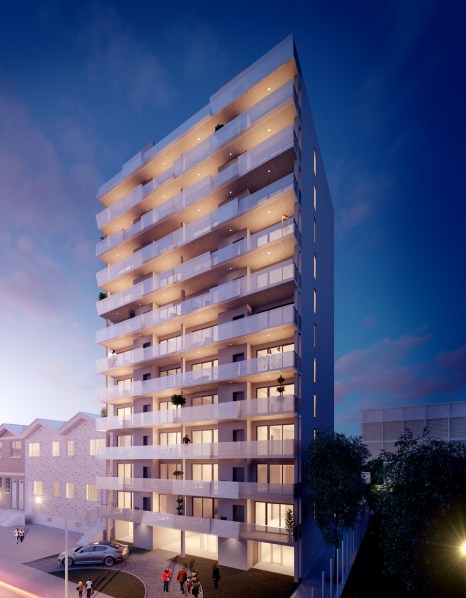 "Are you going to be able to rent those units? Are people going to appreciate the value you've put in those projects?" he said.
Zoning presents another wrinkle, said TerraCRG president Ofer Cohen, noting that emerging neighborhoods like Prospect Lefferts Gardens and Sunset Park are zoned for lower density than areas like Downtown Brooklyn and the Williamsburg waterfront.
This means fewer large parcels to build on, which can occasionally lead to awkward juxtapositions as developers squeeze projects into whatever space can fit them. Take the Kestrel, Sam Boymelgreen's 126-unit rental building on the border of Windsor Terrace and Kensington, which sits right next to the Kensington Stables horse barn. Bucolic? Ultimately, the market will decide.
One notable exception to this zoning pattern is Greenpoint, which, while not exactly unheralded, has seen relatively little development to date, said William Ross, director of development marketing for Halstead Property Development Marketing.
"Greenpoint is unusual in that it fell under the same rezoning that Williamsburg fell under," he said, noting that several large waterfront projects planned for the area were put on hold after the 2008 crash.
Now, though, the neighborhood "is about to explode," Mr. Ross said, citing as an example Park Tower Group's roughly 5,000-unit Greenpoint Landing project.
For builders venturing into (relatively) untapped territory, there's also the matter of local opposition—a risk for any project, but particularly in neighborhoods unaccustomed to new development.
"There are long-term residents in a lot of these marketplaces who may not completely embrace the new construction," said David Maundrell, president of brokerage Aptsandlofts.com. He cited the case of Hudson Companies' 23-story rental tower at 626 Flatbush Ave. in Prospect Lefferts Gardens, where construction halted briefly this summer after a lawsuit was filed by the community group the Prospect Park East Network.
The action slowed the project temporarily and added costs in attorney fees, said Hudson Companies principal David Kramer. But, as an as-of-right project, 626 Flatbush was in compliance with all the relevant zoning restrictions, making it unlikely that the suit—which has since been dismissed—would prevail.
"That's why we only do as-of-right projects," Mr. Kramer said, adding that in his opinion development parcels requiring variances or zoning changes are rarely discounted enough to truly account for the uncertainty involved.
"Some people have made fortunes," on such projects, he acknowledged. But, he said, "you never know what's going to happen."