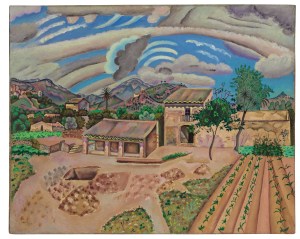 The air was heady at Christie's in Rockefeller Center yesterday, in the final days leading up to art auctions likely to shatter price records. Specialists in charge of both the Impressionist and Modern Art sales on November 5th and 6th as well as Post-War and Contemporary Art Evening sales on November 12th and 13th led prospective bidders around galleries that were buzzing like hives of bees.
No surprise, really, as the walls were hung with about 140 years worth of stunning works with hefty estimates. There's a lot of suspense over whether Christie's will break last springs's record of $975 million for the combined Post-War and Contemporary auctions and tip over the billion-dollar mark.
Here's some of the masterworks likely to be the heavyweights:
From the "Impressionist and Modern Art" Sale on November 5th:
Joan Miró's early landscape Tuilerie à Mont-roig from 1918 (above) is crazy with surrealistic clouds in "uncanny colors" of lavender. Its geometric symbols almost become abstract, stripping the context from the canvas, according to Christie's Head of Impressionist & Modern Art Brooke Lampley, (estimate $5 million to $8 million).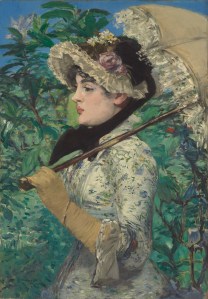 Edouard Manet's Le Printemps was one of the hits of the Salon set in 1881. Lampley thinks it's "gorgeous and shows the artist at the summit of his powers," with a bold use of black, rare among the Impressionists, in the collar. The woman, a prominent actress of the day,  holds her parasol, some critics have said, like a rifle, (estimate $25 million to $35 million).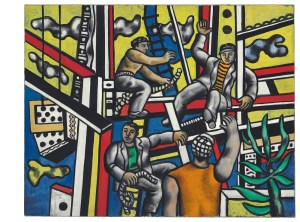 Reflective of his "passion for mechanistic form," according to Lampley,  Léger's Les constructeurs avec arbre from 1949-50, speaks in some ways to his contemporary and fellow member of the Communist Party, Diego Rivera, and that prominent Mexican artist's ennobling of the working man. The figure in the bottom left in the green shirt is thought to perhaps be a self-portrait, (estimate $16 million to $22 million). It will be interesting to see whether the Metropolitan Museum of Art's Cubist Art blockbuster, which prominently features work by Leger, boosts the price for this mid-century work.
From the "Post War and Contemporary Art Evening Sale on November 12th:
Cy Twombly's British "blackboard" paintings like this Untitled from 1970, were often painted in a dark room with the artist using his left hand. "The great gesture continuing without lifting the hand brings emotional clarity and freshness," explains Laura Paulson,  a top Christie's specialist in of Post-War and Contemporary art (estimate $35 million to $55 million).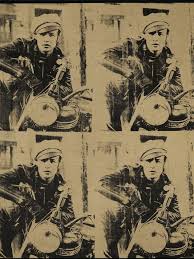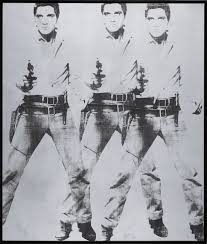 No surprise to see Andy Warhol works creating intense excitement, with pre-auction estimates of Triple Elvis [Ferus Type], from 1963 and Four Marlons  from 1966 estimated to bring in a combined $120 million. Swiss dealer Thomas Ammann sold both paintings to the current seller, a German casino company, about 35 years ago for around $100,000 apiece. Both images are based on film stills: Presley starring in the Western Flaming Star and Marlon Brando in The Wild One.