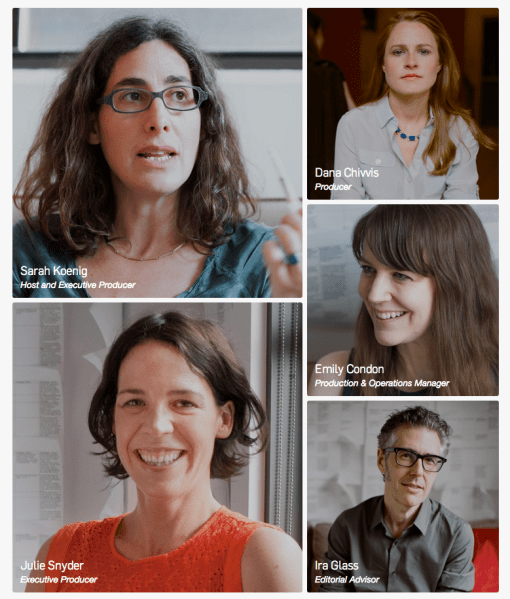 You'd think This American Life's true crime podcast, Serial, would be a show you could enjoy with a clear conscience. It's exhaustively reported, skillfully produced, and engaging to the point of being addictive — the Wall Street Journal just called it a "global phenomenon."
What's more, Serial might end up exposing a real-life miscarriage of justice. Even if host Sarah Koenig doesn't manage to exonerate Adnan Syed for the 1999 murder of his ex-girlfriend Hae Min Lee, she has already made a convincing case that prosecutors used anti-Muslim stereotypes to bolster their weak case against Syed.
So, why is there a cottage industry of think pieces dedicated to making us feel guilty about liking Serial?
Because it's "problematic" and its host is "privileged."
Jay Caspian Kang leads the "privilege" charge against Ms. Koenig in the Awl. He claims to have no problem in principle with a white reporter covering communities of color, but he thinks Koenig is doing it wrong.
Mr. Kang, who just joined the New York Times Magazine as a contributor, offers this snippet of Koenig's dialogue as proof of her egregious white privilege: "[Hae's] diary, by the way—well I'm not exactly sure what I expected her diary to be like but—it's such a teenage girls diary."
Mr. Kang jumps to the conclusion that Koenig expected Hae's diary to be different because she was Korean. Cue self-righteous indignation: "Wait, what did you expect her diary to be like?" or "Why do you feel the need to point out that a Korean teenage girl's diary is just like a teenage girl's diary?" and perhaps, most importantly, "Where does your model for 'such a teenage girl's diary' come from?"
There's nothing in Serial that suggests that Ms. Koenig's mild surprise at Hae's boy-crazy diary stems from any assumption about what Korean people's diaries are like. Absolutely nothing. It's a total non sequitur.
Ms. Koenig has a point about the teenage girlishness of the diary: Hae wrote out her boyfriend's name 127 times on a single page, which is surprising for anyone outside of a Young Adult romance.
Mr. Kang quotes Free Adnan activist Rabia Chaudry as saying that Ms. Koenig sounded "confused" about some aspects of life in Baltimore County's Pakistani Muslim community, but she doesn't say what, if anything, Ms. Koenig actually got wrong about it. At one point in the first episode, Ms. Koenig does sound a little confused about why the kids Rabia grew up with weren't allowed to go to homecoming, until Rabia explains that homecoming is a mixed-gender dance.
Far from being oblivious to anti-Muslim bias, Ms. Koenig argues that prosecutors used Adnan's religion against him in two underhanded and inaccurate ways: To make it seem like he had sacrificed everything to date Hae in secret, and to establish that he was a deceitful guy living a double life.
Ms. Koenig spends most of the first two episodes rebutting these claims and establishing Adnan as a "healthy American teenager" who did "what teenagers do." Ms. Koenig doesn't come right out and say so, but you get the strong impression that prosecutors were also playing to stereotypes of Muslim men as controlling, violent Others who abuse women.
Ms. Chaudry tells Mr. Kang that Ms. Koenig should have done more to address the issue of anti-Muslim bigotry, and Mr. Kang quotes her uncritically. Ms. Chaudry's entitled to her opinion, but she's also an activist trying to wrest control of the narrative. Serial has been exploring some disquieting evidence against Adnan lately, and fan sentiment has started to shift against him. As someone who has dedicated her life to getting Syed out of prison, I'm sure Ms. Chaudry would rather the show go back to quantifying the very real Islamophobia against Adnan instead of dwelling on suspicious cell phone pings in Leakin Park or unexplained calls to Silver Spring, Maryland.
In the very next episode, Serial suggested that the majority-black Baltimore jury that convicted Syed might have been extra sympathetic to the prosecution's star witness, Jay, because he was a black man accusing a South Asian Muslim.
Julia Carrie Wong cites Mr. Kang's essay approvingly in her Buzzfeed piece, "The Problem with Serial and the Model Minority Myth," but she takes the exact opposite tack on the question of racial bias on the part of the jury.
"The idea that Jay or any black person would be treated as more trustworthy by this country's criminal justice system by virtue of his blackness is just an astoundingly ignorant suggestion for anyone to make," Ms. Wong writes. Yes, you read that correctly: Ms. Wong is accusing Ms. Koenig, a veteran Baltimore reporter, of being "ignorant" for entertaining the possibility that race might have been a factor in a Baltimore jury's verdict. As Ms. Koenig explains, Jay was poised under a brutal cross-examination by Syed's lawyer. And, as, she puts it, "Jay probably comes off as a nice young man and this white lady is yelling at him."
The "model minority" myth is the racist idea that immigrants from certain countries are inherently superior to African Americans. Ms. Wong claims Ms. Koenig has fallen for it, but she offers little support for this claim.
Ms. Koenig paints Adnan and Hae as high-achieving kids with strict parents. But you could just as easily argue that Ms. Koenig's portrayals subvert "model minority" stereotypes. Whether or not he killed his girlfriend, Adnan was both a prayer-leader at his mosque and an avid girl-chaser with a taste for weed. Hae was a genius and a star athlete, and she had frenzied sex with her boyfriend in parked cars and motel rooms all over Baltimore County. Ms. Koenig sees nothing scandalous about any of this: People are complicated, and teenagers are people.
Ms. Wong also accuses Ms. Koenig of casting Jay as the "thuggish" black foil for Adnan and Hae. Up until Episode 8, Serial said little about Jay, except that he was black, a pot dealer, and the witness who copped a plea to put Adnan behind bars with a dodgy story. Listeners found it easy to demonize him. Hence all the half-baked fan theories about Jay killing Hae on his own.
The whole point of Episode 8 is to challenge our assumptions about Jay. Serial often challenges the audience to abandon its cherished theories in the face of conflicting evidence. This episode is basically a rebuke of the audience's racist assumptions.
Yes, Jay's the poor black son of a single mother. Yes, the kids in the gifted program looked down on him because he was in the regular program and sold them drugs. Yes, he liked to roughhouse with his friends. Jay himself theorized that Adnan called him to help dispose of the evidence because to Adnan, Jay represented "the criminal element." In these respects, he fits a powerful stereotype of a thuggish killer. But, Ms. Koenig is saying, Jay's an intelligent, compelling, individual human who deserves to be judged by the same standards of evidence that we apply to Adnan or anybody else.
Far from demonizing Jay, Ms. Koenig is working overtime to make Jay as relatable as possible to TAL's white, liberal audience by pointing out his passions for stuff they also like: grunge, animals, piercings, and the outdoors. You can imagine listeners across the country thinking: "Jay listened to Rage Against the Machine in the 90s? Me too!" "Jay was an outsider with dyed hair in high school? So was I!" It's a cheap trick, but an effective one. Suddenly it's a lot harder to just assume, as many did in earlier episodes, that Jay was the merciless killer who strangled Hae and framed Adnan.
Calling a show "problematic" is a way of insinuating that it's racist, sexist, or exploitative without actually having to argue the point. Conveniently, since everything's problematic, there's no need to boycott Serial. Which means the morally serious critic can keep right on listening.
Lindsay Beyerstein is an investigative journalist in Brooklyn, NY who writes about criminal justice and women's health.