TOMS RIVER – It took U.S. Rep. Chris Smith (R-4) all of five minutes to sum up what Republicans here — and nationwide — see as the single greatest issue against Democrats in the year's election cycle.
"You know, Barack Obama has done serious damage to the United State of America, and to the world," Smith, bristling at the thought, told a roomful of conservatives at tonight's Ocean County GOP Annual Election Eve Rally. "This election will be the downpayment, putting the tourniquet both on the House side and the Senate side, on this reckless behavior that we've seen coming from the White House. And then we can take it off in 2016."
With less than 24 hours before polls close tomorrow evening and end a grueling campaign season for both Republican and Democratic candidates across the state, Republicans in Ocean County gathered in the TR Hotel to make their final appeals to supporters, who sat noshing on hot dogs and soft pretzels. Candidates — from freeholder to congressional contestants — voiced a palpable disdain for the nation's chief executive and his policies, echoing sentiments that have defined Republicans House and Senate races this year.
"Our friends wonder about our reliability, whether or not we stand with them, particularly in the Middle East, particularly in Israel; and our enemies have been enabled as never before by his indifference, and by his reckless policies," Smith running for near-certain re-election in South Jersey's fourth congressional district, said. "Domestically, he has left our kids and our grandchildren enormous debt — 17 trillion dollars worth of public debt. That is unconscionable."
"Tomorrow we're going to send a message, as you've heard many times before, not only to send a message to Ocean County but to the Obama administration," added Republican Freeholder candidate Joe Vicari later. "And that is no to his policies, no to his supporters, and no to anything Obama has to do. Wait till Tom McArthur gets there. Wait till Chris Smith gets there. Wait till Frank LoBiondo gets there. You'll have three congressman representing over half of this state."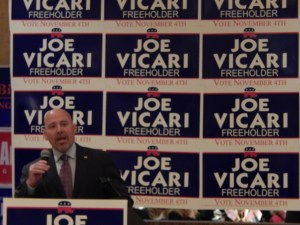 Save LoBiondo (R-2), all three of those candidates were present tonight. And while the issue of Obama and the task of fixing a broken Congress took precedence in each conservative's address, there was also a marked focus on ensuring a high turnout in the county, long the most conservative in the state.
For MacArthur, the Republican candidate in the third congressional district looking to defeat Democrat and Burlington County Freeholder Aimee Belgard, that's especially important — he's arguably the most vulnerable when placed next to LoBiondo and Smith, who both enjoy widespread support and incumbency status in their respective districts.
"I hear the same thing everywhere — people want opportunity," MacArthur said. "Not the Democrats' version of opportunity, where the government wants to pick winners and losers, and the government wants us to race to the bottom, but real, good-paying American jobs and they want the government to help create them."
MacArthur's race with Belgard has been on of the most high-profile in the state, drawing attention from national and independent expenditure organizations in Washington. But tonight, the undeniable party favorite was Vicari — the "main attraction," according to Ocean County Republican Committee Chairman George Gilmore — who is looking to stake out his 34th year on the board.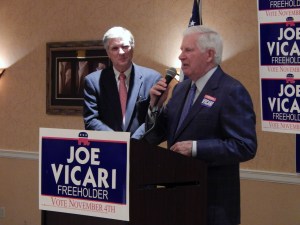 Vicari's race with Democratic hopeful Tim Ryan was one of the most slanderous in the state, with Ryan's campaign levying an onslaught of attacks against the Republican that ranged from pointed allegations of criminal misconduct to rumors of FBI investigations. Vicari seems to have been absolved of most of the accusations, and went on to win an endorsement from the Asbury Park Press — though it was issued "with reluctance."
Gilmore thrashed the Democrats for what he called "disgraceful" tactics, adding that they sunk to "new lows" this year.
"So you see a theme here, from local office to county office to congressional office. When the Democrats win on the issues, they just sling that mud, hoping that it will stick," Gilmore said. "Well the great news tomorrow, when the polls close at 8 o'clock, they're going to find that that mud didn't stick at all because there was no factual basis for their allegations."