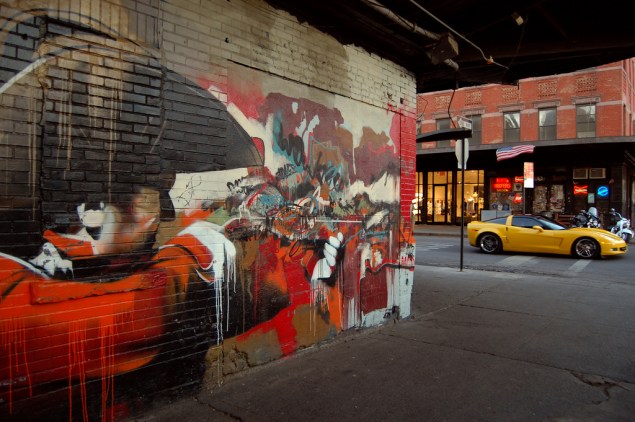 Adam Wilzig, a motorcycle collector whom a minor Wolf of Wall Street character was based on, wants an absurd amount of money—$43.5 million—for his Tribeca maisonette, Curbed reports. At least it comes with a tanning bed and hot tub. Fancy bikes and cars are negotiable.
You can, however, get a mural by a famous name for free. Barney Rosset, who created an enormous mural in the East Village apartment he shared with his wife, according to The Wall Street Journal. Mr. Rosset, whose Grove Press pushed and provoked polite society, died in 2012, and his widow is trying to find a new home for the mural—which will go gratis to anyone who can take it away.
On the topic of murals and free things: the developer of the 5Pointz site is trying to trademark the name, presumably to brand the residential towers at the site, according to DNAInfo. Of course, the graffiti artists who once painted there for free with the owners' permission are livid, but developer Jerry Wolkoff said that the site and the building had always been known as 5Pointz. "I'm bringing the artists back," he said. "The building is going to be back and the artists are going to be back."
This comes as no surprise: Trinity Church, which spearheaded the largely residential rezoning of Hudson Square, now wants to build at least three residential towers there, Crain's reports. Residential is relatively new for the church/developer, whose vast holdings stem from a royal land grant long ago, and potentially more risky than office and industrial space, the paper frets. Though let's honest, building high-end housing in a neighborhood bordered by Soho, the West Village and Tribeca does not require much derring-do.
Regarding other historic real estate—there are still some living people who lived in the building that houses the tenement museum. One of them, a woman who was a child in the early 1930s who is the only one who can actually remember living there, paid a recent visit, which was documented by The New York Times.
They're not as stigmatized as tenements, but first-floor apartments have long been considered the least desirable of all. New York Magazine looks into whether or not it's a good idea to take a street level pad. The good news for owners is that the cheaper units are increasingly in demand in this market, but they're also harder to sell when the market slows down.
Another tricky resale? Quirky mansions, reports The Journal. It turns out that building full-size basketball courts, indoor water slides, batting cages and murals of oneself and one's children (murals are the theme of the day) are not necessarily desirable to other buyers. Hobbit houses, turrets and moat/pools with drawbridges are also, as it turns out, not good investments. But isn't that kind of the point of having money? So you can do the things you like?
Robert de Niro seems to have taken that approach in Gardiner, New York, building a sprawling 78-acre estate with multiple buildings and even a small ski slope. But he's also balked at the cost of keeping the property, battling the tiny upstate town over the $6 million property assessment, The New York Times reports—and his tenacity is now likely costing the town more than it's worth.
Can former MTA chair Jay Walder make Citi Bike a going concern? Crain's asks. The former transit chief was seen as a no-nonsense technocrat in New York, they note, but ran into trouble in Hong Kong, leading to a premature resignation. It remains to be seen whether he can transform New York's beleaguered bike share network into the first such entirely privately-funded program in the country.
It was an awkward first day of occupancy for 1 World Trade Center, Capital New York reports, with nary a politician on hand, not even Bill de Blasio. But then again, "Maybe it's fitting. There have been so many declarations of this coming, almost-there, totally imminent rebirth of Lower Manhattan that the end was bound to be anticlimactic when these 16 acres actually reverted to being a place where people work."