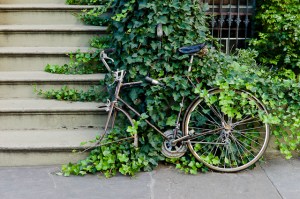 The Staten Island house that played Vito Corleone's manse in The Godfather movies has hit the market for $2.89 million and DNAInfo has the story with the only possible lede: "Just make them an offer they can't refuse." Bravo, DNAInfo, we would have done the same.
After considerable success in urban markets, micro hotel chains are trying to expand their model into smaller markets, according to The Wall Street Journal. But will travelers to less-than-prime locations really be as keen to stay in tiny rooms, spending their time in lobbies and other shared spaces rather than lounging in bed?
Another question posed by less-than-prime locations is whether elevated linear parks like the High Line can succeed as they have in Chelsea. Ian Frazier, writing in The New Yorker, notes that the High Line would seem to show how "this sorcery" of transforming abandoned railroad tracks into an upstanding civic space is done, though interactions with locals suggests that it might be more complicated than it seems at first blush.
On the topic of the up-and-coming areas of Queens, a couple in Ridgewood has been charged with "stroller trolling" according to Gothamist—pairing up to snatch valuables from baby carriages. No word on whether this is in any way gentrification related, but let's hope.
Ever wondered what "maximalist minimalist" design looked like? It looks like really, really nice minimalist design, at least if these photos of Japanese exemplars in Dwell are an accurate representation. And for those of us living in apartments that are more mini than minimalist, the magazine advises us that we need not be afraid of color in small spaces. That is, a little color, as in like, one colorful thing per room. Or in lieu of color, just some beautifud paneling. In which case, if you can empty out 98 percent of your possessions, you may be well on your way to a Japanese maximalist minimalist home.
And today brought the answer to another aesthetic question—what will that Minskoff's residential development on West 12th look like? Particularly after Mr. Minskoff's development and other projects with huge apartments in relatively petite buildings got written up. Well, now Cured has the renderings. It looks very nice, maybe a little French as the website claims, but mostly it looks a lot like a whole lot of other very expensive, very sophisticated condos look like.
Of course, renderings and the real thing are notoriously out of synch. Even if, as the Journal notes, it's becoming harder and harder to tell the difference between the rendered and the real thing in images.
And likewise, virtual friends and real friends. On that topic, Facebook moved into its new Frank Gehry-designed offices in Midtown South this week, The Journal reported, confident that they can use the office space to recruit top new employees and make everyone else jealous of how cool they are. They are also seeing if they "can be a catalyst" now that "New York City has become a deep tech hub" according to the head of New York's engineering department. Whatever that means… The article notes that the online giant's new home is also home to other big tech players. Though as our own Stephen Smith noted, it's also home to Kmart.
This may come as a surprise, but apparently there is a rural creative class, and, according to Citylab, it's been in existence long enough to warrant study (and no, it's not just all those Brooklynites who have bought houses in the Hudson Valley). Moreover, while rural creatives' recovery has been on par with those in the rest of the country, it's been something of a bifurcated area and the two areas experiencing major growth are those abutting major metro areas and college towns.
This will probably not come as a surprise: Chapin would like to add three stories to its eight story structure on the Upper East Side, DNAInfo reports. The new space would be used for a gym that is larger than the 4 currently in the building and performances, but would require building higher than zoning allows. We suspect the neighbors will hate it.
And we really should be surprised that the site of a Mobil gas station in Downtown Brooklyn is asking $27 million, as reported by Crain's, but actually, we're not. Though $450 per square foot is a lot, especially for a property on Flatbush, we suppose there's some over-eager developer out there to eager to cash in on the borough's real estate boom.
Last of all, REBNY is considering Con Ed lobbyist John Banks for its top post after Steve Spinola retires next year, Crain's reports.