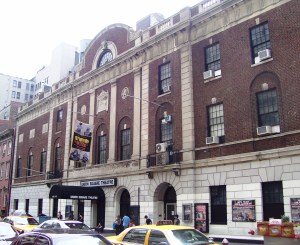 Dina Lohan is stage managing Lindsay's (fine, LiLo's) New York apartment hunt, according to the Post, touring apartments for the actress, who is performing in London, to share with her sister Ali. A $2.2 million two-bedroom at the W Downtown was apparently looked at.
Just so long as they don't look at Sheepshead Bay. Sheepshead Bites is really freaked out by a Village Voice article about bands moving to South Brooklyn in search of cheaper practice spaces. Sheepshead Bites warns you that "it's, like, a three-day commute into Manhattan on a train that's full of urine, showtime boys and broken air-conditioners."
Perhaps Roosevelt Island, profiled by The New York Times this week, would be just the thing? "It's like a suburb in the city," said Corinne Volpe, an agent with Sotheby's International Realty who has lived on the island since 2006, who also describes the island as "so quiet, it's eerie." Of course, things may soon get a bit louder with the Cornell Tech Campus.
Change is also coming to Clinton Hill's Beigel Bakery, which the Daily News reports just sold for $23.5 million to a real estate developer. No word on what's in store for the baker of challah and black and white cookies, but it seems unlikely that an owner who paid that much dough for a property would want more than bread in return.
FEMA will be paying a visit to the city sometime in the next six months to assess whether or not we're building to new requirements in floodplains, particularly newly designated ones, Crain's reports.
Jon Stewart is not only a comedy savant, but apparently something of a real estate one. Curbed reports that he just sold his Tribeca penthouse for $17.5 million, three times what he paid for the uncombined units back in 2005. Though presumably he did some work on the place after picking it up for $5.8 million; the unit was never listed publicly.
The owners of Tammany Hall want to put a two-story-foot glass dome on the top of the historic building, DNAInfo reports. The dome would add more space for offices and be a big part of the Union Square office's revamp, but was unanimously rejected by the Landmarks committee of Community Board 5, despite a BKSK architect's promise to "make it a more distinctive destination and presence on Union Square… We think we can make this building into something it never was."
Mitchell Hersh, the CEO of very poorly performing REIT Mack-Cali, whose shares lost nearly half their value in the past five years despite the real estate market's recovery, will get a very nice parting gift, according to Crain's: $10.8 million in cash payments as well as compensation through the vesting of stock and dividend payments.
Terrible, terrible landlords: an Upper West Side woman has sued her former landlords and employers for placing video cameras around her apartment to film her in intimate acts, according to The Real Deal. The landlords offered her a free apartment in exchange for cleaning and maintaining their 9-unit Upper West Side apartment building, according to the suit, then installed numerous cameras to watch her undressing, showering and going to the bathroom.