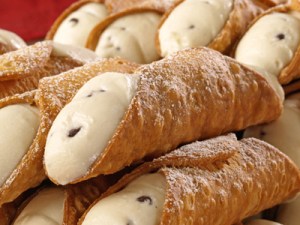 Cannoli or can'toli? In what looks to be a terrible echo of last year's knish factory fire, The New York Times reports that fire has destroyed a cannoli factory in Mount Vernon that produces more than 10 million of the delicious cream-filled desserts a year. "It's never a good time," a cannoli scion said of the fire at his family's factory. "But there's also a worse time and this is the worst time — just before the holiday season."
At least maybe Google can help us find other cannoli manufacturers in our hour of need. The internet mega company is expanding its New York presence and just signed a lease for 180,000 square feet at a former Chelsea cookie factory on 10th Avenue, The Wall Street Journal reports. The new space is close to the company's main headquarters and will bring its total square footage in the city to 900,000.
Also expanding: the number of apartments in Clinton Hill. DNAInfo reports that more than 1,000 new apartments are coming to the neighborhood in the next few years, with two projects just completed and 11 more in the works, supplanting funeral parlors, gas stations and post offices. "It is more 'neighborhood-y' that Downtown Brooklyn and more affordable than Fort Greene," says Apts. and Lofts founder Dave Maundrell.
Renderings have finally been revealed of the Flatrion "McMansion" at 34 West 21st Street and they include two hot tubs and a glass-walled elevator, Curbed reports. Karl Fischer is the architect, with interiors by Andres Escobar.
The city's black upper middle class is disappearing, according to The Wall Street Journal, as the city's upper middle class white and low income white population fades. Neighborhoods once favored by wealthier blacks, including Hollis in Queens and Woodlawn in the Bronx, lost 18.9 percent of their black population, but saw an increase in lower-income blacks around the fringes.
More bad news: Richard Florida, writing in Atlantic Cities, says the next housing crisis may come sooner than we think. Americans are spending unsustainable amounts of money on housing, our economy has not fully recovered from the last housing crash and mortgage underwriting standards remain lax.
Halloween is over, but surely this is a horror movie plot? Developers plan to build a 42-story apartment tower atop a 350-year-old family graveyard in Long Island City, The Times reports. Apparently, not even in the borough of cemeteries are the dead protected from the disruptions of real estate development. The developers, of course, plan to move the bodies, whose distant descendants were finally tracked down by the gray lady.
And actually, it would be far from the first time that Queens developers have built on cemeteries, as The Queens Gazette reports.