Who did the Whitney Museum pick to sing them sweetly out of the Breuer building? New wave rock 'n' roll legend Elvis Costello.
He was the performer at the annual Whitney Gala, the last one ever to take place in the 1966 Marcel Breuer brutalist masterpiece that's been the Whitney Museum of American Art's home for decades.
Costello, looking disheveled and somewhat fabulously like a cross between Weegee and the farmer in Grant Wood's American Gothic, took the stage after a dessert of chestnut floating islands and a dinner of nostalgia. Each table was labelled with a year and an art movement, and the walls and lanterns were covered in artist's names, too few female, although ones like "YOKO," an honoree of the evening, were made extra-big as if print size made up for curatorial oversight.
The Whitney moves to a much larger Hudson River-side spot in the meatpacking district in 2015.  May 1 is the opening day for its Renzo Piano-designed headquarters, it was announced at the Gala last night. (Meanwhile, it's renting the Breuer building out to the Metropolitan Museum of Art for eight years.)
The Whitney Gala is known for its luxury-goods sponsors (this year, Louis Vuitton) and its star performers. Over the years they've included Gloria Gaynor, Lou Reed, David Byrne and, now, Costello.
He joked (we hope) about being told to sing only hits, and complained he never really had any, then segued into one: "Every Day I Write the Book." (Even the swells were filming with their iPhones.) "Alison" followed, and then a fierce, loud, mean guitar strum to "(What's So Funny 'Bout) Peace, Love and Understanding."
Whitney director Adam Weinberg (who's been on a fund-raising tear for the new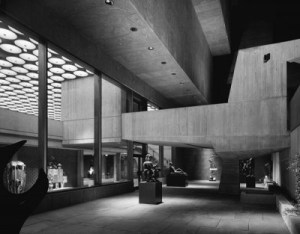 building) took the mike then, and urged the dinner guests to join the late-night studio party upstairs. "The night is just beginning. Enjoy."
That's not the only thing just beginning, Adam. Best of luck.