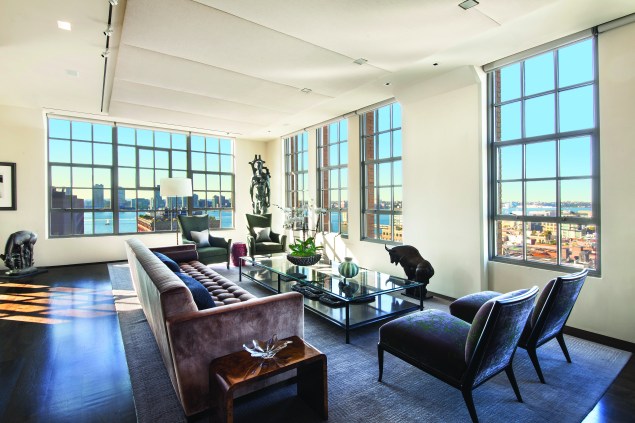 When the owner of No. 14B at 145 Hudson Street engaged architectural firm Gary Lee Partners to build out his semi-raw loft, the architects faced an unusual challenge in this most cramped of American cities: configuring the 4,120-square-foot loft to feel somewhat less vast.
Floors were raised 18 inches, ceilings dropped six inches (partially to hide the mechanicals and allow heating vents to run beneath the floor—hissing and clanging radiators, so démodé!), taking the overall height down from 12 feet to a comparatively diminutive 10.5. The 73-foot expanse of living, dining and media room, meanwhile, was given the gentle suggestion of division by each area's association with other rooms and passages to different areas of the apartment.
"They wanted to give the place a warmer feel, less overwhelming," explained Corcoran broker Jonathan Conlon, who shares the listing with colleagues Patricia Cliff and John Gasdaska. The effect, if not quite homey, is eminently comfortable, with the multitude of mullioned windows giving the main living space a surprisingly cozy vibe. Though not too cozy—the architects' other intention in compressing the apartment's vertical expanse was to create the effect of floor-to-ceiling windows, according to Mr. Conlon.
The rest of the three-bedroom, three-bathroom condo is lovely, sleek and mutable, with oak cut rift millwork paneling and hidden pocket doors that preserve the space's lofty vibe without precluding the possibility of privacy. Facility with fine woods is particularly evident in the kitchen, where the millwork conceals essentially all the very high-end appliances so many owners take care to show off; floors are walnut throughout.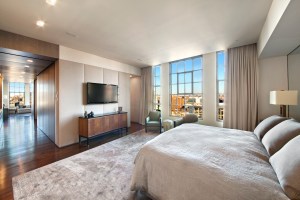 Privacy also extends outside the apartment: with nary a neighbor to peer through the windows that offer expansive views to the north, west and east. The prewar building falls within the Tribeca West Historic District, a status that has caused no small amount of trouble for 145 Hudson's developer and early buyers. A discrepancy with the newly constructed duplex penthouse led to long delays for "Skylofts" buyers, among them James Johnson, the owner of No. 14B. Mr. Johnson signed a contract in 2002, but couldn't close until 2006, after the penthouse above had been demolished and reconstructed (a delay that New York deemed a "real-life real-estate horror story.")
The build-out took another two years. But if Mr. Johnson gets his $13.17 million ask, he will be well compensated for his troubles, having paid $3.66 million for the unfinished space.
He is, however, more than willing to make sure that the new owner can enjoy the bespoke home he so carefully crafted—the apartment is available fully furnished, should the next occupant desire a truly headache-free arrival.