Rob Toma is running on three and a half hours of sleep.
"I'm always on call," he explains on a recent Saturday afternoon. "Sometimes I feel like I'm a doctor."
In actuality, Mr. Toma is a talent booker and partner in Space Ibiza New York; a new Hell's Kitchen club riding the current vogue for electronic dance music.
The 20,000-square-foot space, converted from a parking garage for $12 million, aspires to the legend of its namesake club on the Spanish Island of Ibiza, a 25-year-old venue widely celebrated as one of the world's top dance music destinations. Mr. Toma is serious when he says he's "shooting for history" by opening an outpost here in the States.
"Electronic music is more popular than it has ever been," says Mr. Toma, a Brooklyn native who has been working in the business since his teens. "Nobody could have ever seen this coming."
However lofty his ambitions, Space Ibiza New York arrives as electonic dance music (EDM) becomes a huge business.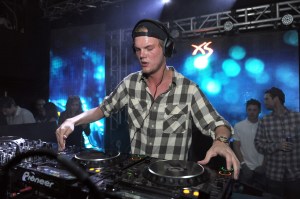 The top 10 of what Forbes calls the "Electronic Cash Kings" collectively made a cool $268 million in a full year ending in August 2014. According to industry sources, dance music's golden goose is Avicii; the superstar Swedish DJ is able to command a cool quarter-million per performance. Next are Calvin Harris and Tiësto, who respectively pull anywhere from $150,000 to $200,000. The numbers go down from there, but the minimum an EDM club can expect to pay for a DJ who can draw crowds is $30,000, according to a nightlife source.
Just as there was a band in every garage after Beatlemania hit the United States in the 1960s, DJing has become an amateur obsession owing to the likes of Martin Garrix, the Dutch DJ who hurtled to international fame at age 17 with his song "Animals."
The evidence is all over the Billboard charts. While music sales continue to sag overall—this past August saw album sales dip to an all-time low—dance tracks full of pulsating beats and deep drops seem to be a rare bright spot for the industry.
The genre has become so strong and ubiquitous that traditional pop artists are turning to dance producers for a boost, a trend that has paired Ariana Grande with German superstar Zedd and Madonna with Diplo. Electronic revamps of modern ballads—like Tiësto's remix of John Legend's "All of Me"—are a radio staple.
The dance music industry itself is worth an estimated $4.5 billion and everyone's angling for a piece. Joe Lupo, the senior vice president of operations of Atlantic City's Borgata, which has various venues that regularly host top acts, has seen firsthand how electronic music transformed nightlife in the city. "When we first opened in 2003, we certainly intended to have a premiere nightclub and bring a different customer base who hasn't visited Atlantic City in years," Mr. Lupo explains. "The rise of electronic music has done exactly that, 100 percent. It enables us to market to a younger consumer."
***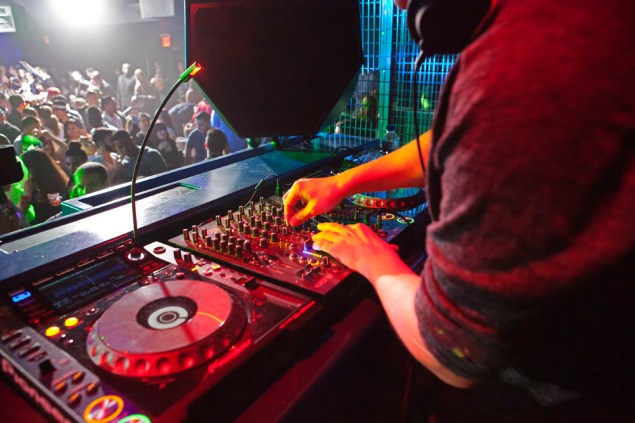 A long line of sparsely dressed young people shivering in November's first cold front extends down the sidewalk in front of Space Ibizia. Inside, a dancer in a leather suit with a plaited braid running down her spine dances on a platform alongside another woman wearing a too-tight corset. A large bunch of blonde and red hair fell about her shoulders. A hoop hangs from the ceiling, and when she is inspired, she clings to it and poses, suspended.
Few others are dancing to a driving beat that deters anything more elaborate than a few hand pumps. In the booth is Victor Calderone, whose nightly fee is on the order of $50,000 to $60,000, according to a source.
An informal census at 2 a.m. reveals a crowd tilted male and 30-plus, which may stem in part from the prices.
---

On a big night, even a smaller club like Space Ibiza can clear $300,000 on admission alone, assuming a head count of roughly 2,000 to 4,000 people over the course of several hours and $80 to $100 ticket price for a top DJ.

---
On a big night, even a smaller club like Space Ibiza can clear $300,000 on admission alone, assuming a head count of roughly 2,000 to 4,000 people over the course of several hours and $80 to $100 ticket price for a top DJ.
A bottle of Grey Goose is $500, and many opt for table reservations that come with liquor minimums ranging from $1,500 to $20,000 and account for a large chunk of revenue.
Given these economics, DJs defend their pay. "If a DJ is in a club and he brought a huge crowd who's spending $30,000 on bottle service, thousands on tables, and the bar is doing major business, then there's more of the pie to go around," said JP Makhlouf, a third of the successful EDM trio Cash Cash, whose track "Take Me Home" became a worldwide hit earlier this year.
"If a DJ is playing an arena, while he doesn't have to pay for a live band or tour bus, there are many other expenses that can add up to make it a great show—like lighting, pyrotechnics or LED walls. It's all relative. This reputation that DJs are making too much money is kind of stupid, especially when you compare it to other people in music. I don't see anybody doing anything wrong by doing what they love and seeing financial gain from it."
The aptly named Cash Cash originally started out as a traditional rock band (complete with a drummer), but slowly transitioned into an electronic act just as the genre was taking off.
"We came from the same scene that Skrillex came from playing Warped Tour," Mr. Makhlouf says of the current dance king, who also formerly fronted a rock band. "At one point we got dropped from our record label and we were like, 'What are we going to do?' "
The guys began producing remixes for other artists, which led them to the dance scene. "It's incredibly supportive," he said. "It's not like the rock community where everybody hates you. If you're alternative, the rock bands will hate you and if you're metal, the alternative guys will hate you. With dance, it's very positive; people are always sharing samples and secrets and tips. I've never seen anything like it."
Even still, few are the acts guaranteed to draw a crowd, and there are only so many top DJs and Friday, Saturday and holiday nights to go around.
***
For Mr. Toma, competing for talent with the Borgata, which books acts six months out, as well as the more established Pacha, a popular dance venue also in Hell's Kitchen, is "far from fun," he admits. "The amount of work that goes into it is almost unexplainable, but it's a passion for me."
The actual booking process is a craft in itself. "There are only four agencies in North America that represent these DJs, so if I want to book someone I have to email everyone so that they all reply and I can see when talent is available," he explains. "It's pretty intense, and that's part of the reason why I'm usually so drained when my friends come to the club to visit. Of course I have to entertain and I love doing it, but at this point it's not fun for me anymore. It's just work."
It also doesn't help that almost all of the top acts, with the exception perhaps of Skrillex, are from Europe. "Imagine you have a DJ booked on a Saturday night and they're flying in from Europe that afternoon and their plane is delayed a few hours," notes Mr. Toma. "A lot of things are planned and a lot of things are done last minute. It's not black and white in this business."
For a nightclub, it's all worth it when a top act comes in and creates buzz—much like a recent impromptu three-way set between Skrillex, Diplo and A-Trak for a recent Space Ibiza party celebrating Paper Magazine that gave the club priceless street cred.
"Madonna was there, too," Mr. Toma is quick to point out. "That was an incredible night, and it was before we even officially opened."
When you're dealing with top talent, quirky demands usually follow—like asking for "certain types of female waitresses and cocktail hosts," says Mr. Toma. The little things that get asked for get pretty funny. During our third week, Tiësto was here. For his greenroom, he requested to have a separate speaker with its own volume control that basically channeled the music from the main room into his greenroom, just so he can hear what's going on prior to him walking out. It's not a big deal, but the requests sometimes get tedious."
Space Ibiza New York's DJ booth is specifically calibrated beforehand to its master. "Everything moves up and down and side to side," explains Mr. Toma, whose team spared no expense to make the club standout for patrons and entertainers alike. "It all depends on how short or tall the DJs are. Based on their rider, everything is set before they even get there."
***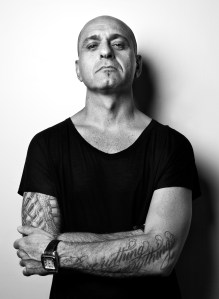 SINCE the '70s and their bell-bottomed, disco-balled glory, the scene has gone through many iterations; from the Party Monster days of the late '80s and early '90s up to today. What Mr. Toma and many other promoters in New York are hoping for is a throwback culture to when New York's clubs brought out even more people than today.
"Back in the '90s, huge clubs used to exist all over New York," says Steph Evans, who writes about EDM for Earmilk, a popular blog.
"Places with capacities of 13,000 people. That general vibe is starting to come back, with clubs like Output in Brooklyn, but I don't think we could replicate the way it used to be. There are too many regulations now."
Michael Musto, author of the weekly "Musto! The Musical!" column on Out.com, says that dance clubs are unlikely to return to their former glory owing not only to tighter city rules on nightlife but also to the rise of apps that popularize right-swiping over getting sweaty in person.
"Today's nightlife isn't primarily about dancing anymore," he says via email. "It's more about hanging out and playing beer pong (or in my case, watching a drag queen eviscerate the crowd) but there are still places to go and people to see."
"In fact, people spend more of their time in clubs documenting what's happening for YouTube and Instagram than actually experiencing it."
Another difference is the cash flow. Regardless of the crowd numbers, clubgoers of today are spending way more on a night out. What used to be a scene that brought out the oppressed now caters to the elite.
And as with any booming industry, there comes a time when the boom begins to quiet—if not stop altogether. Some observers say that inflating costs—including those quarter-million-dollar appearance fees—could start to take a toll.
"The big guys make a ton of money, but most don't make much," explained Ms. Evans. "I think spending is out of control for an industry having so many shows and arena tours, and at a certain point it starts to lose its value to fans. It deservedly seems greedy when a DJ gets on stage and just plays his album from start to finish. But a well mixed and well done set is something you never forget."
How much more is there to gain? The dance industry hinges on a relatively young demographic, which can famously be as fickle as it is lucrative. Consider other genres that experienced immense popularity for a time, only to be quickly left behind (i.e. disco). But dance music has a way of continually spawning new variations that keep it fresh.
"There are areas of dance that haven't really been touched by the mainstream yet," said Ms. Evans. "But I think the general public will get there—their taste will mature as any individual's does."
Mr. Toma is counting upon dance music's continual evolution to keep the crowds coming. "There are so many genres within this one specific type of music," he explains. "With so many different ranges and classes of sub-genres that constantly keep it fresh, it all helps new DJs rise and raises the top DJs higher up the ladder."
Mr. Makhlouf says that unlike other musical grooves, this one is particularly easy to keep afloat.
"The whole world likes to dance. That's the truth," he says. "It makes you feel good and forget about all the crap in your life. When you're at a club, you can put all of your worries aside and be right there in the moment. And I think dance music does that very well."
Perhaps that's as good a reason as any to bet this beat will go on.
—Additional reporting by Alexandra Elean Villarreal