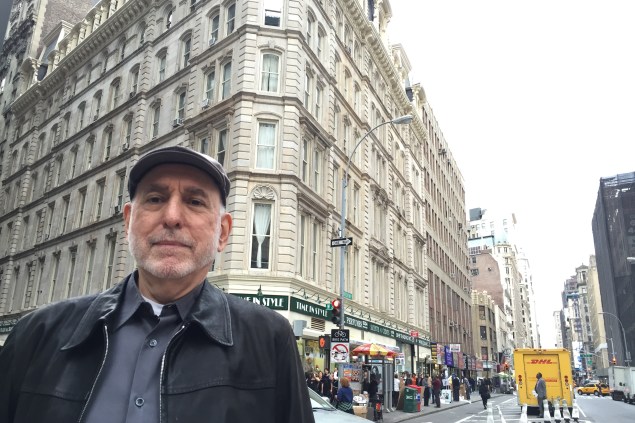 Oscar Wilde started his American journey toward stardom where the Observer met journalist and historian David M. Friedman. The author of the recently-released Wilde in America: Oscar Wilde and the Invention of Modern Celebrity pointed to an attractive stone structure behind him at Broadway and West 31st Street that used to be the Grand Hotel and noted that the ambitious party wit who would find the fame he sought in America stayed for a few days upon his arrival in 1882. Wilde delivered lectures on art and interior design in the former theater district area and his handlers at the Carte agency had offices nearby, Mr. Friedman explained. But the shrewd acclaim-seeker would also venture southward during the first of his two extended stints in New York City to pose for photographs in the studio of celebrity portraitist Napolean Sarony at 37 Union Square without charging the photographer the customary sitting fee. Mr. Friedman spoke about how the future author of The Picture of Dorian Gray and The Importance of Being Earnest found himself on an all-expense-paid trip that foreshadowed the arc of his life.
How did Oscar get a free trip to America in 1882? Gilbert and Sullivan had just opened Patience, which, I believe, was their third operetta, to really good reviews. There
were eight curtain calls opening night and [Gilbert and Sullivan talent agent] Richard D'Oyly Carte was there. But he was just a little nervous because he noticed that some of the jokes about aesthetes and aestheticism had gone over the heads of the London audience. And he was worried, he said "My God how are Americans going to get these jokes?" The head of the New York City office [of his agency] was Helen Lenoir, who eventually became the second wife of D'oyly Carte. A friend of hers suggested, "Send over an aesthete, let Americans see what an aesthete is, maybe Oscar Wilde. And even better, maybe he'll be willing to dress up in an outfit worn by [the main character] Bunthorne." And Oscar was willing.
Oscar visited San Francisco, met the miners of Leadville, CO, took a tour of a jail, ate dinner with Jefferson Davis, and witnessed a lynching. But how did New York City figure in his trip? When he got here, he immediately realized, "The product I'm selling isn't Bunthorne, the product I'm selling isn't Gilbert and Sullivan, it's me." He said yes to virtually every party invitation he got. And he played the part of the English aesthete. New York then, in the social elite, was very Anglophile. Here was a man who said he was the leader of the aesthetic movement. No one here really knew whether that was true or not. He said he was very close friends with Algernon Swinburne and William Morris and Edward Burne Jones–some of that was true and some of that was exaggerated. But Oscar realized, "I am just going to play this part. And this part is going to help make me famous." He would hold court at Delmonico's, which was on [Fifth Avenue and] 26th Street, and that was comparable to what Sardi's became later. It was the pulse of celebrities and of, especially, traveling theater people.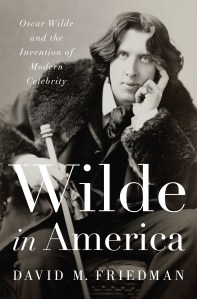 There are also a lot of journalists in New York City, we've heard. I actually was a little surprised myself when I was doing the research about how recent the interview was as a journalistic institution. Most people believe the interview didn't become part of journalism practices until the 1870s and, even then, only occasionally. The media started asking him questions and he quickly intuited that no matter what the question is, the answer has to further the fame of Oscar Wilde. He realized almost every question was the opportunity to give a kind of autobiographical essay.
Wilde met Walt Whitman. What did the two writers discuss when they shared elderberry wine in Camden, New Jersey? One of the very first things that Whitman did is give Oscar a photograph of himself. Whitman didn't have his name on the frontispiece of his book. He had a print of a photograph of himself standing there. This was going to be the image. This was how Walt Whitman was going to sell himself to the American public, as Walt Whitman, bard of the people. Now, Oscar wasn't going to be bard of the people. But he realized, "Those photographs I just sat for in New York at Sarony's studio, I'm going to use them." What he learned from Whitman was really confirming the lesson he learned from his mother: the importance of having an image that you would be true to. It was authentic, you were committed to staying true to this image in public. And Oscar did that. They did speak about poetry, but Whitman urged him, 'I think you should knock the established idols aside."
Is your book a cautionary tale about the downfall of overnight celebrity status? Or a realist demonstration of how people with an interest in doing so can create overnight celebrities? I'd like to think it's both. But it's certainly the former. It's really a tragic story because the celebrity culture that Oscar created rises up to destroy him. And, believe me, he was caught completely unaware by this. He did not see this coming at all. He really thought that his fame had elevated him into this stratosphere where he was invulnerable. He was wrong. He thought that people were enjoying watching him enjoy his own success. Some people weren't, and, unfortunately, one of them was [the nobleman who outed Wilde] the Marquess of Queensberry.